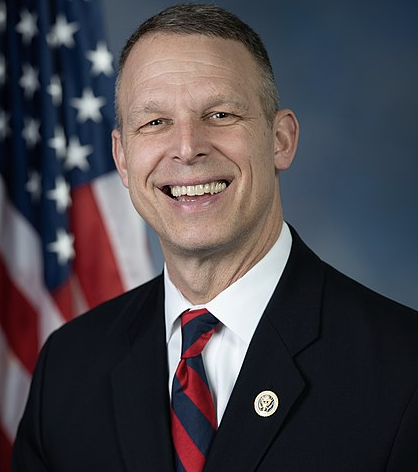 What If the Special Counsel Is about Scott Perry, not Just Donald Trump?
When he announced the appointment of a Special Counsel yesterday, Merrick Garland described that "recent developments," plural, led him to conclude that he should appoint Jack Smith as Special Counsel to oversee the investigations into Donald Trump.
The Department of Justice has long recognized that in certain extraordinary cases, it is in the public interest to appoint a special prosecutor to independently manage an investigation and prosecution.

Based on recent developments, including the former President's announcement that he is a candidate for President in the next election, and the sitting President's stated intention to be a candidate as well, I have concluded that it is in the public interest to appoint a Special Counsel.
The recent developments he focused on were presidential: Trump's announcement he'd run again and Joe Biden's stated plan to run for reelection. But he also described the basis for the appointment not as a conflict (as Republicans and Trump are describing the investigation by a Biden appointee by his chief rival), but as an extraordinary circumstance.
Unsurprisingly, Garland never named Trump as the reason for the appointment. The only time he referenced Trump, he referred to him as the former President. That's DOJ policy.
When he described the subjects of the January 6 investigation, he included both "any person" but also any "entity" that interfered in the transfer of power.
The first, as described in court filings in the District of Columbia, is the investigation into whether any person or entity unlawfully interfered with the transfer of power following the 2020 presidential election or the certification of the Electoral College vote held on or about January 6, 2021.
The scope of the January 6 investigation that Smith will oversee is far broader than Trump and will almost certainly lead to the indictment of multiple people in addition to Trump, if it does include Trump — people like Jeffrey Clark, John Eastman, possibly Mark Meadows.
But if we assume that everyone who has had their phone seized in that investigation is a subject of it, then Scott Perry, the Chair of the House Freedom [sic] Caucus, would also be included. Perry was the one who suggested that Trump replace Jeffrey Rosen with Jeffrey Clark so DOJ would endorse Trump's challenges to the election outcome. He pushed a number of conspiracy theories at the White House and DOJ (including the whack Italian one). Along with Meadows and Rudy Giuliani, Perry was putting together plans for Trump to come to the Capitol on January 6. After one meeting with Perry, Meadows burned some papers.
Perry isn't even the only one who was closely involved in the plot to steal the election. Jim Jordan, the incoming Chair of the House Judiciary Committee, was closely involved as well and is very close to likely subject Mark Meadows.
Indeed, if you include all the members of Congress who discussed or asked for pardons, the number grows longer, in addition to Perry, including at least Matt Gaetz, Andy Biggs, Louie Gohmert, and Marjorie Taylor Greene. Jordan, Perry, Gaetz, Biggs, Gohmert, and Marge would amount to most of the probable seven person majority in the House.
Marge, as it turns out, is already dreaming up ways to defund this investigation (the means by which she wants to do this, the Holman Rule, probably wouldn't work; I believe there's a preauthorized fund from which Special Counsel expenses come from).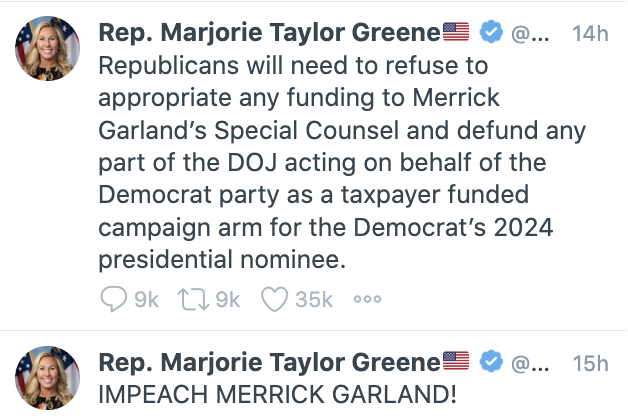 To be clear, thus far, Perry is the only one whose actions have overtly been the focus of legal process, when the FBI seized his phone back in August. It's certainly possible DOJ did so only to get content, such as Signal texts, that implicate someone else, like Clark.
But given how close the majority in Congress is, any prosecution of a Republican member would threaten to disrupt that majority. Which means any investigation into Republican members of Congress would pose a more immediate threat to the current status quo than a Trump prosecution would.
Jack Smith's background — including a stint heading DOJ's Public Integrity Division during the period when Congressman Rick Renzi was prosecuted — is more suited for the January 6 investigation than the stolen document one. Including, as it turns out, the difficulties of prosecuting someone protected by the Speech and Debate clause.
https://www.emptywheel.net/wp-content/uploads/2022/11/Screen-Shot-2022-11-19-at-11.23.51-AM.png
472
418
emptywheel
https://www.emptywheel.net/wp-content/uploads/2016/07/Logo-Web.png
emptywheel
2022-11-19 07:52:33
2022-11-19 07:58:58
What If the Special Counsel Is about Scott Perry, not Just Donald Trump?