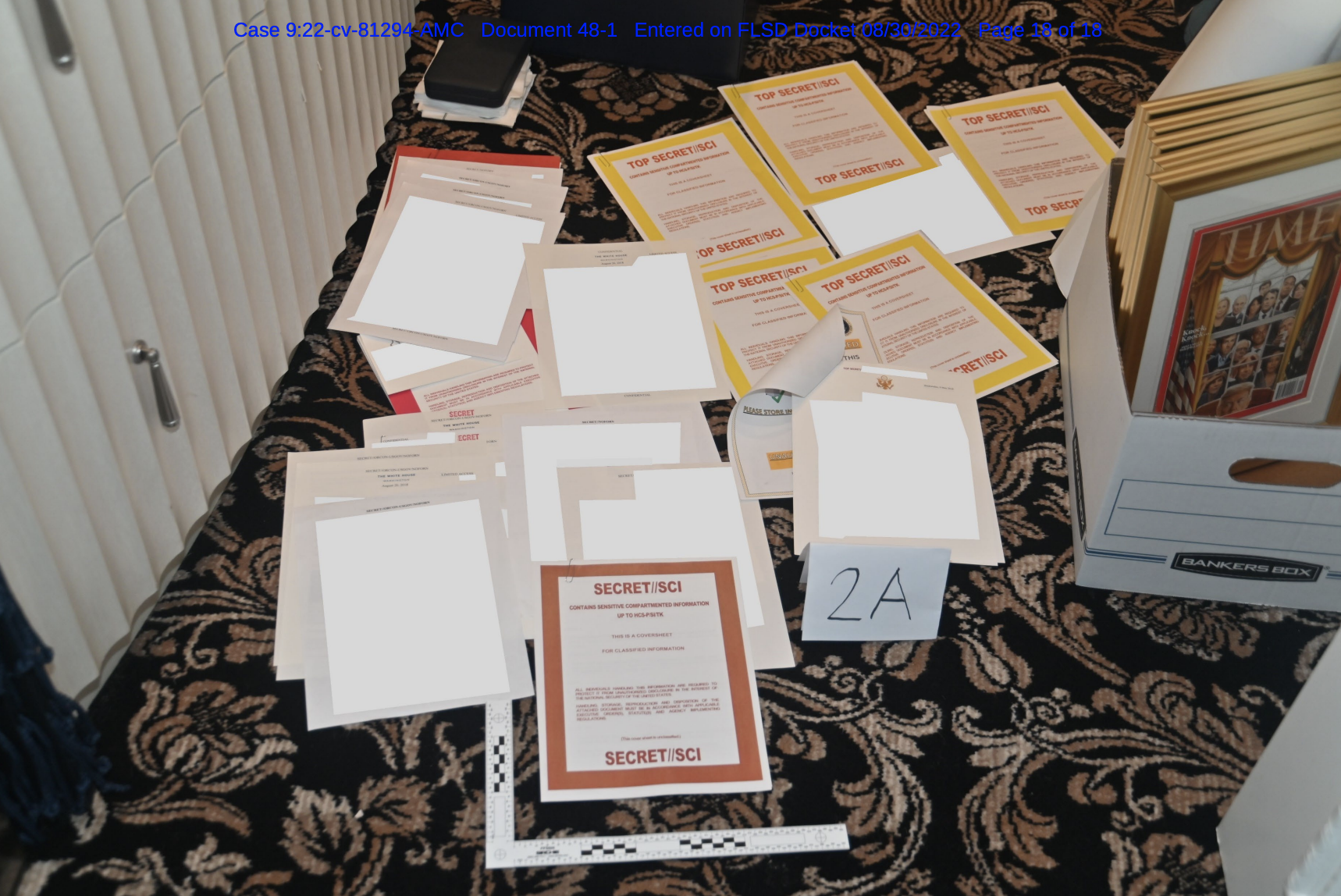 Did Steven D'Antuono Make It Easier for Trump to Steal 47 Classified Documents?
There are two things that are not mentioned in this long explanation of how the FBI refused, for months, to treat Donald Trump like anyone else suspected of hoarding highly classified information.
First, WaPo doesn't mention that Trump got an injunction that lasted from shortly after the search, September 5, until December 12, over three weeks after Jack Smith was appointed.
Because the WaPo doesn't mention that fact — doesn't mention that DOJ was prevented from using classified evidence to investigate Trump's crimes for several weeks in September, doesn't mention that DOJ was prevented from using unclassified evidence to investigate Trump's crimes for 98 days — WaPo envisions any damage FBI did by resisting taking investigative steps against Trump as a shortening of the time when DOJ could charge Trump.
Some inside the probe argued the infighting delayed the search by months, ultimately reducing the time prosecutors had to reach a decision on possible charges. Others contend the discussions were necessary to ensure the investigation proceeded on the surest footing, enabling officials to gather more evidence before they executed the search, people familiar with the dynamics said.

In November, before prosecutors had finished their work and decided whether to charge Trump or anyone else, he announced his campaign to retake the White House in 2024, leading Garland to appoint a special counsel, Jack Smith, to complete the investigation.

[snip]

Meanwhile, in late October, amid news reports that Trump was looking to soon announce another bid for the presidency, Garland told aides he was seriously contemplating appointing a special counsel to take over the investigation, as well as a separate criminal probe looking at Trump and his allies' effort to overturn the results of the 2020 election — a rare procedure designed to ensure public faith in fair investigations.

On Nov. 15, Trump took the stage in the Mar-a-Lago ballroom — at the same property where FBI agents had searched three months earlier — and announced that he would run for president again in 2024. The Justice Department's national security division leaders who had pushed the FBI to be more aggressive pursuing Trump did not finish the investigation or reach a charging decision before a new chief took over.

On Nov. 18, Garland sent word to the prosecutors working on both of the probes to come to Justice Department headquarters for a meeting that morning. He wanted to privately inform them that he planned later that day to appoint a special counsel. Garland told them they could choose their next steps, but he hoped they would join the special counsel's team for the good of the two investigations, people familiar with the conversation said.
Even that risk assumes Trump's announcement was determined by anything other than making it harder for DOJ to charge him; he was discussing announcing his run still earlier, before he got the injunction. But the risk ignores the opportunity that FBI's delay provided Trump and others last summer.
The other thing WaPo doesn't mention is the real damage the FBI, led by the now-retired head of the Washington Field Office, Steven D'Antuono, may have done by stalling: FBI may have made it impossible to recover all the documents Trump took.
Well before the injunction on using unclassified documents in the investigation was lifted, multiple outlets revealed that DOJ suspected Trump still had classified documents. Trump's lawyers have paid investigators to search some — but not all — of Trump's properties since. And for months, Trump's lawyers publicly lied about the results, publicly lied to hide that an aide moved new documents with classification marks to Mar-a-Lago after the August 8 search by the FBI.
There are still 47 empty classified document folders, found in two different searches of Trump's property, that remain unexplained.
Perhaps those folders were not yet empty in May 2022, when DOJ first proposed doing a surprise search of Mar-a-Lago.
But FBI agents viewed a Mar-a-Lago search in May as premature and combative, especially given that it involved raiding the home of a former president. That spring, top officials at FBI headquarters met with prosecutors to review the strength of evidence that could be used to justify a surprise search, according to two people familiar with their work.
Perhaps those folders were not yet empty in June 2022, after Evan Corcoran raised more suspicions on June 3, when Jay Bratt came to pick up a folder of classified documents, the same day that Trump departed for Bedminster.
Perhaps those folders were not yet empty when DOJ served another subpoena to obtain the surveillance footage showing Walt Nauta moving boxes to evade the search.
Some FBI field agents then argued to prosecutors that they were inclined to believe Trump and his team had delivered everything the government sought to protect and said the bureau should close down its criminal investigation, according to some people familiar with the discussions.

But they said national security prosecutors pushed back and instead urged FBI agents to gather more evidence by conducting follow-up interviews with witnesses and obtaining Mar-a-Lago surveillance video from the Trump Organization.

The government sought surveillance video footage by subpoena in late June. It showed someone moving boxes from the area where records had been stored, not long after Trump was put on notice to return all such records, according to people familiar with the probe.
Perhaps those folders were not yet empty when D'Antuono — who was appointed head of the DC field office in October 2020 and who retired last November; his replacement was named in late December — continued to stall shortly before the search.
Against that backdrop, Bratt and other senior national security prosecutors, including Assistant Attorney General Matt Olsen and George Toscas, a top counterintelligence official, met about a week before the Aug. 8 raid with FBI agents on their turf, inside an FBI conference room.

The prosecutors brought with them a draft search warrant and argued that the FBI had no other choice but to search Mar-a-Lago as soon as practically possible, according to people with knowledge of the meeting. Prosecutors said the search was the only safe way to recover an untold number of sensitive government records that witnesses had said were still on the property.

Steven M. D'Antuono, then the head of the FBI Washington field office, which was running the investigation, was adamant the FBI should not do a surprise search, according to the people.

D'Antuono said he would agree to lead such a raid only if he were ordered to, according to two of the people. The two other people said D'Antuono did not refuse to do the search but argued that it should be a consensual search agreed to by Trump's legal team.
We have no reason to believe that DOJ got all the documents back and plenty of reason to believe it didn't. Trump's lawyers are still dicking around, offering ridiculous explanations for why a new empty folder showed up sometime between August and December.
What we do know is that Steven D'Antuono treated Trump differently than FBI would have treated any other person suspected of stealing classified documents, he treated Trump differently because he had been trained to understand that Trump could ruin his career if he dared investigate Trump.
And by treating Trump differently, D'Antuono may have given Trump the opportunity to steal another 47 documents.
https://www.emptywheel.net/wp-content/uploads/2022/08/Screen-Shot-2022-08-31-at-6.40.53-AM.png
1148
1718
emptywheel
https://www.emptywheel.net/wp-content/uploads/2016/07/Logo-Web.png
emptywheel
2023-03-01 07:41:25
2023-03-01 09:36:55
Did Steven D'Antuono Make It Easier for Trump to Steal 47 Classified Documents?