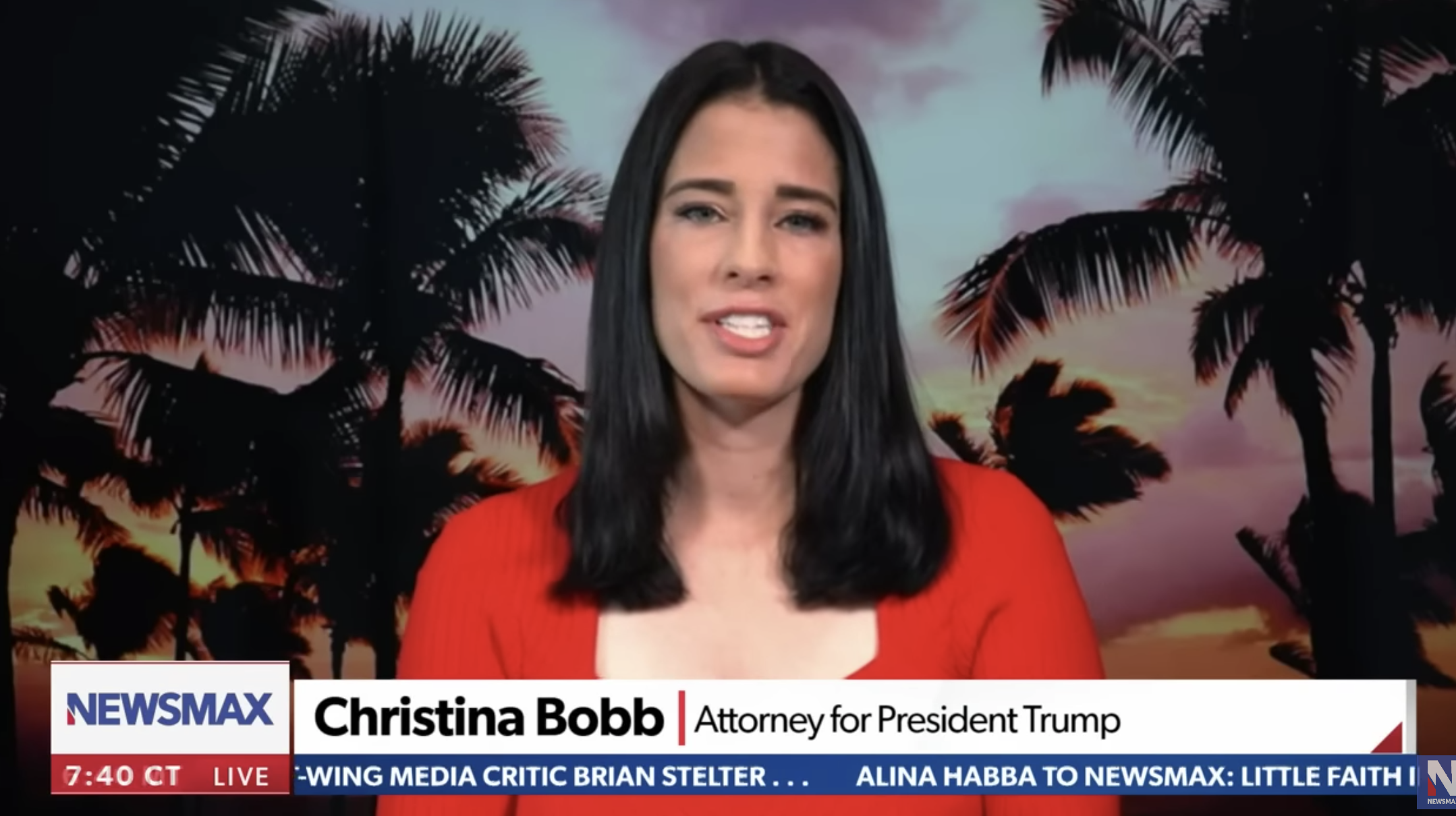 Back in March, ABC reported that Fani Willis wanted to interview Christina Bobb in the probe of Trump's attempt to overturn Georgia election results.
Smart commentators on that investigation, like Lawfare's Anna Bower, suggested that Willis' team likely had discovered, as they worked their way through the January 6 Committee transcripts released after Willis' grand jury had expired, that whereas Bobb has always publicly claimed to have nothing to do with efforts to overturn Georgia's election (she focused on Arizona, Nevada, and, in her J6C interview she belatedly admitted, Michigan), she revealed much later in the interview that she had first met Mark Meadows when she sat in on Trump's call to Brad Raffensperger.
Bobb's description of the call is pretty nutty.
Q Did you have any interactions with him in the post-election period?

A I — sorry. My phone is ringing. Okay. Yeah, one. One that I remember was the phone call, the Brad Raffensperger phone call. I was in Meadow's office with Rudy, I think Katherine [Friess] was there. There may have been one other person there, but we listened in on the call from Meadows' office.

Q Had you met him before that?

A No. I don't think so.

Q Do you remember — go ahead. I'm sorry.

A No. I don't think — I think that was the first time I met him.

Q Do you remember talking to him before that, even if not in person?

A No. I never did.

Q When you gathered for that call, what was his expectations for the call? What was the purpose of that call?

A I think to listen and, you know, be available as needed, but I think the whole point was just to listen.

Q Did he say anything about what the President was or was not going to request or seek by this call?

A No.

Q Do you remember if Mr. Meadows expressed any concerns about having this call?

A No. I don't think he did, but I don't remember, but I don't remember him expressing any concerns.

Q Were you able to hear the call that the President had with Secretary Raffensperger?

A Yes.

Q What happened afterwards, when you were sitting there and, you know, the phone is hung up now?

A Nothing. We chit-chatted and left. It was — it was an unremarkable call.

I know the media has sensationalized it, but none of us thought anything of it. It was just a call and that was it.

Q I mean, the President of the United States asked the Secretary of State to find enough folks to ensure his victory in Georgia. I mean, he used those words, I'm just asking you to find votes.

A That is a gross misrepresentation of the phone call. It was a perfectly fine phone call. If you look at the transcript, he was not asking anything improper. He wasn't asking him to do anything illegal.

There was a lot of indicators of fraud. That's what he was talking about. He was not — nobody in the room thought there was anything wrong with the phone call. I think it was perfectly fine.
Nuttier still, after she defended it as a "perfectly fine" call, she explained that she and "at least two dozen" others sat in on it because, "we knew somebody was going to record it [and] release it."
Q So I understand your perspective, but I did want to ask you that, what you just got to is that after the call, did anybody express any concern, reservation, have any thoughts about what had just happened in that call?

A No. But there were a lot of people on the call. Like there were probably at least two dozen, like there was, you know, half a dozen of us in the room, but then there were other — there were a lot of other people on the call.

We knew somebody was going to record it. We knew somebody was going to release it. We knew the media was going to twist it, which was exactly what happened, but nobody was concerned about it. Our concern was, was it a legitimate phone call and did the President say anything improper. And at the end of the call, we all thought no. Like it was totally fine. There was nothing wrong with it. So we didn't think anything of it, and we chit-chatted and left.
As she describes it, she and twenty people were on the call as a prophylactic against the outcry when one of those twenty people or someone from Raffensperger's team released the call to the press.
Bobb also admitted in the interview to witnessing Rudy Giuliani's call to pressure Rusty Bower to overturn the Arizona vote, and described that she may have been Rudy's representative on a different fake elector call.
Bobb did a whole lot of witnessing during this period for someone who had never left propaganda outlet OAN during the entire post-election period, when she was also claiming to play a role covered by attorney-client privilege.
That's an interesting dynamic behind the reason I finally slogged through her transcript, to understand certain questions Jack Smith has been asking about the stolen documents investigation, particularly why Boris Epshteyn asked Bobb to be the gal who certified a declaration she hadn't written.
It turns out there were at least two details in her J6C transcript that raise interesting questions about her role in the stolen documents case. First, in this April 21, 2022 deposition, Bobb revealed that she had had interactions with Alex Cannon after Joe Biden's inauguration.
Q How about Alex Cannon?

A At that time, no.

Q You said at that time. Have you interacted with him since January 20, 2021?

A Yes.

Q Unrelated to the events we are talking about today, January 6 and the lead up?

A Yes. Correct.
In reporting on Bobb's role in the June 3 subpoena response, she claimed to have no prior interaction with Evan Corcoran, who wrote the declaration. But interaction with Cannon would reflect ongoing involvement in purportedly legal matters after the coup attempt.
And consider the kind of lawyering her J6C testimony described her to be (and remember that other witnesses said she played no legal role, but was just involved in communication).
When the committee asked about the mid-December 2020 memo recommending that Trump invoke national security as an excuse to seize the voting machines — which, metadata shows, Bobb authored, and which, the interview revealed, she had not provided in response to a subpoena — she explained that she didn't really author it. She just went to lunch with Phil Waldron and wrote down what he said. And then emailed what he said back to him.
I started the document, took their notes down, whatever. And then Colonel Waldron asked me to email it to him, which I did. What happened with it from there, I don't know.

So I don't know. I'm not sure that this — I don't know. I don't know if this is — this looks like what I originated on my computer, but I think it went past whatever I had done, because what I had done, I think — when I say I had done, I started the document. They wanted to work on it. They used my computer to work on it, and then when they were done doing whatever they were doing, said, hey, can you email this.

And I think that's probably it, but I am not — you know what I mean, like, I don't know what they changed after it left my computer.

Q Yes.

A But I had some role in initiating something like this in the sense that I had a computer that people wanted to use, and that was it.
As investigators probed this remarkable story, Bobb said Waldron was with someone named Mike but not that Mike, Mike Flynn, because she knows him, and maybe Sidney Powell but she doesn't know.
Q Okay. All right. So let me unpack some of that. You are with Colonel Waldron. Who else is there?

A It was people that he was working with. I don't know their names. know there was a guy named Mike. I don't know his last name. And it was folks that — like it was the machine team folks that, you know, I didn't really know them.

[snip]

Q What about Sidney Powell?

A She may have been. I don't know. Like because I gave them my computer, they finished doing whatever they were doing. While they were doing that, I was working from my phone and taking calls, so I would step out and come back in.

So to the extent someone came in and out, I don't know, you know.
As things progressed, Bobb included details that might explain a Google search from her computer of the statutes invoked, but insisted she "literally just like formatted it." And provided the title.
Q When you started working on this, or what became this document, were you working with something else as an example? Like did you have another executive order that you used as a model?

A Probably. And I wasn't — like I probably just found one and put it together, but just so you know, I was not putting — I didn't do the substance and stuff of this. Like the authorities that they used and all that, I didn't do that. I just literally just like formatted it.

[snip]

Q And were you typing up from scratch or did you have something else that you were modifying?

A I wasn't typing it. So the — like I probably — I probably did pull up an executive order just to see like the title, but literally past the title, I did not provide that content.

Q Okay. You gave your computer to Mr. Waldron. Is he the one that was typing on your computer when they were working on this document?

A He did some of it, and then this guy Mike, whoever he was, was doing some of it. I don't know. It was like they were brainstorming collectively and working. I don't know.

Q One of the things you mentioned there in the authorities, just past those that you referred to, are National Security Presidential Memoranda 13 and 21.

Did you have anything to do with inserting those?

A No. I had nothing to do with the authorities.

[snip]

Q No. Do you remember Colonel Waldron or Mike or anybody else typing —

A Colonel — I'm sorry. I don't mean to interrupt you.

Q That's okay. Do you remember them talking about presidential  memoranda?

A I remember vaguely, like I don't have a good recollection. I'm going to give you what I think I remember. And I remember it sounded like they wanted to do something intelligence related, and EO 12333 is like the standard intelligence authority.

So I remember thinking that that made sense. And then I remember thinking I have no idea what they are doing with the other stuff. That's the extent of my memory.

Q Okay. As far as the next paragraph it says, I, Donald J. Trump, President of the United States, find that the forensic reports of the Antrim County, Michigan, voting machines released on December 13th — and then it goes on.

Did you have any role in writing this either as a scribe or something that you came 20 up with?
In the middle of a deposition where she turned on attorney-client privilege at will, she described herself here as a "scribe."
A I definitely didn't come up with it. I could have been a scribe. I mean, I was — I was a scribe for a lot of things. And, like I said, I started this document.

I don't — like I've also said, I don't have the information on Dominion voting systems.

So if I physically typed this out, I had to have someone dictate it to me because I don't have this information.

Q Tell us about the conversations you had with Mike and Colonel Waldron about this. Like what was the purpose of it, as you started to draft and pull up an example —

A I didn't — I honestly didn't have a whole lot. They had mentioned that they were brainstorming some type of proposal to see if there was some government action to be taken on machines or whatever. I don't know a lot about the machines. I don't have a lot of information on the machines. And I was more curious about the authorities because, you know, I didn't know what authority they would use to do it.

And the two documents, one being DOD, one being DHS makes sense because I remember, you know, there was posse comitatus issue and they were talking about, you know, like DHS needs to be the lead because the military can't do it, whatever. I don't know. I don't even think I weighed — I do not remember weighing in on anything substantive about this.
And the legal advice? In spite of her awareness that the memo distinguished between DOD and DHS, the agency for which she had only recently been an attorney, she didn't have anything to do with the shitty legal advice, she says.
Q Okay. So that was going to be my next question. Without disclosing any legal advice you may have provided, were you asked to provide legal advice about this and weigh in from your perspective as a lawyer?

A I don't think so. No.

[snip]

What do you remember about any discussions related to the appointment of a special counsel in connection with this document?

A I have limited — like I have hazy recollection, but based on the fact that it says "her," I'm guessing they were probably thinking Sidney would get appointed, but I can't confirm that.

Q Okay. Do you know why Colonel Waldron wanted Sidney to be appointed as a special counsel?

Q I don't

[snip]

Q Now, working on their — on your computer, how does it get to that? And I'm sorry if you already said this.

A Yeah, that's okay. When they were done with it, they gave me my computer back and said — I don't remember who said it, but it was probably Phil said can you email this to Phil, or can you email this to me. And I sent it to Phil from there, and that was it.
This testimony is positively amazeballs.
And whether there's a scrap of truth to Bobb's claim that she, on a topic about which she fancied herself playing a legal role, simply gave her computer to non-lawyers (and maybe Sidney Powell) so they could draft a memo providing advice to the President of the United States, about a topic — national security law — on which she claims some expertise, that she would then blindly email to them without first reviewing, whether there's a shred of truth to any of this or not, it certainly explains why Boris Epshteyn would think Bobb might be a good candidate to participate in an effort to dupe the FBI as they investigated stolen classified documents. It also may explain why she disclaimed playing a legal role when she testified in October, so she could offer the FBI a similar story about playing the same kind of dumb cut-out for legal advice.
Christina Bobb, in an interview in which she was warned that any lies could be prosecuted as False Statements (though in which she was not placed under oath), told an absolutely fantastic story about how her computer came to write a historically shocking document in the run-up to an insurrection, but she had nothing to do with what her computer wrote.
https://www.emptywheel.net/wp-content/uploads/2022/08/Screen-Shot-2022-08-24-at-12.38.48-PM.png
1210
2158
emptywheel
https://www.emptywheel.net/wp-content/uploads/2016/07/Logo-Web.png
emptywheel
2023-04-17 06:51:24
2023-04-17 06:52:31
Christina Bobb's Rent-an-Attorney-Client Cut-Out Computer