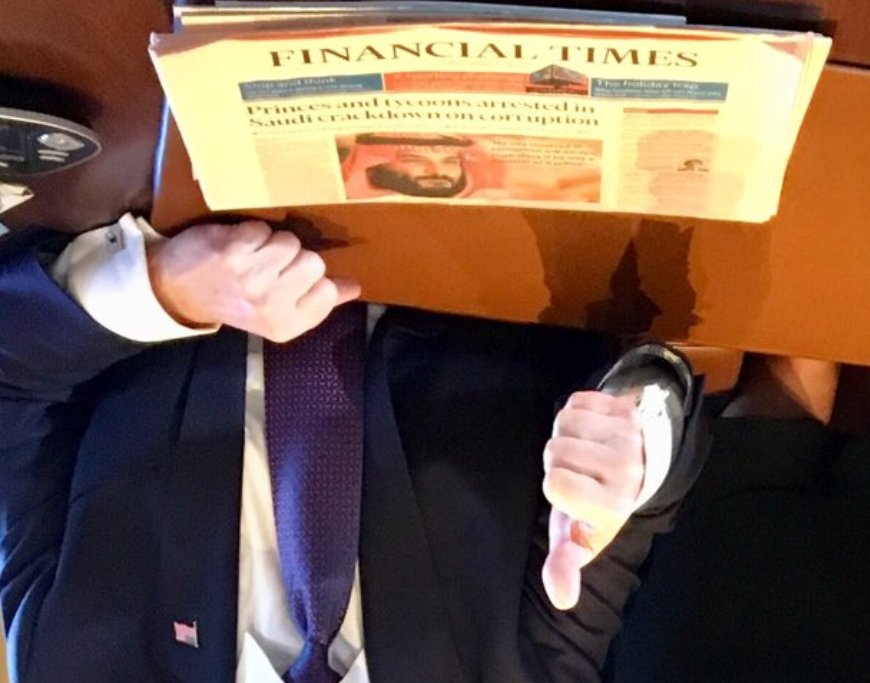 In March, DOJ Asked Trump for the Iran Document; In April, DOJ Asked for His Saudi Business Records
Remember how I responded to CNN's scoop that DOJ had recordings of Trump bragging about a document describing a plan to attack Iran that he acknowledged remained classified?
I suggested that if DOJ knew he had the document in July 2021, but didn't find it in the documents returned in January 2022 or June 2022 or August 2022, then we'd have problems.
If it is, then it would be a document that Trump transported back and forth from Florida — something that would make it easier for DOJ to charge this in DC instead of SDFL.

If it's something DOJ didn't obtain in the search, but also didn't obtain among the documents Trump returned in either January or June 2022, then … then we have problems. If this is among the documents that DOJ thinks Trump didn't return, then we have problems, especially given Jack Smith's focus on Trump's LIV golf deal, because this is the kind of document that the Saudis would pay billions of dollars for.
CNN has a follow-up, revealing that after Margo Martin was asked about the recording in her March grand jury appearance, DOJ subpoenaed Trump for the document.
His lawyers couldn't find it.
Attorneys for Donald Trump turned over material in mid-March in response to a federal subpoena related to a classified US military document described by the former president on tape in 2021 but were unable to find the document itself, two sources tell CNN.

[snip]

Prosecutors sought "any and all" documents and materials related to Mark Milley, Trump's chairman of the Joint Chiefs of Staff, and Iran, including maps or invasion plans, the sources say. A similar subpoena was sent to at least one other attendee of the meeting, another source tells CNN.

The sources say prosecutors made clear to Trump's attorneys after issuing the subpoena that they specifically wanted the Iran document he talked about on tape as well as any material referencing classified information – like meeting notes, audio recordings or copies of the document – that may still be Trump's possession.
That was in March.
In April, DOJ asked Trump for records on — among other things — his business ties to the Saudis.
The Trump Organization swore off any foreign deals while he was in the White House, and the only such deal Mr. Trump is known to have made since then was with a Saudi-based real estate company to license its name to a housing, hotel and golf complex that will be built in Oman. He struck that deal last fall just before announcing his third presidential campaign.

The push by Mr. Smith's prosecutors to gain insight into the former president's foreign business was part of a subpoena — previously reported by The New York Times — that was sent to the Trump Organization and sought records related to Mr. Trump's dealings with a Saudi-backed golf venture known as LIV Golf, which is holding tournaments at some of his golf clubs. (Mr. Trump's arrangement with LIV Golf was reached well after he removed documents from the White House.)

Collectively, the subpoena's demand for records related to the golf venture and other foreign ventures since 2017 suggests that Mr. Smith is exploring whether there is any connection between Mr. Trump's deal-making abroad and the classified documents he took with him when he left office.
In March, DOJ asked for this Iran document Trump boasted on tape of having at Bedminster in July 2021, but his lawyers couldn't find it.
In April, DOJ asked for records describing how and when he made a deal to host Saudi golf tournaments, and for how much.
In May, DOJ got Trump's Chief Operating Officer to explain what he knew about gaps in the five months of surveillance footage Trump Organization turned over.
https://www.emptywheel.net/wp-content/uploads/2017/11/Thumbs-Up1.jpg
683
870
emptywheel
https://www.emptywheel.net/wp-content/uploads/2016/07/Logo-Web.png
emptywheel
2023-06-02 12:33:38
2023-06-02 12:33:38
In March, DOJ Asked Trump for the Iran Document; In April, DOJ Asked for His Saudi Business Records