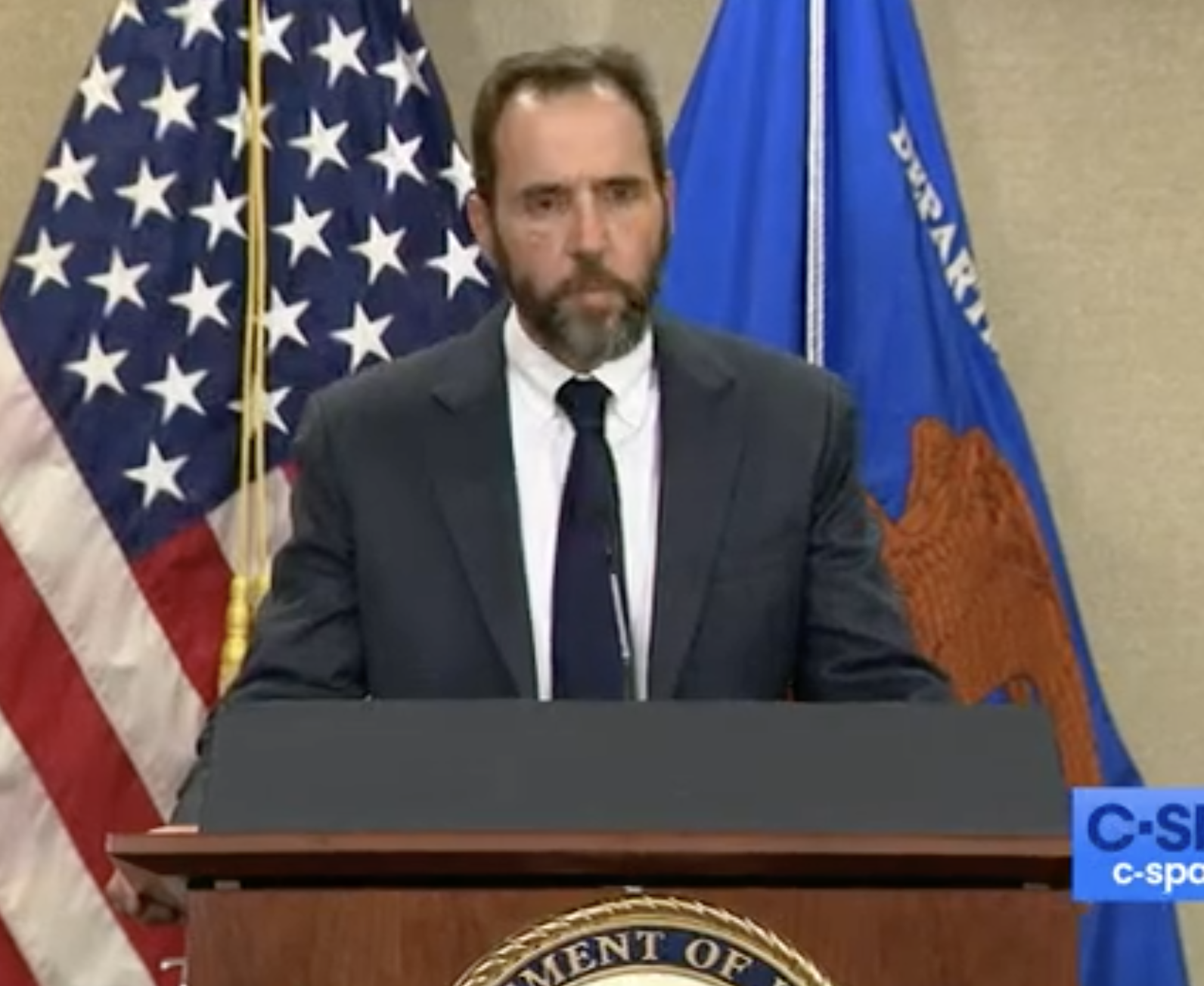 Republicans Demanded Independence for John Durham and Got Robert Hur and Jack Smith in the Bargain
Even before Trump's Espionage Act indictment was made public, Trump was attempting to politicize his stolen documents prosecution by demanding — via a Truth Social post— a meeting with Merrick Garland, who is not overseeing the case. Virtually every journalist fell for Trump's bait, reporting the demand without noting that Jack Smith is the prosecutor overseeing the investigation into Trump, not Merrick Garland.
Garland rightly refused the meeting.
Since then, paid propagandists have been chanting out "Joe Biden Merrick Garland Joe Biden Merrick Garland" talking points like wind-up toys, because repetition is how you get low-information Trump supporters and members of Congress to believe false claims.
This strand of propaganda has worked. The other day, WSJ's Sadie Gurman, after reviewing how assiduously Merrick Garland remained out of the process, stated as fact that this is a political prosecution.
When a grand jury returned the first-ever federal indictment of a former president last week, Attorney General Merrick Garland made a point of suggesting he was nowhere near the team handling the case.

He strolled into Justice Department headquarters in downtown Washington with his deputy late Thursday afternoon amid intense speculation about charges against Donald Trump and told a Wall Street Journal reporter he had been out getting a Covid vaccine.

[snip]

In keeping with that philosophy, Garland kept details of the indictment and its timing secret from Biden, who said Friday, "I have not spoken to him at all, and I am not going to speak with him."

The attorney general also declined to meet with Trump's lawyers, who requested a sit-down in the days leading up to the indictment, leaving the gathering instead to Smith and other Justice Department officials.

[snip]

Yet Garland now presides over what may be the highest-profile political prosecution ever, which is certain to be a prominent factor in the 2024 election. [my emphasis]
Gurman also suggested that Garland somehow engaged in politics by letting Jack Smith unseal the indictment that was sealed to protect security, not to let Trump sow violence in a vacuum.
But Garland didn't object to prosecutors asking a court to unseal the indictment on Friday, well before Trump's Tuesday arraignment when it would normally be made public, a person familiar with the matter said.
Finally, Gurman immediately — and, possibly, falsely — suggested that Garland "faces a call" on whether DOJ should charge Hunter Biden.
Adding to the political overtones, Garland also faces a call on whether the Justice Department should file charges against Biden's son, Hunter, who is under investigation related to his taxes and whether he made a false statement in connection with a gun purchase. Hunter Biden has said he acted legally and appropriately.
Garland only faces a call if he has to approve an indictment. If David Weiss chooses not to prosecute, Garland is not going to override the Trump-appointed US Attorney who has been retained to make this decision himself.
Since yesterday's arraignment, the false claim that Joe Biden and Merrick Garland have pursued the prosecution of Biden's rival has gotten crazier still, especially on Murdoch properties other than the one where Gurman invented a political prosecution where there is none. As Trump wailed about his plight at his club yesterday, for example, Fox's chyron accused Biden of being a "wannabe dictator" because a process entirely insulated from Biden resulted in Trump's arrest. (Natasha Korecki posted this screen cap.)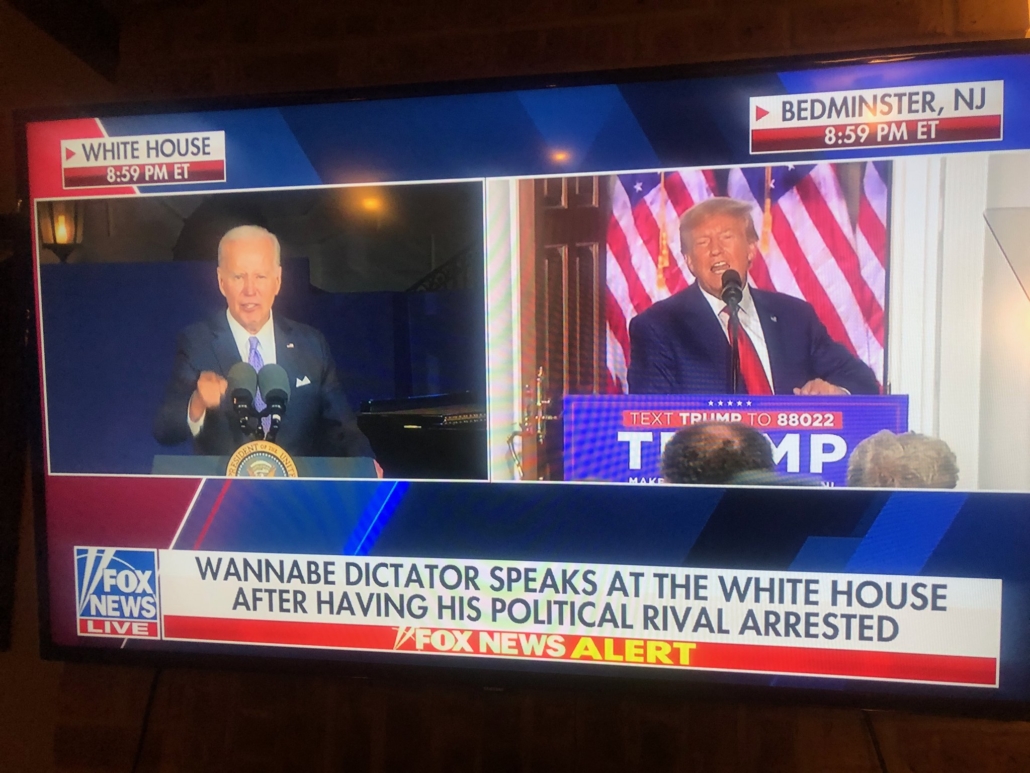 There's something especially noxious about the degree to which actual journalists like Gurman are parroting this line (Jamison Fraser notes a similar example in polling coverage).
Donald Trump is being treated no differently than Biden himself, to say nothing of the targets of John Durham's abusive four year investigation.
Consider how absurd it is that Trump, lashing out, promised to appoint "a real special 'prosecutor'" to go after Biden and "the entire Biden crime family."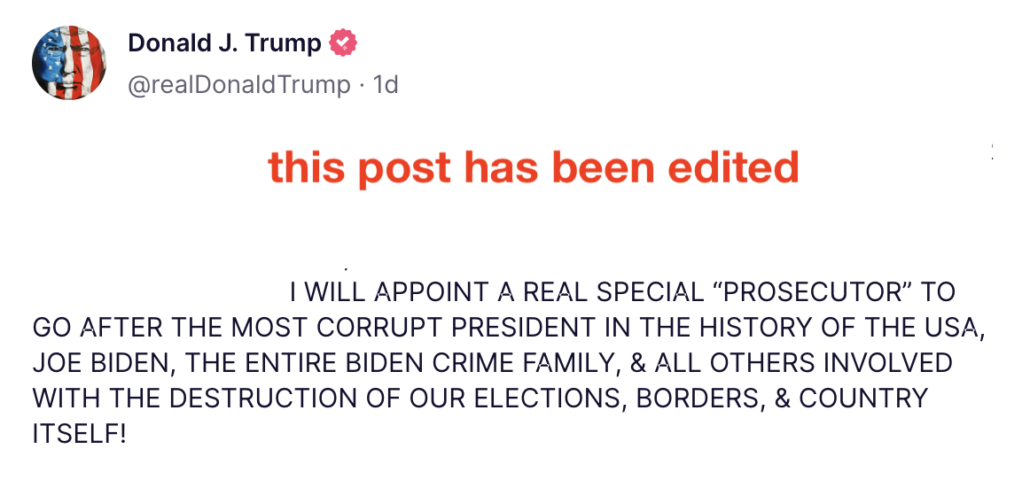 The Biden Administration already did that, Bucko!!! It currently has two Trump appointed prosecutors, David Weiss and Robert Hur, conducting investigations into Biden's son and Biden himself. You're so inadequate you can't even out-prosecute Biden than Biden himself is already doing!
Yet, in response to this tweet, almost no journalists noted that Joe Biden's Administration already did that — retain or appoint two separate Trump-appointed prosecutors to investigate Biden himself.
And that's a hint of what is affirmatively missing from the coverage of real journalists like Gurman.
It's that Republicans, and Trump himself, have demanded what they've gotten with Merrick Garland's distance from Jack Smith's prosecution. Republicans, and Trump himself, have repeatedly demanded that Garland stay out of Weiss' investigation. They even wailed that Biden was being treated specially after the discovery of classified documents at the Penn Biden Center, until it became clear a preliminary Special Counsel had been appointed within days, in Biden's case, not months.
Most importantly, none of these Republicans wailing about Garland's distance from the Jack Smith investigations (wailing because it demonstrates their claims that this is a political prosecution to be obvious bullshit) complained at all after John Durham used the independence Garland afforded him to engage in one after another instance of shocking prosecutorial abuse.
Republicans, and Trump himself, did not complain that Durham investigated for four years even though no crime predicated his investigation (a far worse abuse than Durham's complaint that Crossfire Hurricane was opened as a Full rather than Preliminary investigation).
Republicans, and Trump himself, did not complain that Durham threatened witnesses and lawyers (and lawyers complained to Merrick Garland in real time; they didn't wait until a target letter went out to try to excuse their own counterproductive legal advice).
Republicans, and Trump himself, did not complain that in both trials, first his lead prosecutor and then Durham himself, were caught scripting improbable or affirmatively misleading testimony from witnesses.
Republicans, and Trump himself, did not complain that Durham charged Michael Sussmann for coordinating with Hillary's top staffers months before interviewing any of those staffers and discovering it wasn't true.
Republicans, and Trump himself, did not complain that Durham charged Igor Danchenko relying, in significant part, on the rants Sergei Millian made on his Twitter feed, only to discover, months later, that Millian was unwilling to repeat the same claims at trial under oath.
Republicans, and Trump himself, did not complain that Durham prosecuted a man for making a literally true statement to the FBI.
Republicans, and Trump himself, did not complain when John Durham accused Sussmann and Danchenko anew of lying to the FBI after two juries told him he couldn't prove that claim.
Republicans, and Trump himself, did not complain that John Durham fabricated a claim that even the Russians didn't make against Hillary and used it as his excuse to continue his investigation for three more years.
Republicans, and Trump himself, did not complain when John Durham affirmatively misrepresented the YotaPhone white paper; instead, Trump used Durham's misrepresentation to justify making death threats against Michael Sussmann.
Republicans, and Trump himself, knew how much independence Merrick Garland was giving Jack Smith, because Durham told them that he committed all that abuse and yet Garland let him continue unimpeded.
Finally, we want to thank you and your Office for permitting our inquiry to proceed independently and without interference as you assured the members of the Senate Judiciary Committee would be the case during your confirmation hearings to become Attorney General of the United States.
And long after it was clear that Garland had given Durham precisely the independence that Republicans, and Trump himself, had demanded, Trump is the one who forced the appointment of a Special Counsel by announcing his run six months ahead of his competitors. Trump took steps that led to someone completely independent investigating his suspected crimes, not Joe Biden, not Merrick Garland. And now he's trying to pretend that he himself didn't ensure someone independent would investigate his suspected crimes.
Jack Smith has been living by the rules Republicans demanded, and got, for John Durham.
I don't expect Trump to care that Jack Smith has been operating under the same rules of independence that Garland gave Durham. Trump needs to claim this is political, to provide his boosters — and probably his own fragile ego — some explanation for this indictment other than that a grand jury of South Floridians determined there was probable cause he committed an unprecedented crime that made this country less safe. I expect Mike Davis to continue reeling out his knowingly false claims, Joe Biden Merrick Garland Joe Biden Merrick Garland. It's what he is paid to do.
But journalists like Sadie Gurman should know better. Journalists like Sadie Gurman, after presenting proof that Jack Smith is operating with the same independence that John Durham did, owe their readers a description of what it means that this investigation has operated with independence. Journalists like Sadie Gurman should not be drawn in by attempts to delegitimize a prosecution only because Trump belatedly wants to change the rules he himself demanded.
Update: I've updated my stolen documents investigation resource page, with key documents, a bit of a timeline, all our posts on the case, plus other useful links (including to dockets of other 18 USC 793 cases).
https://www.emptywheel.net/wp-content/uploads/2023/06/Screen-Shot-2023-06-09-at-8.06.53-PM.png
1304
1592
emptywheel
https://www.emptywheel.net/wp-content/uploads/2016/07/Logo-Web.png
emptywheel
2023-06-14 07:06:20
2023-06-14 14:01:04
Republicans Demanded Independence for John Durham and Got Robert Hur and Jack Smith in the Bargain