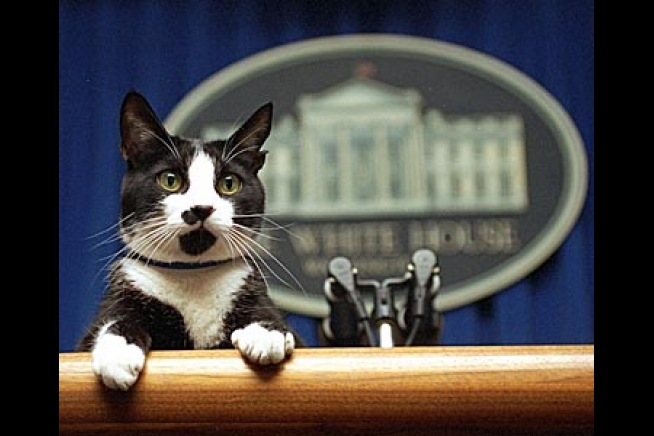 Down a Mouse Hole with Bill Clinton's Cat, Socks
When I first read this WaPo article yesterday, I was struck by two things: first, the revelation that when Judicial Watch's Tom Fitton appeared before a Jack Smith grand jury early this year, he was asked both about his central role in convincing Donald Trump he could rely on a case he, Fitton, lost, to justify stealing thousands of government documents (that's the testimony we knew about), but also his role in January 6.
Fitton, who appeared before the grand jury and was questioned about his role in both the Mar-a-Lago documents case and the investigation into the Jan. 6, 2021, attack on the U.S. Capitol, acknowledged he gave the advice to Trump but declined to discuss the details of their conversations.
I wasn't aware that Fitton had much of a role in January 6.
I was also shocked that, in the spite of the grave damage Fitton's crackpot advice had already done to Donald Trump's future, he was nevertheless permitted to be there with the accused felon Monday night, dining on what was undoubtedly overcooked filet mignon, as Trump and his supporters discussed his plans for beating the rap.
In an interview Wednesday, Fitton said he dined with Trump on Monday night at his club, eating filet mignon with the former president one day before his first court appearance on the document charges. "I saw him last night; he's in a good mood. He's serious and ready to fight under the law."
On top of the sheer stupidity of letting Fitton anywhere close to Trump in the wake of his indictment, Fitton's presence presumably would breach any privilege claim lawyers present could make in the future.
The report that Fitton has been chatting with Trump this week explains some of the insanely stupid things Trump has said on his failing social media site, not to mention Trump's deceit in claiming he would see everything presented to the grand jury, much less have already seen it before any protective order is signed and discovery is provided.

By invoking Clinton's Socks, his term for Fitton's failed lawsuit, Trump was falsely claiming to have inside knowledge of something that would have legal merit, presumably so his followers would believe Trump had some viable defense (that they would send him money to fund).
I was not, however, surprised by the sheer stupidity of the opinions Fitton expressed to WaPo.
"I think what is lacking is the lawyers saying, 'I took this to be obstruction,'" said Fitton. "Where is the conspiracy? I don't understand any of it. I think this is a trap. They had no business asking for the records … and they've manufactured an obstruction charge out of that. There are core constitutional issues that the indictment avoids, and the obstruction charge seems weak to me."

Several other Trump advisers blamed Fitton for convincing Trump that he could keep the documents and repeatedly mentioning the "Clinton socks case" — a reference to tapes Bill Clinton stored in his sock drawer of his secret interviews with historian Taylor Branch that served as the basis of Branch's 2009 book documenting the Clinton presidency.

Judicial Watch lost a lawsuit in 2012 that demanded the audio recordings be designated as presidential records and that the National Archives take custody of the recordings. A court opinion issued at the time stated that there was no legal mechanism for the Archives to force Clinton to turn over the recordings.

For his part, Fitton said Trump's lawyers "should have been more aggressive in fighting the subpoenas and fighting for Trump."
It's not just that Fitton was allowed to share these legally incorrect opinions with Trump. It's that he badly misunderstands how his own advice about the "Clinton Socks" case might be viewed as an agreement with Trump to enter into a conspiracy to withhold classified documents.
Remember, after Trump fucked up releasing the Crossfire Hurricane documents, Fitton went after them himself, only to reveal that the collection was just one dumbass binder.
Anyway, after puzzling through what role Tom Fitton might have had on January 6, I started reading through a motion to compel that Ruby Freeman's attorneys served on pardoned felon Bernie Kerik last week. Bernie was the guy who mailed a key strategy document to Mark Meadows on December 28, 2020. In addition to making clear that Bernie was sharing the document to "move legislators," not win court cases, it included exhibits laying out the claims about Freeman and her daughter Shaye Moss that Rudy Giuliani would subsequently make publicly — that Freeman counted suitcases of votes multiple times after kicking out poll watchers, using a false claim of a water main break as the excuse — claims that Freeman alleges amount to defamation.
To be clear: those claims about Freeman are false, as is the claim she was arrested for her actions. Thus the lawsuit.
Freeman's lawyers filed a motion to compel because when Kerik first responded to their subpoena last year, his attorney — Tim Parlatore — simply provided a link to the stuff that Kerik had provided to the January 6 Committee. Since then, Freeman's lawyers argue, Rudy has disclaimed any work privilege claim over materials prepared for legislatures, as opposed to lawsuits. But when Freeman's lawyers have gone back to Kerik to get the materials he withheld from J6C under a work product privilege claim that (they argue) Rudy has since waived, Parlatore explained there had been a "technical glitch" that creates some difficulties in consulting with Rudy's attorney on the issue.
Relations between Parlatore and Freeman's team have been sour for some time. Around the same time in December when Parlatore was telling a DC grand jury that he had done a diligent search of Bedminster — where at least two and probably a bunch of classified records have been sent, never to be seen again — he was telling Freeman's team that Kerik didn't have some documents that Freeman had obtained from other sources.
After Plaintiffs spent months negotiating with Mr. Kerik's counsel and made more than a dozen unsuccessful attempts to effectuate personal service on Mr. Kerik,5 counsel for Mr. Kerik accepted service of the First Kerik Subpoena on November 14, 2022. (See Houghton-Larsen Decl. ¶ 4.) On November 21, 2022, Plaintiffs agreed to narrow the requests and provided examples of emails produced during discovery that were sent to Mr. Kerik but were not present in his production to the Select Committee. (See id. ¶ 5.) On December 21, 2022, Mr. Parlatore responded that "Mr. Kerik has looked and we do not seem to have any additional responsive documents to provide." (See id. ¶ 6.) Mr. Kerik has never explained why he does "not seem to have" any of the example communications Plaintiffs provided to him, on which he was copied, and which have been produced by other parties.
By the time former Trump attorney Parlatore claimed a "technical glitch" was creating delays on June 7, the day before Trump was indicted, he also explained that, "there are other more pressing matters that have taken priority."
The motion to compel includes fragments of both Rudy's and Kerik's March depositions in this case. In Kerik's, Parlatore made a series of dickish responses to Freeman attorney Annie Houghton-Larsen's questions that Parlatore deemed to ask for work product information, precisely the privilege claim that has since started to collapse.
In Rudy's, there are a slew of hilarious responses showing how dissolute Rudy has gotten, such as when, struggling to come up with Sidney Powell's name, he called her the Wicked Witch of the East.
Q. I'll ask you about who was on it, but the team that was assembled at that point in time, is that the team that Ms. Bobb is referring to as the "Giuliani legal team"?

A. Correct.

Q. Now you can tell me, who was on this team?

A. It was myself, Jenna Ellis, Victoria Toensing, Joe DiGenova, Boris Epshteyn, originally.

We added Christina after about two weeks, and we added — oh my goodness, of course, her name will escape me.

Come on guys, help me. The wicked witch of the east.

Q. It's — really, in this forum, I'm interested in what you remember.

A. Oh, I remember who it is. I just can't remember the name. I block it out.

Q. We can come back to it.

A. On purpose. Everybody knows who it is.

Q. We can come back to it.

Anyone else aside apart this —

A. Sidney.

Q. Sidney?

A. It was Sidney.

Q. Sidney who?

MR COSTELLO: How could you forget that?

Q. Are you referring to Sidney Powell?

A. Sidney Powell, yeah.
Both men, however, struggled when asked about this passage of the strategy document, showing who, on December 28, its author considered key members of their team (Freedom Caucus members make the list on the following page), both struggled to remember who some of the members were.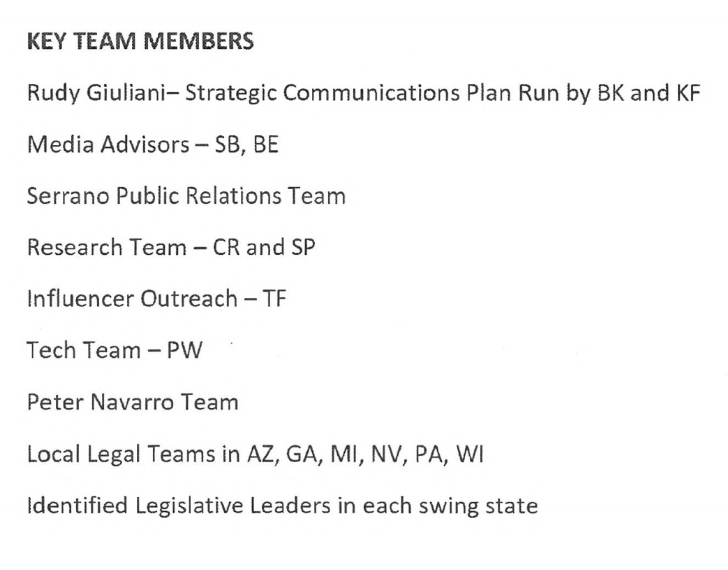 There was little doubt that BK was Kerik and both ultimately decided that BE was Epshteyn.
But both simply couldn't imagine what close Boris associate "SB" might be. Here's Kerik's epic struggle with the question:
Q. Okay. This might help you. Can we please turn to page 6.

Okay. So about two-thirds down the page it says, "Key team members. Rudy Giuliani."

And then, "BK." I'm assuming that's you.

A. That's probably me.

Q. Okay. "KF." Do you know who that is?

A. Katherine Friess.

Q. And then, "Media advisors. SB." Who do you think that is?

A. No idea. Well, I went through this before.

THE WITNESS: Who did I do this with? J6?

MR. PARLATORE: Probably.

THE WITNESS: Yeah. Boris Epshteyn would have been the BE. SB, I have no idea what that  is.

BY MS. HOUGHTON-LARSEN:

Q. Okay.
Sadly, Rudy dodged the TF question altogether and the excerpt cut off before Kerik was quizzed about the same question.
So we will have to wait to learn whether Tom Fitton is the TF who did influencer outreach on the effort to steal the election.
But it might help to explain why he was still welcome in the Boris Epshteyn-led effort to pursue political grievance rather than a sound legal defense.
https://www.emptywheel.net/wp-content/uploads/2023/06/Socks_cat_1_0.jpeg
436
654
emptywheel
https://www.emptywheel.net/wp-content/uploads/2016/07/Logo-Web.png
emptywheel
2023-06-15 09:05:58
2023-06-16 05:38:12
Down a Mouse Hole with Bill Clinton's Cat, Socks