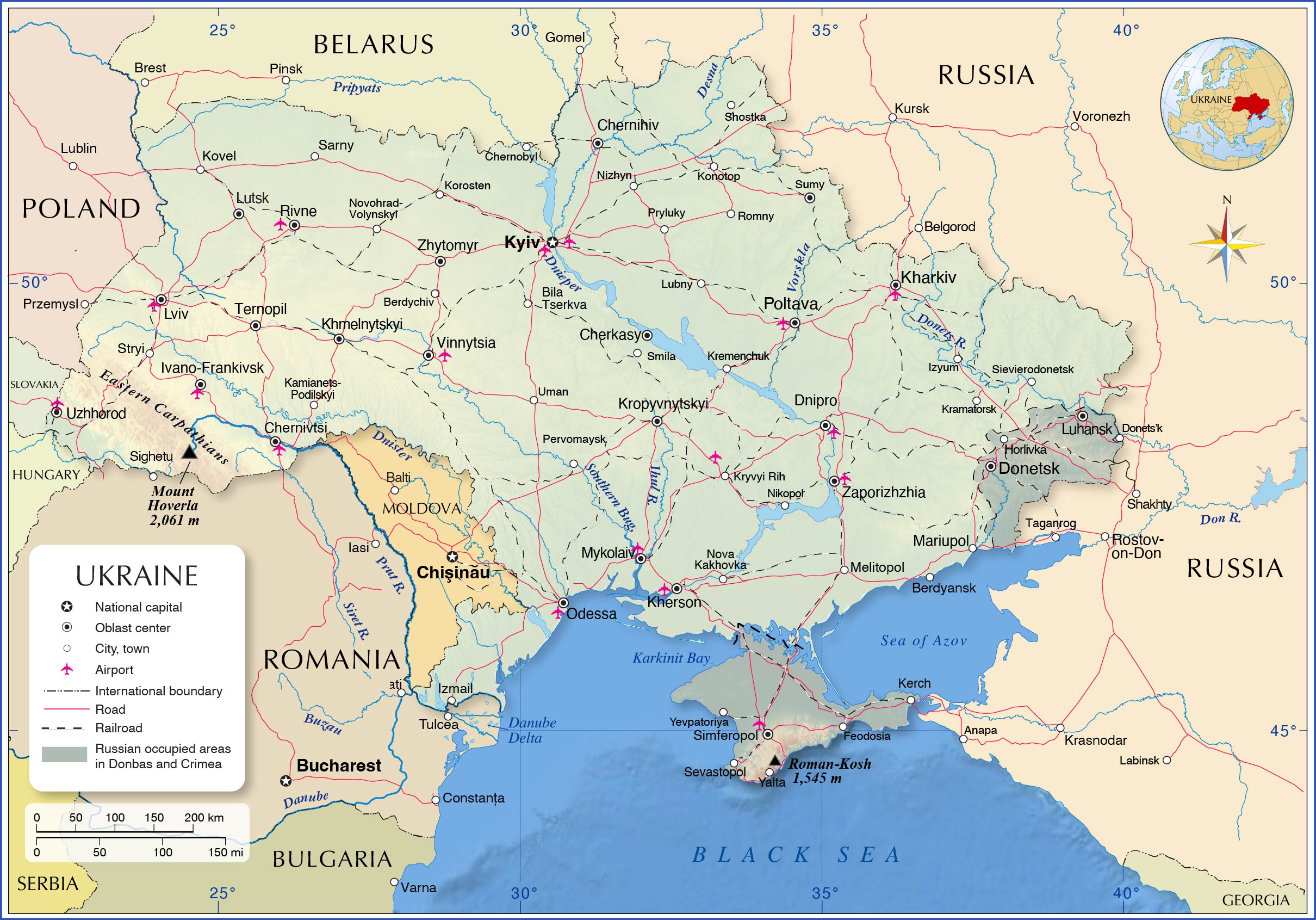 Compliments to the Chef: Prigozhin's Trouble Looks like Civil War [UPDATE-1]
[NB: check the byline, thanks. /~Rayne]
Moscow Times reported about four hours ago — roughly 4:00 p.m. ET / 11:00 p.m. Moscow and Kyiv time — that Russia's Federal Security Service of the Russian Federation (FSB) had filed charges against Putin's chef, Yevgeny Prigozhin.
The head of Russia's Wagner mercenary group Yevgeny Prigozhin was charged with "inciting an armed uprising" and military vehicles were deployed to the streets of Moscow and Rostov-on-Don after he made an extraordinary threat to "stop" Russia's top military brass.

Prigozhin on Friday accused Russia's military leadership of ordering strikes on Wagner's camps and killing a "huge" number of forces.

In a tirade against the Defense Ministry, with whom he has been feuding publicly for months over the handling of the war in Ukraine, Prigozhin, 62, said Wagner's leadership had determined that "the evil that the military leadership of the country brings must be stopped."
Prigozhin had been infuriated by an attack on his Wagner group personnel by Russia, according to Bellingcat's Aric Toler:
A Russian military blogger visited a Wagner base shortly before it was allegedly the target of a shelling attack, which Wagner head Yevgeny Prigozhin has blamed on the Russian Ministry of Defence (MOD), although which the MOD has denied.

On the evening of June 23, a Wagner-affiliated Telegram channel posted the following message, which was soon-after shared by Prigozhin on his personal Telegram channel: "A missile attack was carried out on a PMC Wagner base. There are many casualties. According to the information of the fighters who are witnesses, the attack was carried out from a rear direction – that is, it was carried out by soldiers of the Russian Ministry of Defence."
Nadin Brzezinski noted protective action under way in Moscow:
Moscow has mobilized Rosvgardia (National Guard) and Federal Protective Service, FSO troops. There are rumors that the Guard, or some formations, are picking up arms.
Voice of America's Steve Herman confirmed RIA Novosti reported Moscow has been locked down.
The protective activity follows several statements Prigozhin made on Friday evening after release via social media platform Telegram of a video purportedly showing the effects of a Russian missile or missiles hitting Wagner group's "rear camps,"
— Prigozhin said "A huge number of our fighters, our comrades-in-arms, died. We will decide how to respond to this atrocity. The next step is ours," attributing the deaths to missile strikes by Russia's Defense Ministry.
— Prigozhin's press office released a recording in which Prigozhin said, "The evil that the military leadership of the country bears must be stopped. They neglect the lives of soldiers, they forgot the word "justice", and we will return it. Therefore, those who destroyed our guys today, and tens of thousands of lives of Russian soldiers, will be punished…I ask everyone to remain calm, not to succumb to provocations, to stay in their homes, it is advisable not to go outside along the route of our journey. After we finish what we started, we will return to the front to defend our homeland. The presidential power, the government, the Ministry of Internal Affairs, the National Guard and other structures will continue to work. We will deal with those who destroy Russian soldiers and return to the front."
— "Shoigu just cowardly fled from Rostov. At 21:00, he ran cowardly, like a woman, so as not to explain why he raised helicopters to destroy our guys, why he launched missile strikes. This creature will be stopped," Prigozhin said in his third statement, apparently blaming Russia's Minister of Defence Sergei Shoigu directly for the missile attack.
Prigozhin and Shoigu have been in conflict since last fall, blaming Shoigu and General Valery Gerasimov for both Russia's military failures and for attacks on Wagner group personnel on the ground. He hasn't held back with Putin about these problems.
Two to three hours ago — roughly 6:00-7:00 p.m. ET, 1:00-2:00 a.m. Moscow — Prigozhin said, "We are going farther. We will go to the end," apparently referring to Wagner group personnel moving toward Rostov-on-Don, a city in western Russia located on the eastern tip of the Sea of Azov. The city is located about 110 miles east of Mariupol Ukraine and 270 miles northeast of Kerch in Crimea. Shoigu was alleged to be in Rostov-on-Don.
There is a lot of confusion internally as to the intent and meaning of Prigozhin's statements and actions, much of it due to multiple messages across Russia's military and political leadership. First deputy chief of the general staff of the armed forces Lt. General Vladimir Alekseev called it a coup. Deputy Commander Sergei Surovikin pleaded with Wagner group leadership to return to their positions before the missile attack.
~ ~ ~
Confusion reigns outside of Ukraine and Russia as well, at least inside the U.S.; while European news outlets are covering these developments in real time, U.S. outlets have been lagging.
ADDER: Snapshot from 8:00 p.m. ET of the top of Google News' full coverage for Russia's charges against Prigozhin and Prigozhin's hostility toward Russian defense: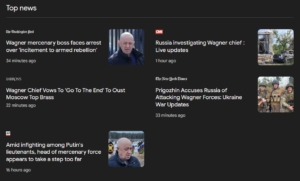 The New York Times may be the one exception; it has an aggregated feed of ongoing updates, thankfully with local times posted at the top.
There have been many observations that Twitter is now functionally useless for real time news when it had been the go-to platform before Twitter was acquired by Elon Musk.
The White House has been updated and is in a wait-and-see mode:
Joe Biden didn't change his plans for the evening and attended an abortion rights event.
~ ~ ~
UPDATE-1 — 9:30 A.M. 24-JUN-2023 —
Moscow is being fortified against Wagnerites:
See community member
harpie's comments beginning at 6:33 a.m. ET
for a chronological rundown of developments overnight.
Prigozhin is no longer targeting only Shoigu and Gerasimov.
It says something that Russia's deputy prime minister has bailed out of the country:
Meanwhile, in Ukraine:
Hoping for a bumper popcorn crop this season.
~ ~ ~
If there are updates to this piece they will appear at the bottom of this post.
https://www.emptywheel.net/wp-content/uploads/2023/06/Map_Ukraine_NationsOnlineProject_23JUN2023jpg.jpg
1691
2420
Rayne
https://www.emptywheel.net/wp-content/uploads/2016/07/Logo-Web.png
Rayne
2023-06-23 21:36:10
2023-06-24 09:37:36
Compliments to the Chef: Prigozhin's Trouble Looks like Civil War [UPDATE-1]