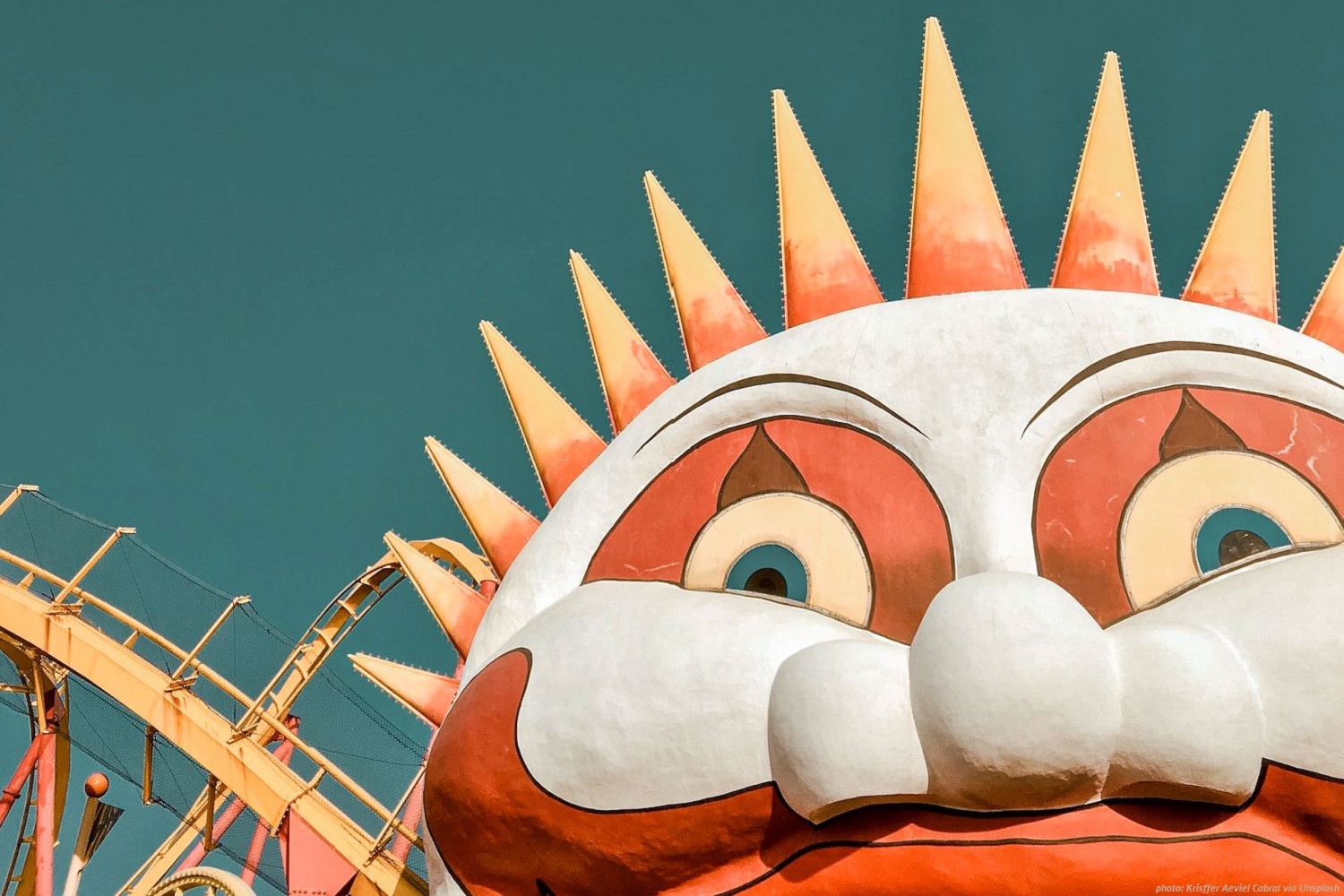 The Smell of Flop Sweat and Circus Peanuts
[NB: check the byline, thanks. /~Rayne]
Buckle up, cupcakes. You know it's about to go down when the ringmaster summons the clowns.
Like this sad doofus.
She can't even entertain and distract us on her own without flesh-colored props stolen from someone's computer.
How entirely predictable this goat rodeo was on Wednesday, though. You could set your watch by the triggers.
~ ~ ~
First, the truth is slowly beginning to seep into the public's consciousness that lifelong scofflaw Donald J. Trump is in deep shit which is about to meet the oscillator.
As Marcy shared in a post on Tuesday, Trump had a tantrum in his personal social media platform. He acted out after Special Counsel Jack Smith sent him a target letter with a deadline Thursday — today — to appear in front of a grand jury.
Lashing out against law enforcement is far from constructive — unless it serves another purpose like whipping up the base for grifting.
Up to now the angry hyperbole flung at Special Counsel and other investigations hasn't helped Trump much in public opinion, according to a Politico/Ipsos poll published July 6, a month after Trump was indicted related to possession of classified documents and presidential records.
While right-leaning outlets posted headlines like "Nearly a quarter of Republicans say classified docs charges make them more likely to support Trump: poll" in The Hill, Ipsos' published its results under a headline which read, "Most Americans think Trump should head to trial before the 2024 election."
This is not a pretty picture for Trump one month after his indictment, before even more evidence emerges about the case.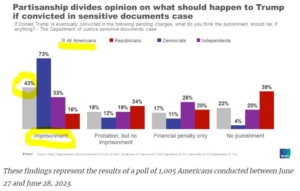 Trump will continue to respond the same way until these numbers improve because he's running out of options.
~ ~ ~
Second, in his tantrum online, Trump called upon the House GOP and whined for their support, demanding "REPUBLICANS IN CONGRESS MUST MAKE THIS THEIR # 1 ISSUE!!!"
Why the GOP-led House and not some other political group? Because members of the House are protected by the Constitution's Speech or Debate clause, Article I, Section 6, Clause 1:
"The Senators and Representatives…shall in all Cases, except Treason, Felony, and Breach of the Peace, be privileged from Arrest during their attendance at the Session of their Respective Houses, and in going to and from the same; and for any Speech or Debate in either House, they shall not be questioned in any other Place."
Clowns like Big Marj and Jim "Ignore the OSU sex abuse" Jordan (R, OH-04) can blab in front of cameras and microphones, say the most obnoxious crap on behalf of their mob boss, and never be held to account so long as they do it while ostensibly representing their constituents.
They'll keep doing this until voters get fed up with this trash juggling which does nothing to address the country's real needs.
Really, what does a bunch of stolen nude images of Hunter Biden have to do with tax law enforcement — laws which have already resulted in Hunter Biden being charged with a guilty plea expected in court this next week. This isn't even a question you'll note.
These images had jack-doodley-squat to do with the investigation by IRS personnel who should have been looking for documentation of unreported income or fraudulent write-offs and not nudes of a white male in his late 40s engaged in consensual sex with adults.
Because the erstwhile IRS investigators have also not been held to account for their shoddy work which amounts to little more than digging through a digital underwear drawer, they'll be used over and over again like goats in this clown-riddled rodeo.
~ ~ ~
Third, the influence operation(s) which resulted in disinformation relying on stolen digital nude photos is being picked asunder and exposed for what it is. This site's readers who've been following Marcy's painstaking effort digging through documentation know well the narrative created by Trump, the GOP, and other entities is falling apart.
One major tell: the attack on this website after Marcy published her most recent post examining media outlets' role in the influence operation suggests the details she's shared have hit a nerve.
Not only has the ringmaster summoned the clowns to change the subject as loudly and obnoxiously as possible, but an attempt was made to shut down and silence an open source investigation.
Can't imagine why that would be necessary given how entertaining the truth has been.
~ ~ ~
Lastly, there's another narrative both the ringmaster and a certain clown needed to drown out in a big fat hurry.
Oops.
So utterly predictable which clown would be in the center arena of the big top Wednesday.
When the next federal indictment of Trump is announced, which flop-sweaty clown do you think will appear first? Place your bets.
Consider this an open thread. Bring everything not on topic in other threads to this one.
_____
* Image blurred by me because nobody needed to see that; a citizen's bodily autonomy and personal privacy deserved protection and shouldn't have been treated like revenge porn without their consent no matter if they failed to pay some of their federal income taxes or carried a handgun while addicted to illegal substances.
https://www.emptywheel.net/wp-content/uploads/2023/07/CircusRideClown_KrisfferAevielCabral-Unsplash_19JU2023_mod.jpg
1000
1500
Rayne
https://www.emptywheel.net/wp-content/uploads/2016/07/Logo-Web.png
Rayne
2023-07-21 09:39:48
2023-07-21 09:47:57
The Smell of Flop Sweat and Circus Peanuts