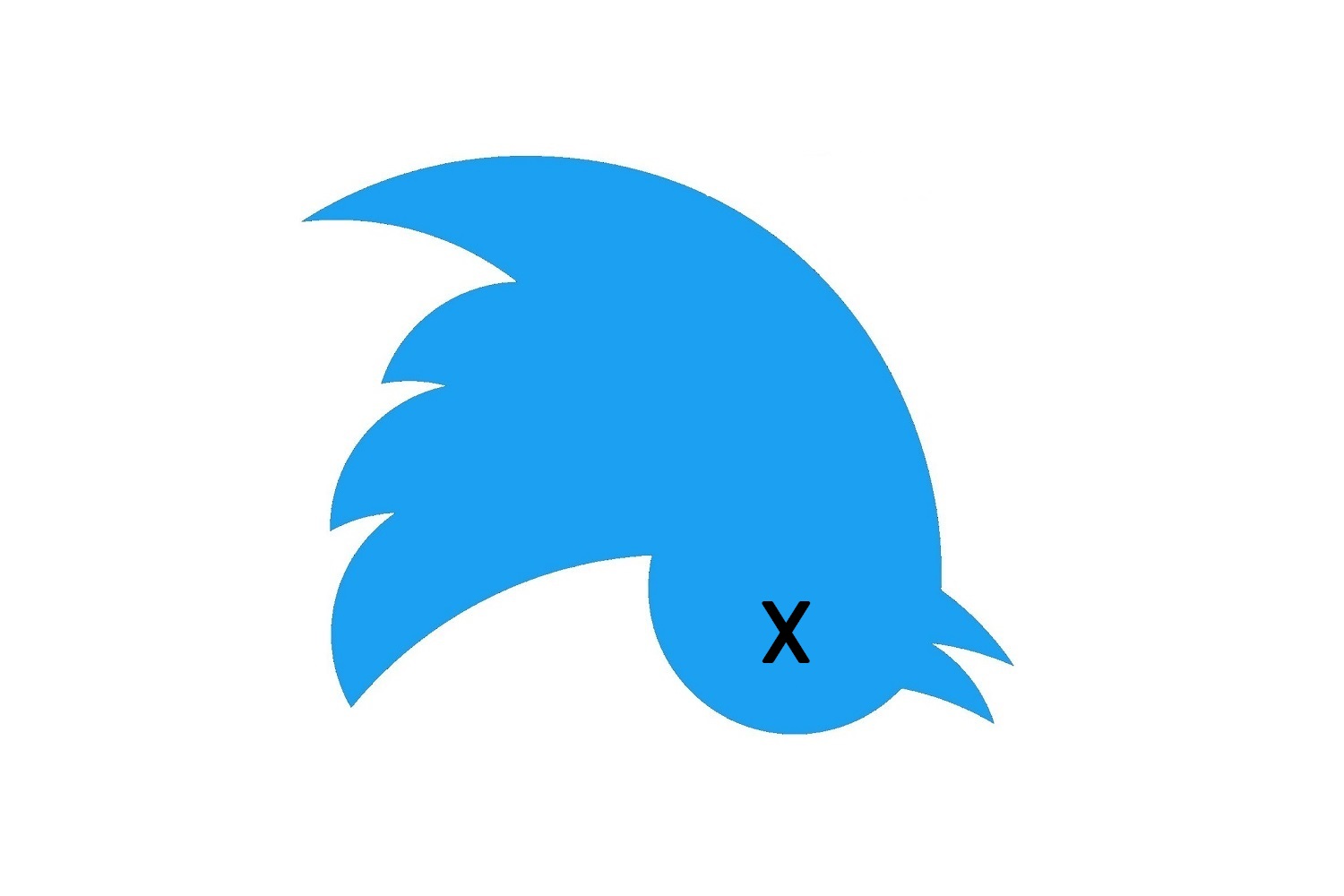 What Is The Sound of a Dead Bird Xitting?
[NB: check the byline, thanks. /~Rayne]
This post contains observed and speculative material following the reported loss of content circa 2011-2014 at the former bird app.
~ ~ ~
Observed:
August 9, 2023 – D.C. Circuit Court of Appeals affirmed the D.C. district court's earlier finding holding Twitter in contempt and assessing a $350,000 fine for failure to fully comply by the district court's subpoena deadline.
August 16, 2023 6:41 a.m. ET – Marcy posted about Xitter's sketchy behaviors in its response to a DOJ subpoena approved on January 17, 2023. Xitter has been held in contempt and assessed a $350,000 fine for failure to comply with the subpoena.
August 16, 2023 1:59 p.m. ET – Marcy posted about the importance of attribution related to January 6 tweets which could have gotten former VP Mike Pence killed. Twitter data could reveal the account login information and device used for the purposes of threatening Pence.
August 17, 2023 6:23 a.m. ET – Marcy posted about Elon Musk's meetings with with Jim Jordan and Kevin McCarthy while Xitter's internal and external legal team tap danced about the subpoena it had failed to comply with fully and on a timely basis. This dancing may have been an effort to protect Musk and his political network including certain members of Congress.
August 17, 2023 3:26 p.m. ET – Brazilian Xitter user Danilo Takagi posted,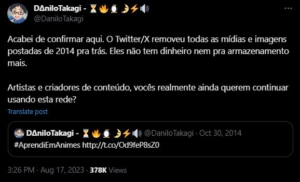 Acabei de confirmar aqui. O Twitter/X removeu todas as mídias e imagens postadas de 2014 pra trás. Eles não tem dinheiro nem pra armazenamento mais. Artistas e criadores de conteúdo, vocês realmente ainda querem continuar usando esta rede?

[Translation from Portuguese: I just confirmed here. Twitter/X has removed all media and images posted from 2014 onwards. They don't even have money for storage anymore. Artists and content creators, do you really want to continue using this network?]
August 19, 2023 11:31 a.m. ET – Xitter user Tom Coates confirms Danilo Takagi's earlier observation: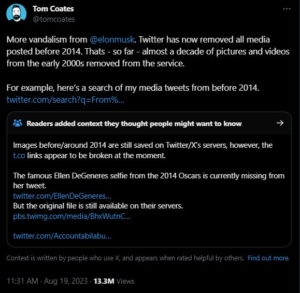 More vandalism from @elonmusk. Twitter has now removed all media posted before 2014. Thats – so far – almost a decade of pictures and videos from the early 2000s removed from the service. For example, here's a search of my media tweets from before 2014. https://twitter.com/search?q=From%3Atomcoates%20until%3A2014-01-01&src=typed_query&f=media
Xitter Birdwatch contributors added context:
Images before/around 2014 are still saved on Twitter/X's servers, however, the t.co links appear to be broken at the moment.

The famous Ellen DeGeneres selfie from the 2014 Oscars is currently missing from her tweet. https://twitter.com/EllenDeGeneres/status/440322224407314432
But the original file is still available on their servers.
https://pbs.twimg.com/media/BhxWutnCEAAtEQ6?format=jpg&name=large
thttps://twitter.com/Accountabilabud/status/1693026133191819518?s=20
Each of the links above in the Birdwatch context field have not been available consistently; they have been converted by Xitter's t.co link shortener when the tweet is shared but the shortened links may not work properly.
The erasure appears to be related in part to a "failure" of the t.co link shortener which eliminates accessibility to content, but this doesn't explain why graphic media circa 2011-2014 is no longer available.
What the actual fuck is going on at Xitter?
~ ~ ~
Here are several prominent theories about the loss of media on Xitter:
• Musk is cutting costs, some say, by refusing to host media content.
It's possible, but why 2011-2014 and not ALL of the former Twitter's media content? Is this explanation consistent with the "failure" of the t.co shortener and loss of graphics in that date range?
• Musk is trying to damage social networks within Xitter for his personal political agenda, others say.
Again, why that specific range and not from the former Twitter's inception?
• Musk is erasing cultural history, engaging in ethnocide or cultural genocide, noted by minority groups.
True. Erasing key parts of the Black Lives Matter movement's inception and the social response to deaths which preceded it is one example targeted by this date range.
Also the erasure of Arab Spring-related content may be ethnocide.
You're going to see folks making these points across social media, but there's at least one more possible factor driving Musk's erasure.
~ ~ ~
Speculative:
What if Musk is eliminating access to evidence?
How do we know for sure whether Xitter the former dead bird platform is simply running into the operations problems expected since Musk canned 75-80% of staff, or whether he's actively obstructing investigations which rely on former Twitter content by screwing with data accessibility?
How do we know Musk isn't doing the bidding of his fossil fuel financiers from Qatar and KSA by suppressing access to content critical of leadership in those countries? Perhaps even hiding what it was spies for KSA employed by Twitter had been doing, or hiding possible foreign interference in democracy here and abroad?
Ponder this bit of dead bird xit for a while.
https://www.emptywheel.net/wp-content/uploads/2023/04/1259px-Twitter_bird_logo_2012_Ded-X_11APR2023.jpg
1000
1500
Rayne
https://www.emptywheel.net/wp-content/uploads/2016/07/Logo-Web.png
Rayne
2023-08-20 21:33:55
2023-08-20 21:44:35
What Is The Sound of a Dead Bird Xitting?