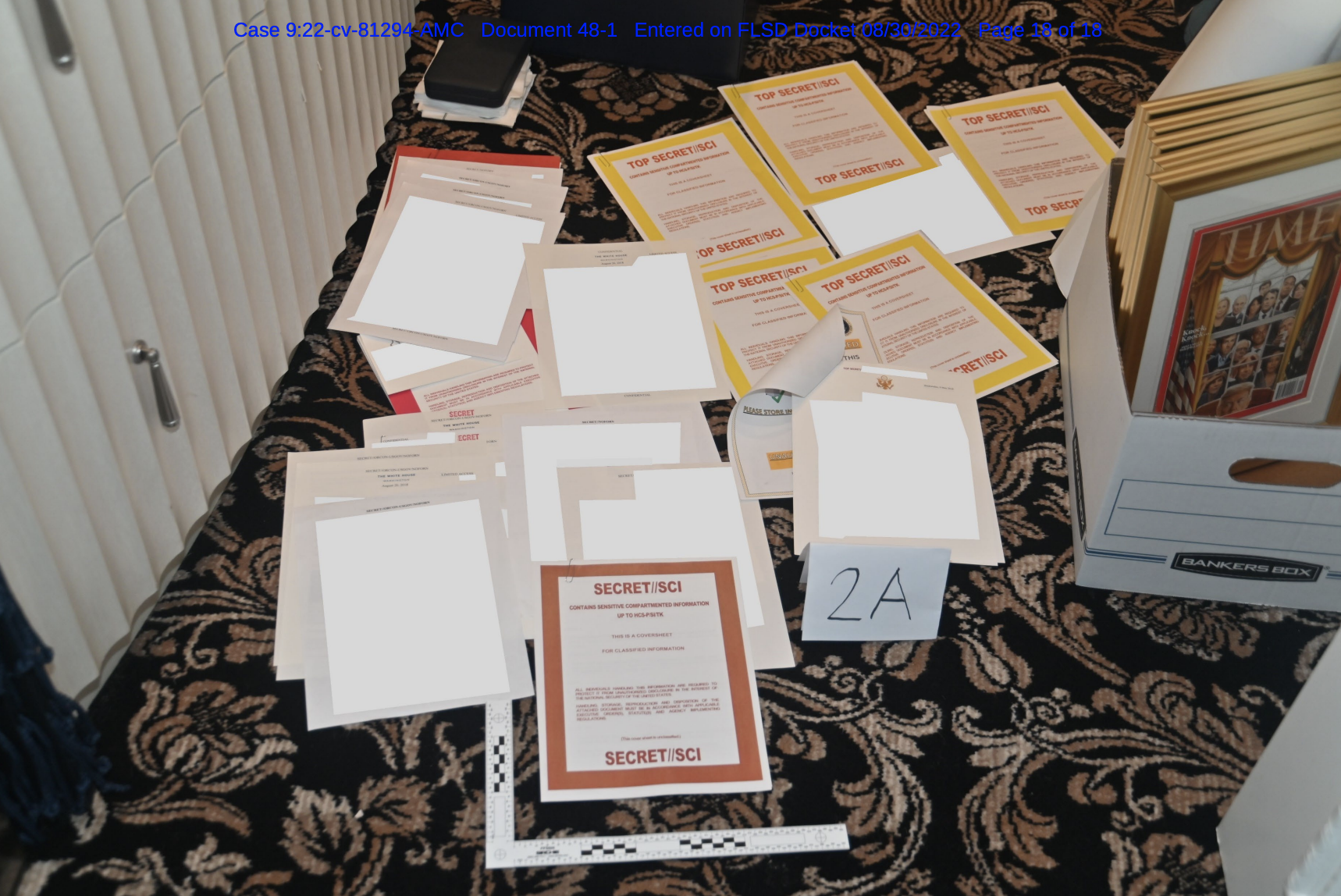 The Secrets within Donald Trump's Stolen Secrets Docket
As described here, yesterday's reply on the motion for a Garcia hearing in the stolen documents case revealed a good deal of grand jury information about Yuscil Taveras' testimony.
It revealed:
Trump's IT worker, Taveras, testified (falsely, the government claims) in March
DOJ obtained two more subpoenas for surveillance footage, on June 29 and July 11, 2023 (the existence of those subpoenas, but not the date, had already been disclosed in a discovery memo)
It included the docket number associated with the conflict review — 23-GJ-46 — and cited Woodward's response to the proceedings
James Boasberg provided Taveras with conflict counsel
Taveras changed his testimony after consulting with an independent counsel
Under grand jury secrecy rules, DC Chief Judge Boasberg would have had to approve sharing that information, but the docket itself remains sealed and Boasberg has not unsealed any of the proceedings.

The filing also explains two sealed entries in Judge Cannon's docket: dockets 45 and 46.

DOJ informed Cannon of the grand jury proceedings in those two docket entries.
The Government notified this Court on the same day, by sealed notice, of the filing in the District of Columbia. See ECF Nos. 45, 46.
That explains, then, two of the multiple sealed entries on the docket. But those weren't the only sealed dockets.
There was one before DOJ's notice.

And one after.

Both of those may be orders from Cannon, since she wouldn't have to ask for permission to file something under seal.
There's the twin entry on August 2, in which DOJ asked to seal what was probably a description of the potential conflict involving Stan Woodward's representation of three other witnesses who may testify against Walt Nauta.

Judge Cannon ordered those to be stricken.
Then there were five more — or more likely, two, and then three — on August 11 and 14.

All those sealed docket entries took place before — yesterday's filing disclosed — the grand jury "completed its term" on August 17.
The Government notes that the grand jury in the District of Columbia completed its term on August 17, 2023.
DC grand juries generally sit for 18 months, but if this was a special grand jury focused only on this investigation (which has always been the assumption), it would have been convened (again, per the filing), in April, 2022, two months shy of that.
There's no guarantee those other docket entries pertain to the DC grand jury. But it's one possible explanation for the sealed entries.
Certainly, DOJ afforded itself of the opportunity presented by Cannon's order to brief what she called "the legal propriety of using an out-of-district grand jury proceeding to continue to investigate and/or to seek post-indictment hearings on matters pertienent to the instant indicted matter in this district.
Waltine Nauta shall file a response to the Motion for a Garcia hearing [ECF No. 97] on or before August 17, 2023. Among other topics as raised in the Motion, the response shall address the legal propriety of using an out-of-district grand jury proceeding to continue to investigate and/or to seek post-indictment hearings on matters pertinent to the instant indicted matter in this district. The Special Counsel shall respond to that discussion in a Reply in Support of the Motion [ECF No. 97], due on or before August 22, 2023.
As DOJ's reply noted, this wasn't post-indictment investigation. Rather, it was pre-indictment investigation for the indictment adding Carlos De Oliveira and adding new charges against Trump and Nauta. And DOJ had to deal with all that in DC, because that's where Taveras' gave his original false testimony.
Following the indictment in this district, it was appropriate to use the grand jury in the District of Columbia to investigate false statements by Trump Employee 4 and De Oliveira. Neither individual was named in the indictment against Nauta and Trump, and venue for charges based upon their false statements in the District of Columbia would lie only in that district. It therefore necessarily follows that the grand jury was not used "for the primary purpose of strengthening its case on a pending indictment or as a substitute for discovery," even if that "may be an incidental benefit." United States v. Beasley, 550 F.2d 261, 266 (5th Cir. 1977).

[snip]

A claim of improper use of the grand jury here is even further afield than in Beasley. Whereas the recanted testimony in Beasley was relevant only to the charges pending in the indictment, as described above, Trump Employee 4's corrected testimony is probative of "crimes not covered in the indictment." US Infrastructure, Inc., 576 F.3d at 1214.

Not only was it appropriate to use the grand jury to investigate false statements by Trump Employee 4 and De Oliveira, it was appropriate to use the grand jury in the District of Columbia, where the statements were made and where venue for any false-statement charges would be proper. See United States v. John, 477 F. App'x 570, 572 (11th Cir. 2012) (unpublished) (concluding that venue for a violation of 18 U.S.C. § 1001 is "proper only in the district or districts where the defendant made the false statement"); United States v. Paxson, 861 F.2d 730, 733-34 (D.C. Cir. 1988) (upholding conviction for perjurious grand jury testimony in the District of Columbia material to antitrust charges subsequently brought in the Northern District of Georgia). And it was necessary to bring to the attention of the Chief Judge in that district the potential conflict that arose from Mr. Woodward's representation of Trump Employee 4 in those proceedings. As "an incident of [its] supervisory power, a court has jurisdiction" to consider potential conflicts of interest that "relate[] to a grand jury proceeding within that court's control," and when the Government discerns such a potential conflict of interest, it "is not only authorized but is in fact obligated to bring the problem to that court's attention." In re Gopman, 531 F.2d 262, 265-66 (5th Cir. 1976).

Nauta is therefore incorrect when he claims (ECF No. 126 at 8) that the Government was "attempt[ing] to diminish the Court's authority over the proceedings in this case and to undermine attorney-client relationships." When a conflict arose in the context of Trump Employee 4's status as a putative defendant in the District of Columbia, the Government raised the conflicts issue there; now that a conflict arises from potential cross-examination of Trump Employee 4 in the case against Nauta in this district, the Government has raised the conflicts issue here. Nauta makes no showing of improper use of the grand jury, let alone the strong showing that is required to rebut the presumption of regularity in grand jury proceedings.
There's far more secrecy than there should be, for the prosecution of the former President, even accounting for the highly sensitive documents involved.
Not only has Cannon made it prohibitively difficult for the media to cover the proceedings, but she canceled an open hearing scheduled for August 25 in lieu of a sealed hearing — secret time, secret place — to discuss the classified protective order. She did that while refusing to let DOJ protect the secrecy of the grand jury in DC.
It's her courtroom, and if she wants to pick and choose which proceedings against the former President become public, to some degree that's her prerogative.
Having been forced to unseal these matters by Cannon's order, though, this filing (and in the Garcia motion pertaining to John Irving), DOJ laid out how damning the alternative can be.
https://www.emptywheel.net/wp-content/uploads/2022/08/Screen-Shot-2022-08-31-at-6.40.53-AM.png
1148
1718
emptywheel
https://www.emptywheel.net/wp-content/uploads/2016/07/Logo-Web.png
emptywheel
2023-08-23 05:49:52
2023-08-23 05:49:52
The Secrets within Donald Trump's Stolen Secrets Docket