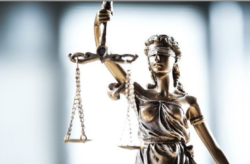 Trump Court Hearings For August 28, 2023
Alright, there are two hearings today, both at pretty much the same time. The first is in Prettyman Courthouse in DC and concerns trial scheduling for the J6 case of Jack Smith. It may get VERY contentious. As a preview, even Trump's attorneys are at severe disagreement, with one saying no trial and must wait until 2026. Alina Habba, on the other hand says Trump knows everything and is ready to go. I've always considered Habba a bit of a dim bulb, but man did she prove it there.
Regarding the other simultaneous matter, it concerns ostensibly Mark Meadows' motion to remove the Willis charges to federal court. It was filed, and will be heard, in the Northern District of Georgia.
"Fulton County District Attorney Fani Willis will lay out the first details of her sprawling anti-racketeering case against former President Donald Trump, his White House chief of staff Mark Meadows and 17 other co-defendants at a federal court hearing on Monday morning.

This will be the first time that substantive arguments will be made in court about the four criminal cases brought against Trump this year.

The subject of the hearing, set to begin at 10 a.m., is Meadows' motion to move his case to federal court and possibly have it thrown out, but it's much more than that – it could end up acting as a mini-trial that determines the future of Fulton County's case against the former president."
I am not sure how much of a "mini-trial" this will really be. If so, that could take all day if evidence is to be presented and argued, which strikes me as unlikely. No cameras in either hearing so you will have to follow @Brandi Buchman and, I believe, @JoshGerstein for live updates. Via Rosalind, "Jordan Fischer – @JordanOnRecord on bird site – is also giving nice updates for the D.C. hearing."
UPDATE: The Fulton County Judge has just set September 6 as the arraignment and plea date for all Fulton County defendants, including Trump. That is pointy to be a busy day for the court then. Unclear if some will be allowed to appear by video, but they sure our ht to be encouraged to do so.
https://www.emptywheel.net/wp-content/uploads/2023/08/Screen-Shot-2023-08-28-at-6.57.10-AM-e1693231109135.png
164
250
bmaz
https://www.emptywheel.net/wp-content/uploads/2016/07/Logo-Web.png
bmaz
2023-08-28 09:55:15
2023-08-28 10:17:24
Trump Court Hearings For August 28, 2023