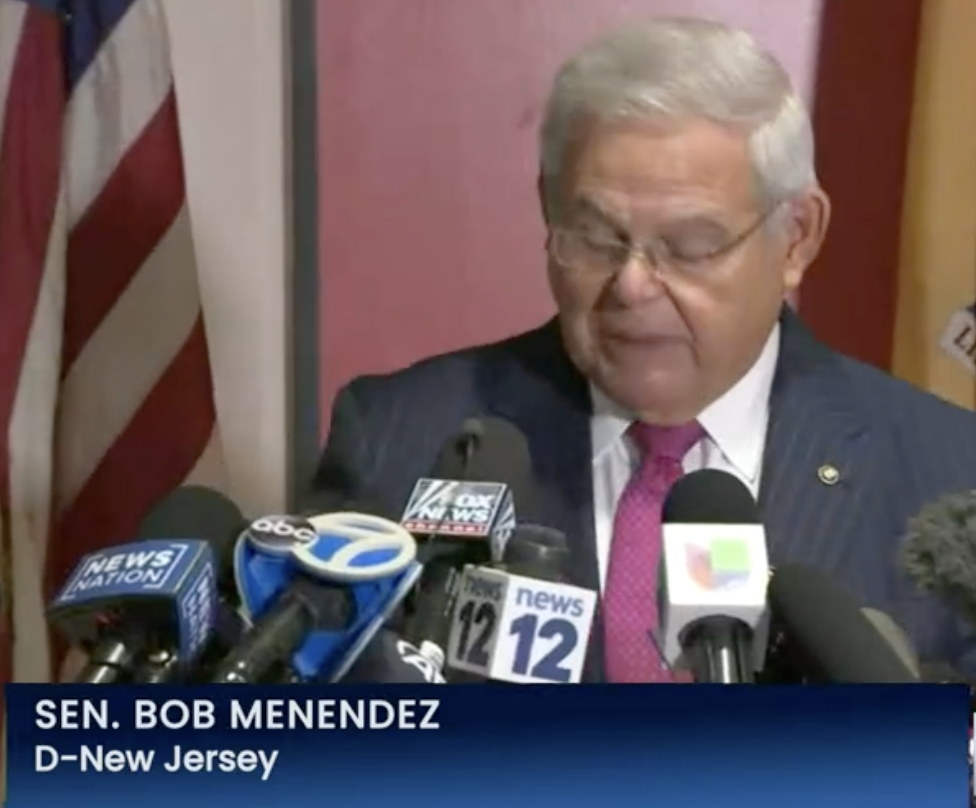 The Still Ongoing Investigation into Where that Robert Menendez Cash Came From
Among the most interesting stories I've read on Robert Menendez since his indictment is this story, from the day before the indictment.
I find it interesting for how much of the story NBC already had — but more importantly, details from NBC that don't show up in the indictment. The story reports on two of three prongs that appear in the indictment: It provides passing coverage of the IS EG Halal financing (though offers few specifics of the Egyptian favors) and extensive coverage of the Fred Daibes relationship.
The NBC story actually attributes the Mercedes, which the indictment directly ties to Menendez' intervention in the state prosecution of a Jose Uribe associate, to IS EG Halal (Uribe does have ties to Wael Hana's company). NBC doesn't mention Menendez's alleged intervention in the state prosecution of Uribe's associate. Of more interest, it also describes a "a luxury D.C. apartment" that may have come from Hana's company which is not mentioned at all in the indictment.
The story notes IRS-CI's involvement in the case (as did Damian Williams at his presser announcing the charges); there's no sign of tax charges, yet, in the indictment, or for that matter, of campaign disclosure violations (something the NYT reporter who has followed this closely is focused on).
As noted, however, the NBC story focuses much more closely on the Daibes prong of the investigation. It describes witnesses being asked if Menendez offered Daibes to interfere in the federal prosecution against him.
Sources say witnesses are now testifying before that federal grand jury. Part of the investigation centers on the senator's ties to Fred Daibes, a New Jersey developer and one-time bank chairman. Officials with the FBI and IRS Criminal Investigation want to know if Daibes or his associates gave gold bars to the senator's wife, Nadine Arslanian — gold bars worth as much as $400,000.

At the time of the gift handoff, Daibes was facing federal bank fraud charges that could have landed him up to a decade in federal prison.

Sources familiar with the matter say federal prosecutors have been asking if Menendez offered to help support Daibes with his criminal case by contacting Justice Department officials about the case. If the senator did offer to act in exchange for expensive gifts, legal experts say that could be a crime.

"For purposes of the Federal Extortion Act, it makes no difference if the senator took an official act so long as he accepted the money and there was knowledge the money was in exchange for that official influence, even if he never carried out what he had promised he would do," NBC Legal Analyst Danny Cevallos said.
The indictment does not describe such an offer. The closest thing it describes is this exchange, after the prosecution of Fred Daibes was continued, when Nadine told Daibes that Menendez was "fixated" on Daibes' fate:
On or about December 23, 2021, the trial of DAIBES, which had previously been scheduled for January 2022, was adjourned for reasons related to the COVID-19 pandemic. Later that day, DAIBES texted NADINE MENENDEZ, a/k/a "Nadine Arslanian," the defendant, and asked how ROBERT MENENDEZ, the defendant, who had recently sustained a shoulder injury, was doing. NADINE MENENDEZ responded that MENENDEZ was doing better having heard that the trial date was adjourned, and that MENENDEZ was "FIXATED on it." DAIBES responded, "Good I don't want him to be upset over it. This is not his fault he was amazing in all he did he's an amazing friend and as loyal as they come. How is the shoulder is he sleeping. Let me know if I can get him a recliner it helped me sleep." DAIBES thereafter provided a recliner to MENENDEZ.
There's also an incident where Daibes and Menendez, together, yell at Daibes' attorney for not being aggressive enough; that's not a crime, and in fact Menendez will use it to claim he intervened because he cared, not because he was paid.
NBC's description of Menendez' contact with US Attorney Phil Sellinger's office differs in fairly significant ways from the indictment. It cites sources claiming that Menendez never contacted Sellinger or his office.
Sources told News 4 there is no indication U.S. Attorney Philip Sellinger or his office were ever contacted by the senator — but the two men had been close, with Sellinger appointed to the position with the senator's support, and Sellinger previously serving as a campaign fundraiser for Menendez.
According to the indictment, Menendez did. The indictment alleges that Menendez raised Daibes before supporting Sellinger for the nomination.
In that meeting, MENENDEZ criticized the U.S. Attorney's Office for the District of New Jersey's prosecution of FRED DAIBES, the defendant, and said that he hoped that the Candidate would look into DAIBES's case if the Candidate became the U.S. Attorney. MENENDEZ did not mention any other case in the meeting. After the meeting, the Candidate informed MENENDEZ that he might have to recuse himself from the DAIBES prosecution as a result of a matter he had handled in private practice involving DAIBES. MENENDEZ subsequently informed the Candidate that MENENDEZ would not put forward the Candidate's name to the White House for a recommendation to be nominated by the President for the position of U.S. Attorney.
And Menendez allegedly called Sellinger's First AUSA, Vikas Khanna.
b. On or about January 21, 2022, MENENDEZ called Official-3 and asked the identity of Official-3's First Assistant U.S. Attorney ("Official-4"). As a result of Official3's recusal, Official-4 had supervisory responsibility over the prosecution of DAIBES.

[snip]

d. On or about January 24, 2022, DAIBES's Driver exchanged two brief calls with NADINE MENENDEZ. NADINE MENENDEZ then texted DAIBES, writing, "Thank you. Christmas in January." DAIBES's Driver's fingerprints were later found on an envelope containing thousands of dollars of cash recovered from the residence of MENENDEZ and NADINE MENENDEZ in New Jersey. This envelope also bore DAIBES's DNA and was marked with DAIBES's return address. In or about the early afternoon of January 24, 2022— i.e., approximately two hours after NADINE MENENDEZ had texted DAIBES thanking him and writing "Christmas in January"—MENENDEZ called Official-4, in a call lasting for approximately 15 seconds. This was MENENDEZ's first phone call to Official-4. On or about January 29, 2022—i.e., several days after NADINE MENENDEZ had texted DAIBES, thanking him and writing "Christmas in January"—MENENDEZ performed a Google search for "kilo of gold price."

[snip]

45. Official-3 and Official-4 did not pass on to the prosecution team the fact that ROBERT MENENDEZ, the defendant, had contacted them as described in the above paragraphs, and they did not treat the case differently as a result of the above-described contacts. In or about April 2022, FRED DAIBES, the defendant, pled guilty pursuant to a plea agreement that provided for a probationary sentence.
Frankly, I find this part of the indictment unpersuasive, not just because the evidence presented only ever ties Daibes' payments to proximate acts, not to a specific quid pro quo, but also because it is not explained how this case went from imminent trial to a sweet plea deal in four months.
A cooperation agreement in this investigation might explain it, but there's no hint of that, though NBC seems to agree with me that that would explain what we're looking at.
So one reason I find the NBC piece interesting is it portrays that prosecutors were still trying to obtain proof that this interference was a quid pro quo on the eve of the indictment. And SDNY didn't provide that evidence in the indictment.
Couple that with two other details.
First, there's the widely mocked line in the Menendez presser, attempting to explain the large amounts of cash found at his home:
For thirty years, I have withdrawn thousands of dollars of cash from my personal savings account, which I have kept for emergencies, and because of the history of my family facing confiscation in Cuba. Now this may seem old-fashioned. But these were monies drawn from my personal savings account based on the income that I have lawfully derived over those thirty years.
This story is at best a partial explanation for the cash shown in the indictment, much less the checks from Daibes and the gold bars (though Menendez has treated some, if not all, of the gold bars as Nadine's property).
But consider the utility of it. Most reporters didn't note Menendez' silence about the gold bars (Menendez said he'd address other issues at trial). And for less credulous supporters of Menendez, such an explanation is all you need to offer to win their continued support. As with Trump, for the kind of political support you need to try to fight this out, the explanation doesn't have to be plausible, it just needs to exist.
More interestingly, there's probably enough truth in the statement — some of the cash the FBI seized in the search last year likely did come from Menendez' bank account, regardless of why he withdrew it — that if prosecutors attempt to use this video at trial, it could backfire. Prosecutors have called to seize all this cash in forfeiture.
Over $480,000 in cash—much of it stuffed into envelopes and hidden in clothing, closets, and a safe—was discovered in the home, along with over $70,000 in NADINE MENENDEZ's safe deposit box. Some of the envelopes contained the fingerprints and/or DNA of DAIBES or his driver. Other of the envelopes were found inside jackets bearing MENENDEZ's name and hanging in his closet, as depicted below.

[snip]

A sum of $486,461 in U.S. currency seized from the Englewood Cliffs Premises on or about June 16, 2022.
But there's not a shred of evidence that they have the ability to tie all of it — or even most of it — to the specific quid pro quos alleged in the indictment, for which it has better evidence of gold bars as payment. It may come from crime, but if it does, it may not come from this crime.
Prosecutors alleged that all of this $486,000 ties to the crimes alleged in the indictment. If Menendez can prove that some of it doesn't, then he can use that overreach to discredit the prosecution.
As such, the statement — as ridiculous as it has justifiably been treated — seems partly a taunt. Menendez seems quite confident that prosecutors can't trace a good deal of this cash, certainly not to these specific crimes, even if they can trace it to Daibes.
Note that Menendez' claims to care about Egyptian human rights includes a similar taunt, referencing a meeting he had directly with Abdel Fattah El-Sisi. Whether and how and which Egyptians, including Sisi, have evidence to support Menendez's defense will be a topic of extended litigation. Imagine trying to litigate testimony from the Egyptian President? Similarly, Menendez may demand testimony from his (still) fellow Senators, who witnessed another interaction he had with Sisi.
Which brings me to Damian Williams' presser.
One reason I'm struck by the NBC story is it suggested there was still some work before prosecutors would be ready to indict, and yet they obtained an indictment — an indictment that doesn't map the Daibes corruption as closely as I assume they would like — the very next day. Since then, we've learned that SDNY unsealed the indictment without first waiting to arrest Wael Hana at the airport, as they did yesterday. It's highly unusual to indict someone in a way that maximizes their opportunity to flee the country, unless you have good reason to believe they won't do that.
Hana didn't take that opportunity to flee.
The whole thing seems either rushed, perhaps in response to disclosures like NBC's, or tactical, an effort to advance a larger investigation.
As Williams said in his presser,
This investigation is very much ongoing. We are not done. And I want to encourage anyone with information to come forward and to come forward quickly.
That's a version of the statement Williams made (though nowhere near as forceful) in his first presser on the Sam Bankman-Fried arrest — "come see us before we come see you" — which preceded the announcement of cooperation pleas from two key SBF associaties the following week, at which Williams again invited cooperators to come foward: "we are moving quickly and our patience is not eternal."
I may be alone in this judgement, but I don't think SDNY has the Daibes side of these alleged corruption — by far the bulk of the money — at all locked down. The Daibes corruption was the topic of Menendez' taunt about cash; he may be confident that prosecutors won't succeed in doing so.
But Damian Williams, at least, seems to believe more is coming.
Update: I didn't see this NBC report on an ongoing counterintelligence investigation until after I posted. Note that statutes of limitation on some of the allegations in the indictment (which started more than five years ago) would have expired.
https://www.emptywheel.net/wp-content/uploads/2023/09/Screenshot-2023-09-27-at-10.48.39.png
808
976
emptywheel
https://www.emptywheel.net/wp-content/uploads/2016/07/Logo-Web.png
emptywheel
2023-09-27 07:26:53
2023-09-27 07:36:28
The Still Ongoing Investigation into Where that Robert Menendez Cash Came From