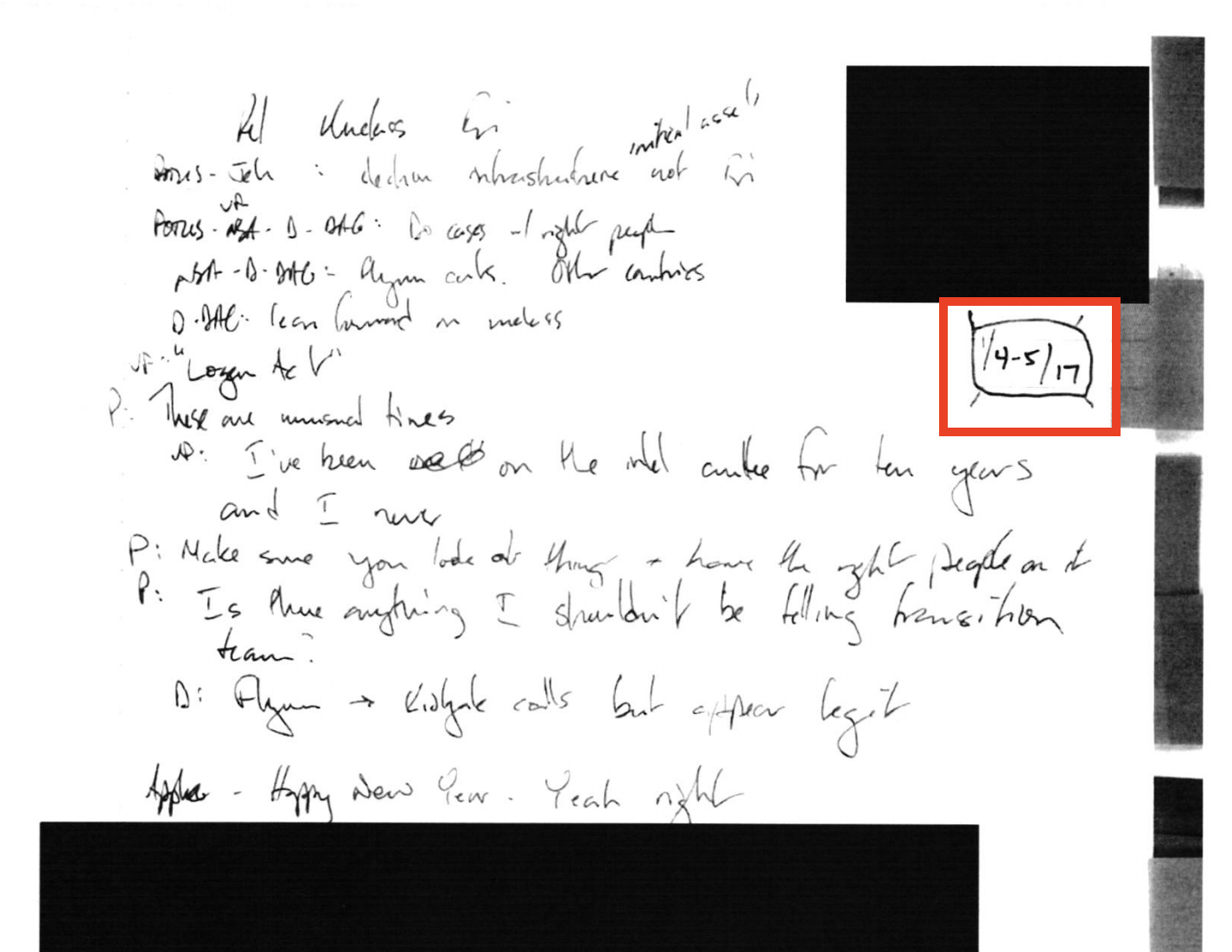 Buried in DOJ's Absolute Immunity Response, a Comment on Trump's Suspected Zenith Crimes
Earlier this month, Trump's DC team filed a motion to dismiss his January 6 indictment based on a claim of absolute immunity, an argument that Presidents cannot be prosecuted for things they did while President.
To get a sense of how shoddy Trump's argument was, you need only compare the number of citations to these cases:

Trump's absolute immunity claim was a shoddy argument, but you never know what this SCOTUS would rubber stamp, even considering its cert denial in Thompson v. Trump and questions about whether Clarence Thomas (who did not recuse in that case, but did in John Eastman's appeal of a crime-fraud ruling against him) would be shamed into recusing in this one.
Shoddy argument and all, there was never going to be a way to carry out the first-ever prosecution of a former President without defeating an absolute immunity claim.
In general, DOJ's response is much more adequate than Trump's motion to the task of laying out one side of an argument that will ultimately be decided by a very partisan Supreme Court. But it is written as the first response in what will be, whatever the outcome, a historic ruling.
Before it spends ten pages addressing Trump's application of Nixon v. Fitzgerald, it spends ten pages laying out the constitutional framework in question. In a section addressing Trump's claim that his impeachment acquittal on January 6 charges meant he could not be charged for related crimes, DOJ notes that Trump argued at the time, that as a former President, the Senate no longer had jurisdiction to hold an impeachment trial. Then it cites the many Republican Senators who used that stance to justify their own acquittal votes. It notes that the Nixon pardon and the Clinton settlement both presumed potential exposure to prosecution once they became former Presidents.
Out of necessity, the Fitzgerald section adopts an analogy from that precedent to this one: In the same way that Fitzgerald likened the President to prosecutors and judges who enjoy immunity for their official acts, Fitzgerald did not immunize those same prosecutors and judges from other crimes. At a time of increased focus on undeclared gifts that Clarence Thomas has accepted from people with matters before the court and after a Sam Alito interview — with someone who has matters before the court — in which he claimed separation of powers prohibited Congress from weighing in on SCOTUS ethics, DOJ cited the 11th Circuit opinion holding that then-Judge Alcee Hastings could be prosecuted. That is, whatever the outcome of this dispute, it may have implications for judges just as it will for Presidents.
Only after those lengthy sections does DOJ get into the specifics of this case, arguing:
By misrepresenting the indictment in a bid to repackage it as acts that fit within the President's official duties, Trump has not treated the allegations as true, as Motions To Dismiss must do
Trump's use of the Take Care Clause to claim the President's official duties extend to Congress and the states is not backed by statute
Because Trump is accused of conspiring with people outside of the government — unsurprisingly, DOJ ignores the Jeffrey Clark allegations in this passage (CC4), but while it invokes Rudy Giuliani (CC1), John Eastman (CC2), Kenneth Chesebro (CC5), and Boris Epshteyn (CC6), it is curiously silent about the allegations pertaining to Sidney Powell (CC3) — the case as a whole should not be dismissed
In total, DOJ's more specific arguments take up just six pages of the response. I fear it does not do as much as it could do in distinguishing between the role of President and political candidate, something that will come before SCOTUS — and could get there first — in the civil suits against Trump.
And its commentary on Trump's attempt to use the Take Care Clause to extend the President's authority into areas reserved to the states and Congress is, in my opinion, too cursory.
The principal case on which the defendant relies (Mot. 35-36, 38, 43-44) for his expansive conception of the Take Care Clause, In re Neagle, 135 U.S. 1 (1890), cannot bear the weight of his arguments. In Neagle, the Supreme Court held that the Take Care Clause authorized the appointment of a deputy marshal to protect a Supreme Court Justice while traveling on circuit even in the absence of congressional authorization. Id. at 67-68; see Logan v. United States, 144 U.S. 263, 294 (1892) (describing Neagle's holding); Youngstown Sheet & Tube, 343 U.S. at 661 n.3 (Clark, J., concurring) (same). Before reaching that conclusion, the Court in Neagle posed as a rhetorical question—which the defendant cites several times (Mot. 35, 38, 43, 44)—whether the president's duty under the Take Care Clause is "limited to the enforcement of acts of congress or of treaties of the United States according to their express terms; or does it include the rights, duties, and obligations growing out of the constitution itself, our international relations, and all the protection implied by the nature of the government under the constitution?" 135 U.S. at 64. From the undisputed proposition that the president's powers under Article II are not limited only to laws and treaties, it does not follow, as the defendant seems to imply, that every "right, duty, or obligation[]" under the Constitution is necessarily coterminous with the president's powers under the Take Care Clause. Under that theory, for example, the president could superintend Congress's constitutional obligation to keep a journal of its proceedings, U.S. Const. art. I, § 5, cl. 3, or the judiciary's duty to adjudicate cases and controversies, U.S. Const. art. III, § 2, cl. 1.
The 11th Circuit and then SCOTUS will be facing a similar, albeit better argued, Take Care Clause argument when they review Mark Meadows' bid to remove his Georgia prosecution. You'd think DOJ could do better — or at the very least note that Trump abdicated all premise of upholding the Take Care Clause during a crucial 187 minutes when his mob was attacking the Capitol.
All that said, I'm as interested in this response for the associated arguments — the seemingly hypothetical ones — such as the one (already noted) that in weighing this argument, the Supreme Court may also have to consider, again, whether they themselves are immune from prosecution for bribery.
It's not just Clarence Thomas whose actions this fight could implicate.
In two places, DOJ uses hypotheticals to talk about other Presidential actions that might be crimes, rather than focus on the specifics of the case before Judge Chutkan.
For example, DOJ points to the possibility that a President might trade a pardon — a thing of value — as part of a quid pro quo to obtain false testimony or prevent true testimony.
For example, where a statute prohibits engaging in certain conduct for a corrupt purpose, the statute's mens rea requirement tends to align, rather than conflict, with the president's Article II duty to "take Care that the Laws be faithfully executed," U.S. Const. art. II, § 3, which would weigh heavily against the need for immunity. To illustrate, although the president's power to grant pardons is exclusive and not subject to congressional regulation, see United States v. Klein, 80 U.S. (13 Wall.) 128, 147-48 (1872), criminal immunity should not shield the corrupt use of a presidential pardon—which plainly constitutes "anything of value" for purposes of the federal bribery statute, see 18 U.S.C. § 201(b)(3)—to induce another person to testify falsely or not to testify at all in a judicial, congressional, or agency proceeding.
Less than five years ago, of course, Roger Stone was telegraphing that prosecutors had offered him leniency if he would testify about dozens of conversations that he had with Trump during the 2016 election. Less than five years ago, the newly cooperative Sidney Powell first asked Trump to hold off on pardoning Mike Flynn, only to welcome a Trump pardon of Flynn while Powell and Flynn plotted ways to steal the election. Less than five years ago, Trump gave a last minute pardon to Steve Bannon, who currently faces four months of prison time because he refused to testify to Congress.
I'm not saying DOJ will revisit these pardons, all of which fit squarely within such a quid pro quo description. I'm noting that if the argument as a whole survives, this part of it may also survive.
The same is true of an even splashier passage. A paragraph describing the implications of Trump's claim to absolute immunity lays out what some commentators have taken as hyperbolic scenarios of presidential corruption.
The implications of the defendant's unbounded immunity theory are startling. It would grant absolute immunity from criminal prosecution to a president who accepts a bribe in exchange for a lucrative government contract for a family member; a president who instructs his FBI Director to plant incriminating evidence on a political enemy; a president who orders the National Guard to murder his most prominent critics; or a president who sells nuclear secrets to a foreign adversary. After all, in each of these scenarios, the president could assert that he was simply executing the laws; or communicating with the Department of Justice; or discharging his powers as commander-in-chief; or engaging in foreign diplomacy—and his felonious purposes and motives, as the defendant repeatedly insists, would be completely irrelevant and could never even be aired at trial. In addition to the profoundly troubling implications for the rule of law and the inconsistency with the fundamental principle that no man is above the law, that novel approach to immunity in the criminal context, as explained above, has no basis in law or history.
These seemingly extreme cases of crimes a President might commit, crimes that everyone should agree would face prosecution, include (these are out of order):
A President ordering the National Guard to murder his critics
A President ordering an FBI agent to plant evidence on his political enemy
A bribe paid in exchange for a family member getting a lucrative contract
A President selling nuclear secrets to America's adversaries
Like the pardon discussion above, these hypotheticals — as Commander-in-Chief, with the conduct of foreign policy, with the treatment of classified materials — invoke actions where DOJ typically argues that the President is at the zenith of his power.
We have no reason to believe that Trump ordered the National Guard, specifically, to murder his critics. But we do know that on January 3, 2021, Trump proposed calling out 10,000 members of the National Guard to "protect" his people and facilitate his own march on the Capitol.
And he just cut me off, and he goes, well, we should call in the National Guard.

And then I think it was Max who said something to the effect of, Well, we should only call in the Guard if we expect a problem. And then the President says, no, we should call in the Guard so that there aren't – so that there isn't a problem. You know, we need to make sure people are protected.

And he said – he looked over at Max, and I don't know if somebody was standing behind him or not. He just looked the other way from me and says, you know,  want to call in 10,000 National Guard. And then  opened my folder and wrote down 10,000 National Guard, closed my folder again.
We know that days later Mark Meadows believed the Guard would be present and Proud Boy Charles Donohoe seemed to expect such protection.
Similarly, we don't know of a specific instance where Trump ordered an FBI agent to plant information on his political enemy. But we do know that as part of a Bill Barr-directed effort to reverse the Mike Flynn prosecution in 2020, misleading dates got added to the notes of Trump's political enemies, Peter Strzok and Andrew McCabe.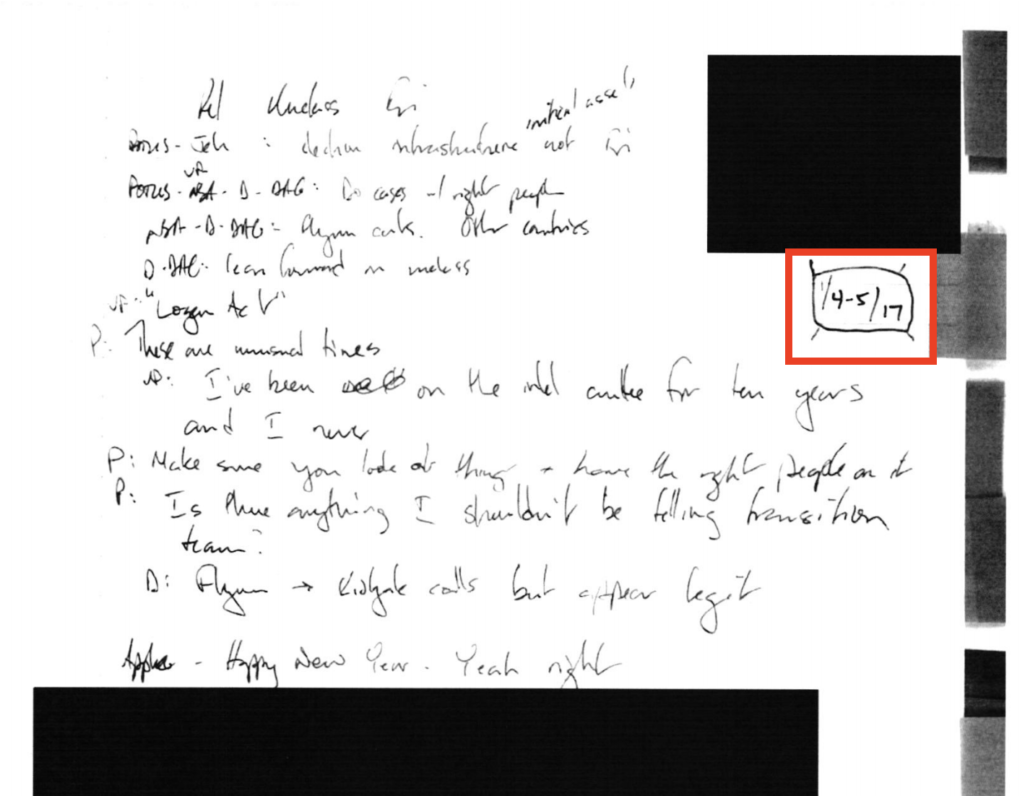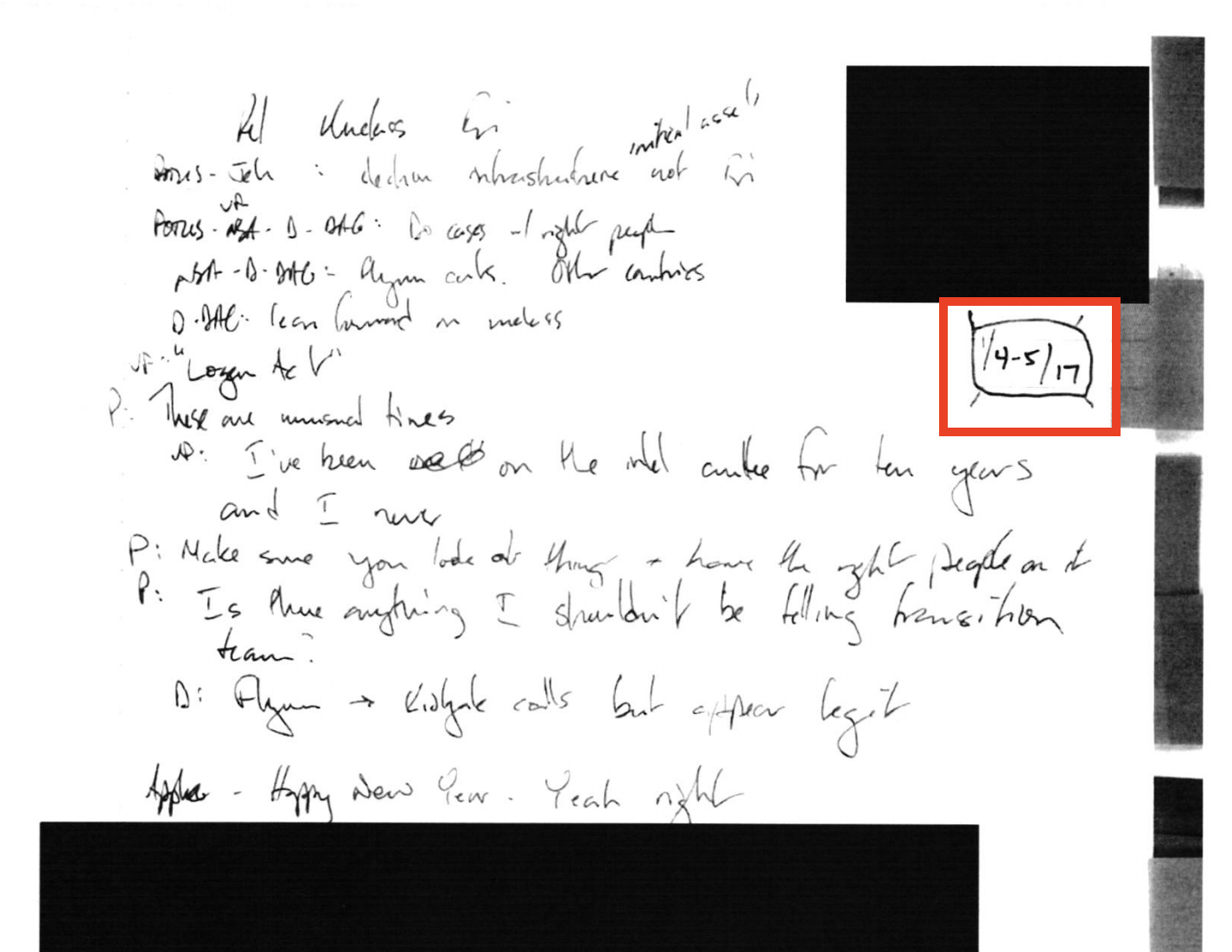 Days after those misleading dates were made public via Sidney Powell, Trump used the misleading dates in a packaged debate attack on Joe Biden.
President Donald J. Trump: (01:02:22)
We've caught them all. We've got it all on tape. We've caught them all. And by the way, you gave the idea for the Logan Act against General Flynn. You better take a look at that, because we caught you in a sense, and President Obama was sitting in the office.
We know of no instance where Trump accepted a bribe in response to which a family member got a US government contract. We do, however, know of an instance where the Trump Administration gave the Saudis something of value — at the least, cover for the execution of Jamal Khashoggi — which everyone seems to believe has a tie to Jared's lucrative $2 billion contract with the Saudi government.
As to selling nuclear secrets to a foreign adversary? Well, we know Trump had some number of nuclear secrets in his gaudy bathroom and then in his leatherbound box. We have no fucking clue what happened to the secrets that Walt Nauta allegedly withheld from Evan Corcoran's review that got flown to Bedminster just before a Saudi golf tournament, never to be seen again.
All of which is to say that these edge cases — examples of Presidential misconduct that some commentators have treated as strictly hypothetical — all have near analogues in Trump's record.
This response is a response about a very specific indictment, an indictment that describes actions Trump took as a candidate, often with those outside government, in ways that usurped the authorities reserved to states and Congress.
But in several points in the filing, DOJ invites review of other potential crimes, crimes conducted at the zenith of Presidential power, but crimes that may — must — otherwise be illegal, if no man is above the law.
https://www.emptywheel.net/wp-content/uploads/2020/09/Dated-Notes.png
1102
1426
emptywheel
https://www.emptywheel.net/wp-content/uploads/2016/07/Logo-Web.png
emptywheel
2023-10-21 13:35:37
2023-10-21 13:49:15
Buried in DOJ's Absolute Immunity Response, a Comment on Trump's Suspected Zenith Crimes