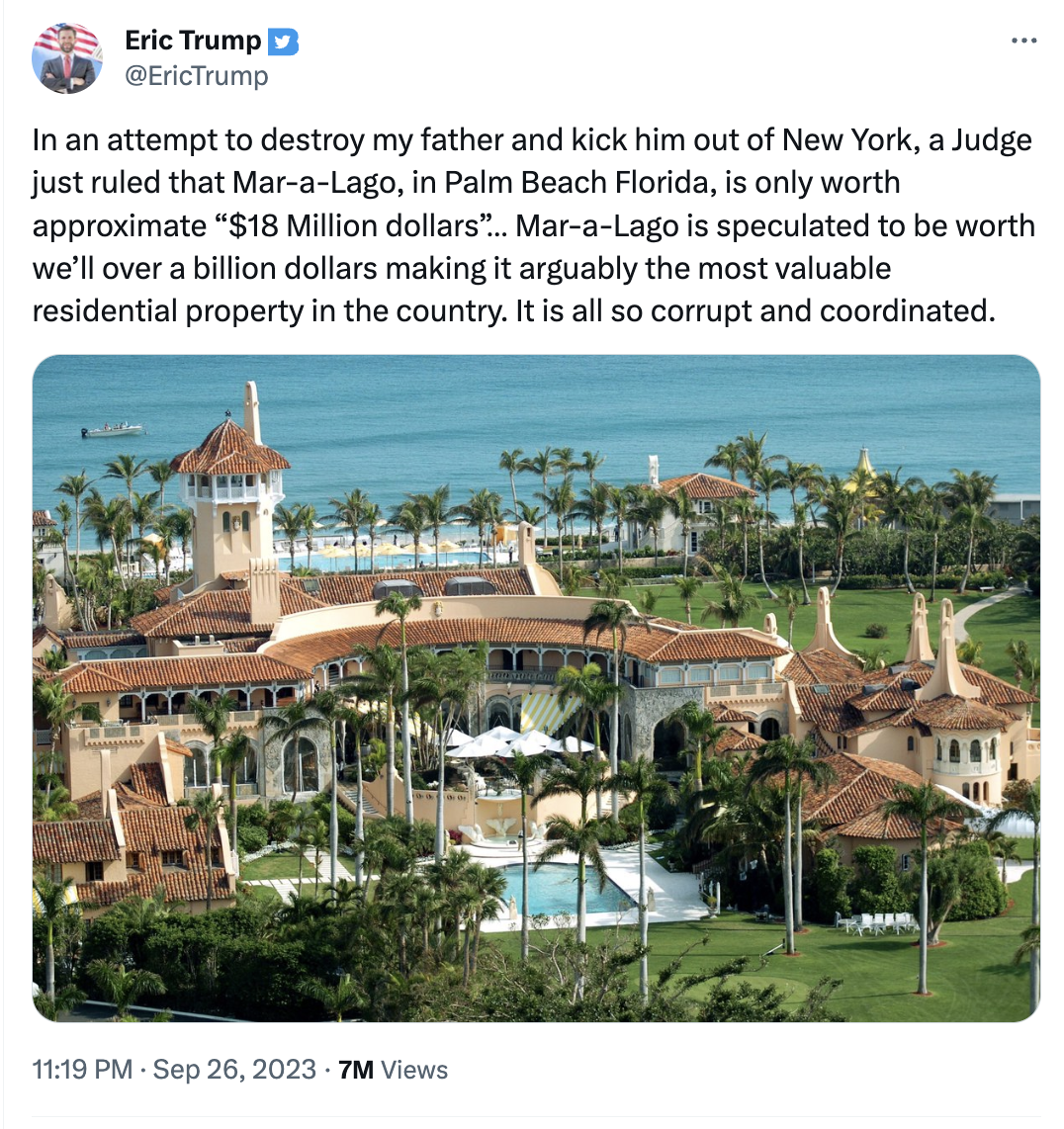 Trump's Retribution Promises and Media Complicity
I have been critical of NYT's serial effort — now joined by WaPo — to predict retribution in a second Trump term, without doing any recent reporting on how that represents a continuation of Trump's first term, not anything new. Rather than assign three reporters (including reporters who played key roles enabling past retribution efforts) to treat this as a hypothetical future endeavor, why not assign one to report on newly disclosed details of how Bill Barr ordered Scott Brady to dig up more evidence against Joe Biden's son?
The attention on the WaPo, especially, has sucked up attention that might otherwise be focused on an excerpt from Jonathan Karl's new book. It's about the same thing — retribution. But not about past retribution, nor future retribution, but the way that Trump is leveraging cultural cues about retribution, starting with the launch of his campaign from Waco, TX on the thirty year anniversary of the raid (connotations that were evident in advance).
Given the excerpt, I'm not entirely sure whether Karl thinks Trump is doing this out of a sense of weakness, or because he knows the cultural connotations retribution invokes will elicit a certain kind of response from his followers.
Karl describes how Trump turned to this theme after being rattled by his first indictment (and elsewhere describes Trump's fury at Todd Blanche to agreeing to a trial data in the Alvin Bragg case prior to the end of the primaries).
The problem was that the indictment had rattled him. For all his bluster, Trump desperately wanted to stave off an arrest, and he was embarrassed he hadn't been able to. When it came time to turn himself in, he slipped out of Trump Tower and got into a black SUV.

[snip]

D.A. Bragg and Juan Merchan, the presiding judge, were met by a version of Donald Trump that was much quieter, more somber—more timid—than the man he appeared to be on television and social media. The night before, he had said that Bragg should "INDICT HIMSELF." But finally given a chance to confront them face‐to‐face, Trump was mostly silent. During the 57‐minute proceeding, Trump said just 10 words—"not guilty," "yes," "okay, thank you," "yes," "I do," "yes"—and spoke so quietly that reporters had to strain to hear him.

For the first time in years, Donald Trump was not the most powerful person in the room.
Karl also describes Steve Bannon revelling in the explicit Neo-Confederate iconography of the speech Trump gave at CPAC.
"The sinister forces trying to kill America have done everything they can to stop me, to silence you, and to turn this nation into a socialist dumping ground for criminals, junkies, Marxists, thugs, radicals, and dangerous refugees that no other country wants," he said. The speech was ominous, but one rhetorical flourish stood out. "In 2016, I declared I am your voice. Today, I add: I am your warrior; I am your justice," Trump said. "And for those who have been wronged and betrayed, I am your retribution." He repeated the last phrase—"I am your retribution"—and promptly the crowd started chanting: "U.S.A.! U.S.A.! U.S.A.!"

When I spoke with Bannon a few days later, he wouldn't stop touting Trump's performance, referring to it as his "Come Retribution" speech. What I didn't realize was that "Come Retribution," according to some Civil War historians, served as the code words for the Confederate Secret Service's plot to take hostage—and eventually assassinate—President Abraham Lincoln.
Both can be true, of course. Faced with a kind of vulnerability he has never before faced and willing to burn everything down to find a way out, Trump is all too happy to mobilize far right extremists as his instrument (in his description of the Waco event, Karl describes Trump celebrating January 6).
To the extent that Trump's campaign logic is retribution, then, the spate of stories — both the NYT one and the WaPo one featuring Trump-whisperers — simply reinforce Trump's campaign message while downplaying the way Trump has always engaged in retribution, often backed by threats of violence.
Indeed, they help Trump provide assurances that in the future, he'll find better prosecutors than John Durham, who was every bit as corrupt as the prospective stories predict Trump's select prosecutors might be in the future, every bit as much about retribution, but who never found evidence that could sustain a conviction. He'll find better prosecutors, more corrupt ones, Trump needs to tell his mob, because quite honestly, he made these very same promises in 2020 and failed to deliver, though did untold damage in the process.
And those failures weren't for want of trying or any kind of ethical compunction on his part or the instruments of his retribution.
The reason I think Karl's descriptive piece is more useful than the predictive pieces (aside from the way the predictive pieces totally whitewash Trump's past unprecedented focus on retribution) is because he identifies the puzzle at the core of Trump's success running on retribution: What's in it for his mob? Why does this focus on retribution work?
"If they can do it to him they can do it to you," Donald Trump Jr. tweeted. Noticeably absent from Trump's obsession with his own victimization was any real focus on helping Americans who weren't under criminal investigation, but his advisers were convinced that the ploy would work. "This week, Trump could lock down the nomination if he played his cards right," Bannon told me as rumors began to swirl of Bragg's indictment. "'They're crucifying me,' you know, 'I'm a martyr.' All that. You get everybody so riled up that they just say, 'Fuck it. I hate Trump, but we've got to stand up against this.'"

[snip]

"The DOJ and FBI are destroying the lives of so many Great American Patriots, right before our very eyes," Trump posted on Truth Social the day after four members of the Proud Boys militia were convicted of seditious conspiracy for their role in the storming of the Capitol. "GET SMART AMERICA, THEY ARE COMING AFTER YOU!!!"

But "they" weren't coming after Trump's law‐abiding supporters—they were coming after Trump. Decades earlier, the presidential candidate Bill Clinton told voters that he felt their pain. Trump was now doing the reverse, trying to persuade his supporters to feel his pain as if it were their own. [my emphasis]
The answer this question is both obvious, and urgent.
It's obvious, because Trump really is keying into something that isn't entirely about extremism. And/or Trump is in many cases the gateway drug to radical extremism, something that has shown up over and over in January 6 cases. People respond to something in Trump and then, because Trump's networks include large numbers of right wing extremists, their ideology gains traction where they might otherwise not. And then the cultural coding of retribution starts to resonate.
It's urgent, because whether or not Trump wins election, if he primes his mob to embrace political violence again, January 6 will look like elementary school recess. On January 6, many people were armed, but even the ones who brought guns — and plenty did — kept them holstered. That won't be true the next time.
It is more urgent to show how Trump's past obsession with retribution hurt people, from his targets, to American security, to the wives of Republican Congressmen, than it is to report that he'll do more of the same, only earlier this time. It is more urgent to understand why Trump's mob buys into his messiah syndrome and puncture its power.
I'm not suggesting we return to a moody contemplation of the Deplorables. Nor am I hoping NYT reverts from its prospective reporting on retribution to its past obsession with Trump supporters in diners.
I'm asking for a focus on the continuity of retribution in Trump's power — past, present, and future — along with some soul-searching about the media's cooperation in that retribution dynamic.
Of particular note: the media's coverage of Trump's legal woes has only helped him create this dynamic.
Take the coverage of Trump's testimony in his fraud trial yesterday. The NYT was one of the rare outlets that got into something substantive — that Trump did have a role in the valuations that Judge Engoron has already ruled to be fraudulent — in a headline; and it reported on that substance after six paragraphs describing Trump's stunts. Most of the rest, however, reported nothing but conflict, virtually all of it staged or baited by Trump. Trump succeeded in entirely flooding out any reporting on his fraud — something that goes to the core of his ability to govern, something that goes to his success at fooling supporters and lazy journalists — by distracting everyone with spectacle, a strategy Rolling Stone reported he would adopt a month ago. Rather than reporting on all the evidence — even presented yesterday, amid the circus stunts — that Trump is actually the guy sticking it to the little guys, not the one vindicating them, most outlets just printed one after another of Trump's taunts.
And in the process, just like any other staged wrestling match, spectators pick one or another side and root loudly, brainlessly. Even for those rooting for law and order, that's unhealthy, because it invites hero worship and a false belief that prosecutions are easy and quick. It encourages people to outsource defense of democracy to prosecutors rather than do the hard work of organizing themselves. It invites people to engage in mockery rather than rational assessment of the legal case.
But for those who've been convinced by unrelentless propaganda about the Russian investigation — which showed that five top Trump aides lied to cover up Trump's ties with Russian, for those who bought into Trump's sustained attack on the legitimacy of democratic elections, for those who've been bombarded by non-stop coverage of Hunter Biden's dick pics, the side they'll pick is obvious. Adopt Trump's conflict staging, and you will only ever heighten existing partisan divides.
Trump doesn't care if a bunch of self-satisfied people mock him as a clown. Indeed, that's what he wants. Because every time they do so publicly, it reaffirms that he's the guy on the side of average people, fighting the pencil-headed assholes who frown at the little guy. Plus, if you mock something as serious as a lifetime of defrauding financial institutions as a circus, rather than explain how it allowed Trump to get something he hadn't earned, it tells everyone that Trump's adjudged fraud isn't really serious. In your actions, you confirm the argument he is making.
And all the while, it prevents anyone from talking about how Trump has disavowed all the January 6ers who are facing the consequences of following Trump, claiming he has no role in their crimes. It prevents anyone from talking about why leaving nuclear documents in your bathroom requires spooks to shut down collection programs, leading directly to diminished US influence as war breaks out overseas. It prevents anyone from talking about how all of Trump's brand has been built off lies claiming he, his net worth, his gaudy penthouse are much larger than they are.
Regular life may be screwing over the little guy (or, under Biden, regular life might have delivered financial gains and a resurgence of organized labor strength that never gets covered). But that's a different thing than saying that "they" are coming for the little guy.
Yet Trump continues to convince people differently, in large part because the media plays along with Trump's staged circus.
https://www.emptywheel.net/wp-content/uploads/2023/09/Screenshot-2023-09-27-at-15.18.04.png
1142
1076
emptywheel
https://www.emptywheel.net/wp-content/uploads/2016/07/Logo-Web.png
emptywheel
2023-11-07 08:03:00
2023-11-07 13:47:54
Trump's Retribution Promises and Media Complicity