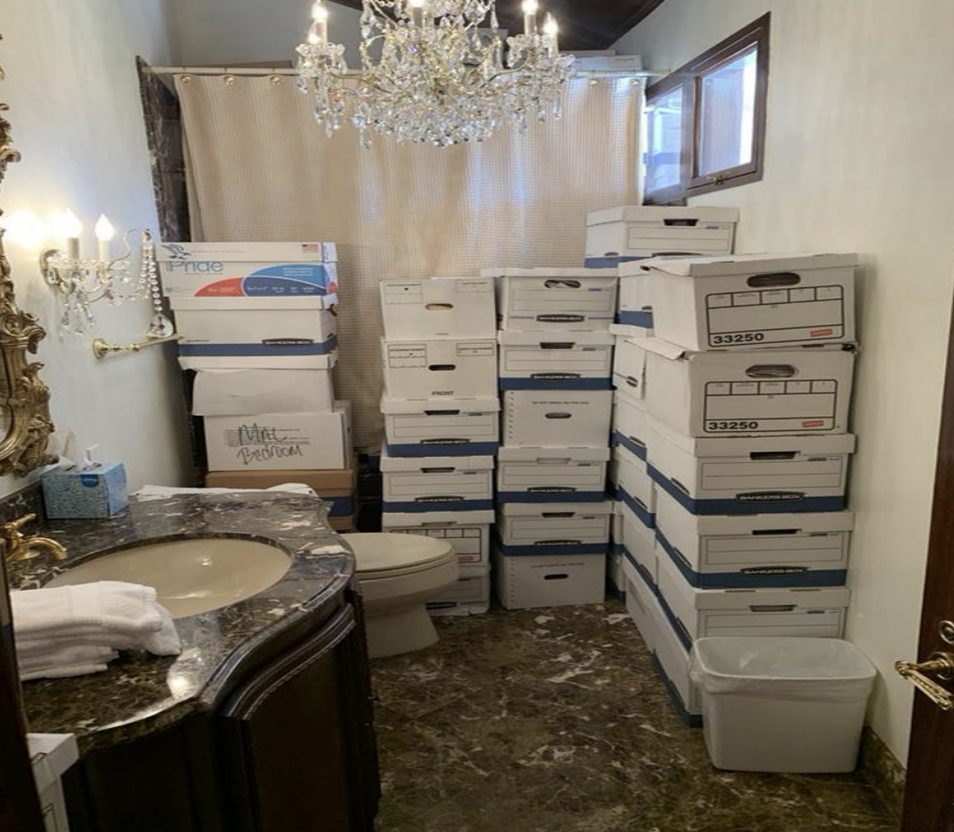 In comments to my thread describing how Aileen Cannon had deferred decision on the Trump stolen documents case, I admitted a lot of smart people were warning that her order was a non-appealable death knell for the May trial.
Those smart people were right. Judge Cannon has all but ensured that Republican voters will not have a chance to learn whether Trump really did store nuclear documents in his bathroom before picking him as their candidate.
Yesterday, Jay Bratt asked her to set an earlier deadline for CIPA 5 — the part of the process where Trump describes what he wants to use at trial.
In the Court's Order Granting in Part Government's Motion to Continue Trial and Resetting Deadlines (ECF No. 83), it set November 17, 2023, as the deadline for the defense to file their CIPA Section 5 notice. In ECF No. 205, the Court stayed the November 17 deadline, among others, and in its Order Granting in Part Defendants' Motion to Continue Pretrial Deadlines and Denying without Prejudice Motion to Adjourn Trial, the Court superseded all deadlines except those identified in the Order. ECF No. 215 at 8. The Court's new set of CIPA deadlines did not include a date for the defense to file a CIPA Section 5 notice.

[snip]

Defense counsel now have full access to approximately 5,500 pages of classified discovery (see ECF No. 215 at 4) – the vast majority of the classified discovery in this case – and the laptops necessary to create pleadings referencing those materials. They therefore are in a position to provide notice under CIPA Section 5 as to which documents or pieces of information from these 5,500 pages, or from any other source, they reasonably expect to disclose at trial. Providing such notice by a set, near-term date will facilitate the completion of CIPA litigation before the May 20, 2024 trial date.

[snip]

The Government acknowledges that (a) rulings on its CIPA Section 4 motion will likely result in the production of a limited amount of additional classified discovery;2 and (b) the defense could be successful in compelling the production of other classified materials. However, rather than delaying setting any CIPA Section 5 deadline until the CIPA Section 4 and discovery litigation is complete, the Court should reset the initial CIPA Section 5 deadline for December 18, 2023, with the understanding that it may be necessary to permit a supplemental CIPA Section 5 notice after all classified discovery issues have been resolved.
Judge Cannon responded within short order.
No.
PAPERLESS ORDER denying without prejudice 219 Motion for CIPA Section 5 Notification. As stated in the Court's November 10, 2023, Order 215, "[a]ll previously remaining deadlines in the Court's July 21, 2023, Order are superseded except calendar call and trial." The Court "reset[] the first set of pre-trial deadlines" as indicated on pages 8 and 9 of that Order 215 and scheduled a conference on March 1, 2024, "to address remaining deadlines." To the extent the Special Counsel's motion seeks reconsideration in part of the Court's November 10, 2023, Order 215, that request is denied. CIPA Section 5 deadlines, and all other pre-trial deadlines not included in the first batch of pre-trial deadlines contained in the Court's revised schedule 215, will be set following the March 1, 2024, scheduling conference.
At the very least, this ensures that Republicans will not know whether a jury finds that Trump harm the United States before they make him the party nominee. It may mean no voter gets to know that.
I've finally found Trump's election interference!
https://www.emptywheel.net/wp-content/uploads/2023/06/Screen-Shot-2023-06-09-at-7.53.48-PM.png
832
954
emptywheel
https://www.emptywheel.net/wp-content/uploads/2016/07/Logo-Web.png
emptywheel
2023-11-16 14:48:31
2023-11-16 16:01:06
Election Interference: Aileen Cannon Denies Republicans Speedy Trial in Stolen Document Case