A central tenet of DoD dogma regarding withdrawal of US troops from Afghanistan rests on Afghan National Security Forces reaching a force size of 352,000 and taking over full responsibility for security in the country as US forces leave at the end of 2014. There are multiple problems surrounding the myth of ANSF force size of 352,000. As reported last quarter by the Special Inspector General for Afghanistan Reconstruction (SIGAR), the "official" force size reported by DoD relies on self-reporting by Afghanistan and can not be validated. Further, NATO ministers proposed back in February that financial support for the 352,000 size should be extended through 2018, rather than allowing the force size to drop by about a third at the end of 2014. I equated this offer to dangling an extra $22 billion in front of Afghan government officials for embezzling in return for a grant of criminal immunity for US forces remaining behind after the official withdrawal.
SIGAR released its latest quarterly report yesterday (pdf), covering the first quarter of 2013, and we see that the problems surrounding the myth of 352,000 ANSF force size persist and show no prospect of improving.
From the report, we see that even with Afghanistan self-reporting in an unvalidated way, and with US goals clearly known, force size falls short of the goal:

Although the reported force size is only about 5.5% below the goal, it seems remarkable that Afghan officials developing their own numbers in a non-validated way were not able to reach the goals that are clearly known to them.
This process of developing the ANSF has drawn the largest portion of US funds that have been allocated to Afghanistan. Here is how funds have been allocated since the beginning of the Afghan war:
As of March 31, 2013, the United States had appropriated approximately $92.73 billion for relief and reconstruction in Afghanistan since FY 2002. This total has been allocated as follows:

• $54.27 billion for security
• $22.97 billion for governance and development
• $6.39 billion for counter-narcotics efforts
• $2.43 billion for humanitarian aid
• $6.66 billion for operations and oversight
Of all the funds allocated to Afghanistan by the US, over half have gone to developing ANSF. Here is how security money breaks down from 2005 to the present time: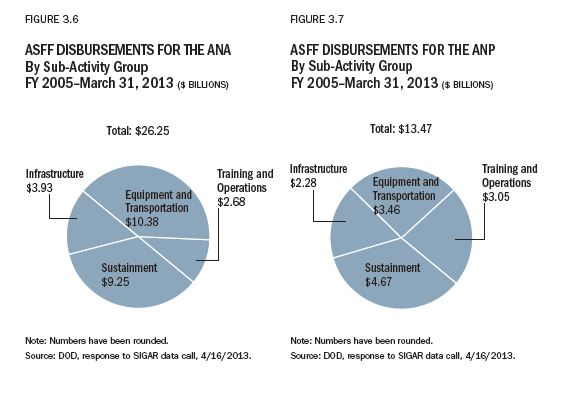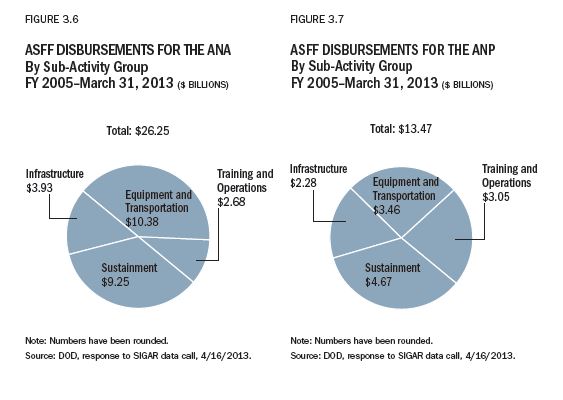 Note that since the beginning of the 2005 fiscal year, we have provided nearly $14 billion in salaries for troop sizes that are self-reported in a non-validated system and therefore ripe for embezzlement. Further, another $13.8 billion was provided for "equipment and transportation" of ANSF, which would also seem a good source for corruption. That is a huge amount of money and it appears to be very poorly spent, given the lack of preparedness for ANSF.
SIGAR calls DoD into question on its claims that the 352,000 ANSF force size has been met: Read more →
https://www.emptywheel.net/wp-content/uploads/2016/07/Logo-Web.png
0
0
Jim White
https://www.emptywheel.net/wp-content/uploads/2016/07/Logo-Web.png
Jim White
2013-05-01 09:59:44
2013-05-01 09:59:44
Even With Non-Validated Afghan Self-Reporting, SIGAR Finds ANSF Falls Short of 352,000 Goal