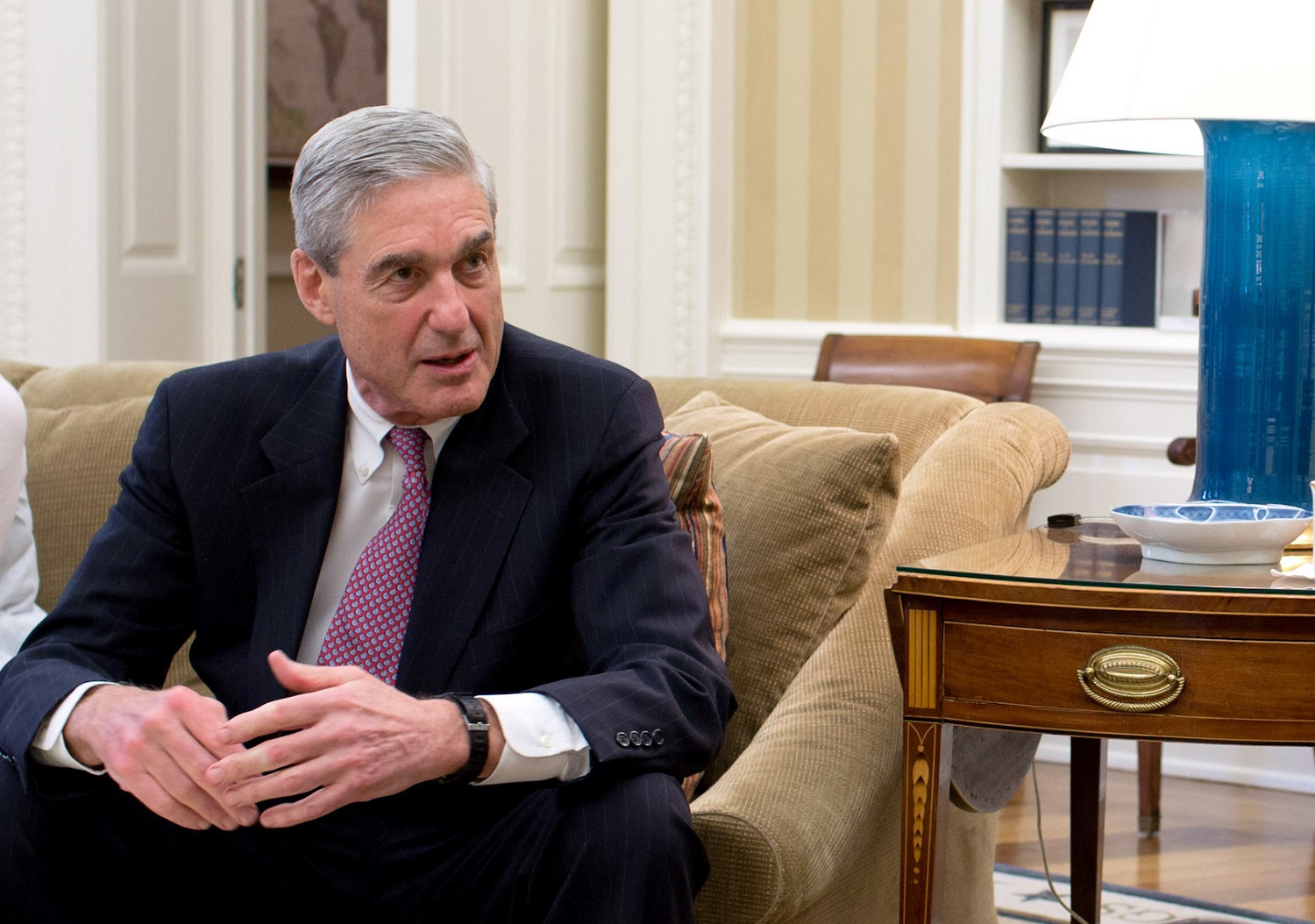 There were two pieces of news today on the Mueller inquiry.
Most intriguing is the news that the FBI has told Republican operative Cheri Jacobus that their investigation of her hack and catfish in 2016 has been referred to Mueller. Click through for the full account of what happened to Jacobus after she exposed a Corey Lewandowski PAC to be coordinating with the campaign. The short version, though, is that the campaign first used deceit to try to collect information on what anti-Trump PACs were planning, later carried out a sustained campaign of abuse, and finally hacked her email when she prepared to reveal the catfishing scheme.
The FBI has been investigating ever since. But on September 10, the agents she had been working with let her know that their inquiry had grown beyond the hack itself and so had referred the case.
Jacobus has been in regular contact with FBI agents since the bureau opened an investigation into the hacking of her email after Jacobus filed a complaint around September 2016.

Following Trump's election, Jacobus relayed additional incidents she considered suspicious to the agents investigating the hack.

Jacobus said she was also interviewed by FBI agents in the Southern District of New York for several hours in February 2017 and has had dozens of phone calls with the agents over the past two years. A lawyer who worked for Jacobus at the time, Jay Butterman, said he also attended the February 2017 meeting and had follow-up conversations with FBI agents.

In November 2017, the FBI asked Jacobus to turn over the remainder of her communications related to the catfishing scheme, some of which she had already submitted, according to an email reviewed by POLITICO.

On Sept. 10 of this year, an FBI agent wrote to Jacobus that he would be calling her, which is when, she said, the bureau informed her of the case's referral to Mueller.
To answer a question many have posed, I don't think any investigation into what I perceived as threats mirrors this. That's in part because the technical threats were more oblique. But it's also because the FBI really doesn't want to talk to me, and so (with one exception) generally only followed up via my lawyer. The one instance I involved the cops may have been different, but if so, I never heard about it directly.
I'm more interested in the possibility that Jacobus' treatment mirrors some of the stuff that Roger Stone was doing with his Stop the Steal çampaign.
The possibility that Mueller's interest in Stone (and Manafort) extends back to the primary is all the more interesting given how centrally some of Stone's core skill-sets played out in the lead-up to the Convention. There were veiled threats of violence (and in the home of his dark money, actual violence), a smear story projecting on Cruz the infidelity more typical of Trump, and lots of money sloshing around.

It's not entirely clear what crime that would implicate — besides potential campaign finance violations (particularly, given Trump's repeated disavowals of any coordination between Stone and his old buddy Manafort).

And, given how rabidly Republican base voters support Trump, I could see why Republicans would let bygones be bygones. It's not like the Republican party has ever before shown distaste for Stone's rat-fucking. Plus, no one likes Ted Cruz, and he may not even survive his race against Beto O'Rourke. So, no, Republicans won't be any more disposed against Stone if he is shown to have helped Trump cheat in the primary.

All that said, if Mueller indicts Stone in other crimes that Republicans would like to distance themselves from, any allegations about the primary may provide cover.
Indeed, the comparison is one a number of people made when I started focusing on Stone's PACs.
With one caveat, I'd think these would probably be parallel efforts, with two different sets of dark money groups funding two different sets of dirty tricks, violating both campaign law and probably some other fraud statutes. I say that because Corey Lewandowski, who was behind the attack on Jacobus, and Roger Stone really don't get along.
That said, the two parallel tracks likely show a tolerance among the principals who did get along with both Lewandowski and Stone (starting with Trump) for this kind of rat-fucking. And to the extent that some of the rat-fucking involved either intelligence obtained from Russians or coordinated voter suppression later in the campaign, then it'd have a solid Russian nexus.
The one caveat is this tweet from Jacobus, which reveals a text she received from a guy making explicit threats, which she clearly identifies as a Stone-related threat. (h/t TC)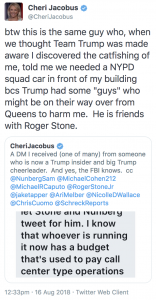 So maybe Stone just took over all the rat-fucking after Jacobus busted Lewandowski's PAC for illegal coordination?
Also remember that, the illegal coordination between PACs and the campaign is likely one way that the campaign benefitted from Cambridge Analytica.
And that's why I find the referral of the attack on Jacobus to be one of the most important details to provide insight onto the Mueller investigation in some time.
I find the news that money laundering expert Kyle Freeny and National Security Division prosecutor Brandon Van Grack are moving back to their normal homes at DOJ less intriguing.
Kyle Freeny and Brandon Van Grack, two prosecutors who worked on Paul Manafort's criminal cases, are ending their tenure working for special counsel Robert Mueller.

Van Grack left recently to return to his job in the National Security Division of the Justice Department, and Freeny will leave the office in mid-October to return to the Criminal Division.
The most obvious explanation for both moves is that the Paul Manafort and Mike Flynn plea deals have been sealed (CNN notes that Van Grack will continue to work on the Flynn sentencing, but has mostly moved back to NSD for now). Which would make the different timing — Van Grack has already left, apparently, whereas Freeny has a few more weeks of work — the most interesting part of the report. Perhaps Van Grack left as soon as Flynn got a sentencing date?
Though there is another possibility, particularly in Freeny's case.
I've long said that it's possible once Mueller puts together the conspiracy case, he may farm out the "garden variety" corruption to other parts of DOJ. One key part of that, for example, is the non-Russian inauguration pay-for-play. That might be the kind of thing Freeny would move with to another part of DOJ.
As for Van Grack, I don't rule out a tidbit or two that he had touched being moved back under NSD, though if so, it's not a part of the investigation that has any public sign yet.
Remember: We still haven't seen what a good number of Mueller's prosecutors have been up to for the last 15 months. Those are some of the prosecutors who remain quietly busy.
As I disclosed in July, I provided information to the FBI on issues related to the Mueller investigation, so I'm going to include disclosure statements on Mueller investigation posts from here on out. I will include the disclosure whether or not the stuff I shared with the FBI pertains to the subject of the post. 
https://www.emptywheel.net/wp-content/uploads/2018/02/RobertMueller_PeteSouza_2012_Wikimedia.jpg
1054
1500
emptywheel
https://www.emptywheel.net/wp-content/uploads/2016/07/Logo-Web.png
emptywheel
2018-10-02 22:26:27
2018-10-03 08:46:10
Mueller's Inquiry Expands and Contracts: The Rat-Fucking Is More Interesting than the Manafort Plea