Today's New York Times wants us to be very afraid because Samantha Power tells us that Syria may have failed to declare some of its chemical weapons (all declared category 1 materials have been destroyed) and those materials just might fall into the hands of the ISIS evil monsters.  This is a very interesting development because now with ISIS as the most evil operator out there, the Syrian WMD's that we have been fearmongering about now are scarier in the hands of ISIS than they are in the hands of Bashar al-Assad, whom many believe was responsible for the deadly August, 2013 sarin attack in Ghouta.
The long journey of Syrian WMD's and just who makes them scary is a case study in the process of intelligence and diplomatic sources feeding propaganda to a willing press. Recall that just after the Ghouta attack, Joby Warrick was used,  in a very Judy Miller fashion, to try to develop fear of a probably non-existent Syrian bioweapons capability. Less than a month after that feeble attempt to claim bioweapons in Syria's arsenal, Warrick was dumbfounded that ricin (see below for a description of this toxin) appeared on the list of materials that Syria declared for destruction (ricin did not appear anywhere in Warrick's "documentation" of Syria's bioweapons capability just a month earlier):
The movement of chemicals and equipment in recent days — which initially spurred fears that Syrian officials were trying to hide parts of their stockpile — suggests instead that the weapons are being consolidated ahead of a first visit by inspection teams that arrived in the country last week, administration officials said.

The activity has contributed to a cautious optimism among U.S. officials over the prospects for quickly dismantling the chemical arsenal. Syrian officials a week ago turned over their first inventory of chemical weapons and storage sites, a list that U.S. analysts described as detailed, although incomplete.

The records have helped shed light on a sizable Syrian stockpile that U.S. officials say contains hundreds of tons of precursors for the nerve agents sarin and VX, as well as a surprise: ricin, a highly lethal poison derived from castor beans.
Yesterday, The Intercept finally (the document is marked as having been approved for release just before last Christmas!) liberated a cache of email conversations (pdf) taking place between a number of national security reporters and the CIA's Office of Public Affairs.  The document is 574 pages long, but I want to focus on only one email to the office and the reply it generated, because it fits perfectly into this overall pattern of intelligence (and diplomatic) operatives catapulting propaganda with the eager cooperation of sychophantic reporters and because it mentions ricin. The email in question comes from Wall Street Journal reporter Siobhan Gorman and appears to be sent to at least two redacted recipients at CIA and mentions ricin in the context of Syria: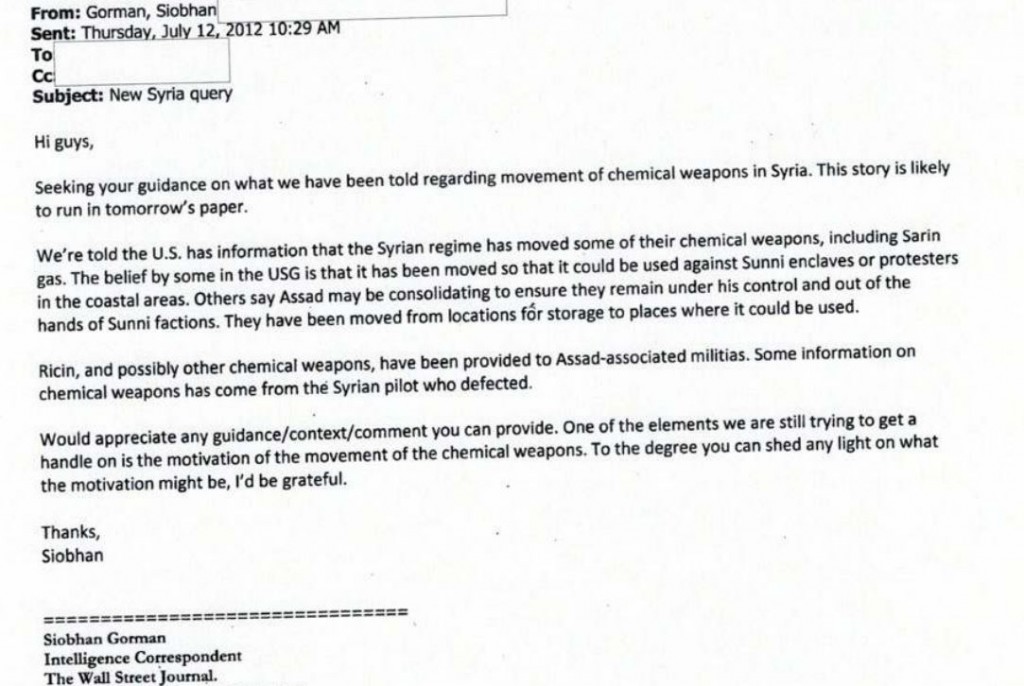 Okay. So this email takes place in July of 2012, just over a year before the Ghouta attack that used sarin.
Before we get to more of this story, a bit of background on ricin is in order. Read more →
https://www.emptywheel.net/wp-content/uploads/2016/07/Logo-Web.png
0
0
Jim White
https://www.emptywheel.net/wp-content/uploads/2016/07/Logo-Web.png
Jim White
2014-09-05 11:43:13
2014-09-05 11:43:14
ISIS Fearmongering Now Features Undeclared Syrian Toxins Changing Hands