On Thursday, the Inspectors General of the Intelligence Community, DOJ, CIA, and DHS (but not NSA) released their report on the Marathon Bombing. While the public release was just a very condensed summary, included the redaction of both classified and "sensitive" information, and made no attempt to reconstruct data government agencies had or could have had on Dzhokhar Tsarnaev, the report did show that the NSA had data on Tamerlan Tsarnaev and that the FBI found information on his computers that NSA might have gotten via other means.
On Friday, prosecutors in the case against Dzhokhar refused to tell him what they collected under FISA.
Before I get into the government's refusal on FISA notice — some of which has repercussions for other cases — let's go over what electronic communications the government did have or could have had.
First, the IG Report (which did not specifically involve NSA's IG and did not include Dzhokhar in its scope) nevertheless points to information NSA collected in 2012 that was not turned over to FBI until after the attack.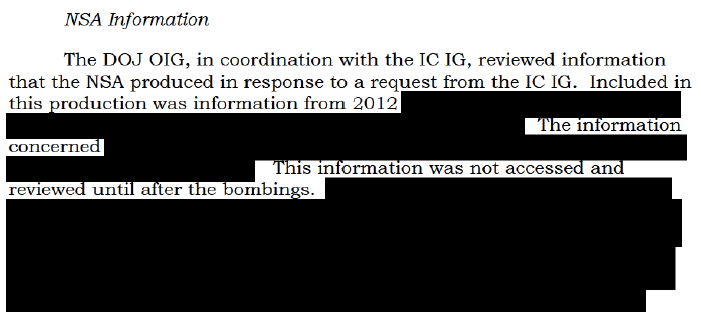 The report also points to communications dating to January 2011, which is entirely redacted. This probably refers to communications the Russians intercepted, not the NSA (indeed, the report discusses NSA data, above, later in the same section, which indicates the earlier redaction doesn't pertain to NSA). Though there's no indication whether the NSA received notice of these communications, including the non-US person interlocutor located overseas involved in them, who would have been a legal NSA target.
https://www.emptywheel.net/wp-content/uploads/2016/07/Logo-Web.png
0
0
emptywheel
https://www.emptywheel.net/wp-content/uploads/2016/07/Logo-Web.png
emptywheel
2014-04-12 15:02:49
2014-04-12 15:02:49
The Day After Government Catalogs Data NSA Collected on Tsarnaevs, DOJ Refuses to Give Dzhokhar Notice