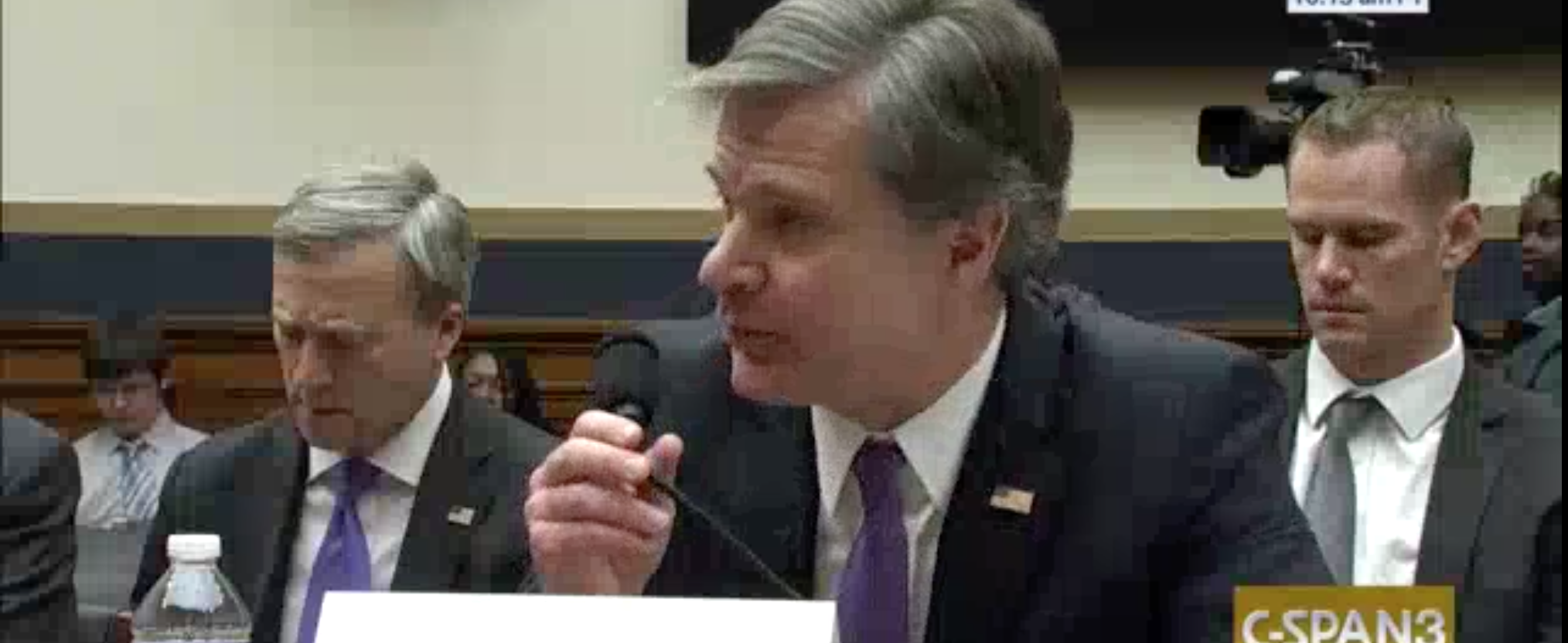 What if the FBI succeeded in thwarting a right wing terrorist attack but rather than bragging about that success, instead redoubled its efforts to target peaceful protestors as terrorists?
That's what happened this week.
On Tuesday, the FBI terrorism agents arrested three adherents of the "Boogaloo" movement, a group of extremists planning a civil war. All have military experience and one, Andrew Lynam, is currently in the Army Reserve. At a ReOpen Nevada protest held in April, at which they were all heavily armed, Lynam told a person who'd go on to become an FBI informant that, "their group was not for joking around and that it was for people who wanted to violently overthrow the United States government." One of them planned to use the cover of the George Floyd protests to conduct attacks and sow panic.
CHS stated that PARSHALL and LOOMIS's idea behind the explosion [targeting Lake Mead] was to hopefully create civil unrest and rioting throughout Las Vegas. They wanted to use the momentum of the George Floyd death in police custody in the City of Minneapolis to hopefully stir enough confusion and excitement, that others see the two explosions and police presence and begin to riot in the streets out of anger.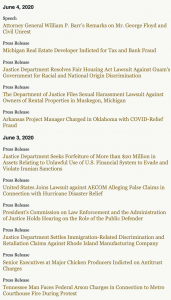 They were arrested on the way to a Black Lives Matter protest with the makings of Molotov cocktails and an AR-15 in their vehicles.
Normally when the FBI thwarts a terrorism attack in process, they hold a big press conference to brag about it. As of this morning, however, neither DOJ nor FBI have posted the arrest on their national news websites (the Nevada US Attorney's Office has).
Instead of boasting about the plotters arrested as terrorists, yesterday Billy Barr, FBI Director Christopher Wray, Acting DEA Administrator (and Barr flunky) Timothy Shea, and the head of ATF had a press conference that seemed designed to provide post hoc and advance justification for abusive steps Barr has and plans to authorize. (The Daily Beast also remarked on their silence about the Boogaloo arrests, and noted that that was one of the only arrests of ideologically motivated groups that have taken place during the uprising.)
The specifics of their statements, given the legal framework around national security investigations and known and presumptive OLC memos authorizing such things, deserves more attention.
The culprit is Antifa, not (also) the right-wingers carrying guns
In questions, for example, Pierre Thomas asked Bill Barr about the Boogaloo bust. Barr responded by focusing on Antifa.
And that's why in my prepared statement, I specifically said, in addition to Antifa and other extremist groups like Antifa, there were a variety of groups and people of a variety of ideological persuasion. So I did make that point. I'm not going to get too specific, but the intelligence being collected by our US attorney's office is particularly integrated by the FBI from multiple different sources is building up. There are some specific cases against individuals, some Antifa related.
Chris Wray also responded to the question about Boogaloo by emphasizing that Antifa was a terrorist organization.
Sure. Let me say first, as I've said for quite some time and including even my first few months in job, we, the FBI have quite a number of ongoing investigations of violent anarchist extremists, including those motivated by an Antifa or Antifa like ideology. And we categorize and treat those as domestic terrorism investigations and are actively pursuing them through our joint terrorism task forces.
This repeats comments both Wray and Barr made in their prepared speeches. Barr saidhe culprit here is "Antifa" and it is violent.
At some demonstrations, there are groups that exploit the opportunity to engage in looting.  And finally, at some demonstration, there are extremist agitators who are hijacking the protests to pursue their own separate and violent agenda.

We have evidence that Antifa and other similar extremist groups, as well as actors of a variety of different political persuasions, have been involved in instigating and participating in the violent activity.
Wray said the same. The culprits are "Antifa" and other agitators.
We're seeing people who are exploiting this situation to pursue violent, extremist agendas—anarchists like Antifa and other agitators. These individuals have set out to sow discord and upheaval, rather than join in the righteous pursuit of equality and justice. And by driving us apart, they are undermining the urgent work and constructive engagement of all those who are trying to bring us together—our community and religious leaders, our elected officials, law enforcement, and citizens alike.
There is a foreign nexus that will allow us to use transnational tools
In his prepared speech, Barr claimed that there are foreign actors involved.
We are also seeing foreign actors playing all sides to exacerbate the violence.
It's true that the Russians who helped Trump get elected are sowing dissension but that would be dealt separately from a press conference if Barr weren't trying to use the foreign nexus to access national security tools he says can't be used with Trump supporters.
Barr returned to this later, and specifically said they maybe can't offer proof.
I may ask Chris if he cares to provide a little more detail. I'm not sure how much detail we want to get into, but people shouldn't think that countries that are hostile to the United States, that their efforts to influence the US or weaken the US or sow discord in the US is something that comes and goes with the election cycle. It is constant. And they are constantly trying to sow discord among our people, and there's a lot of disinformation that circulates that way. And I believe that we have evidence that some of the foreign hackers and groups that are associated with foreign governments are focusing in on this particular situation we have here and trying to exacerbate it in every way they can. Unless Chris has something to add, I can turn it over to … Yeah.
By suggesting there's a foreign nexus, Barr is laying the groundwork to claim to need tools only available with that foreign nexus (something that has been done with past protest movements).
Every store that gets raided gives federal jurisdiction
After making it clear that Billy Barr intends to target Antifa as the culprit here, and use national security tools to do so, Barr and his flunkies then laid out how they think they have national jurisdiction.
Barr asserted his own jurisdiction based off the federal buildings he said that had been targeted (and because protestors were in front of the White House).
Many of the buildings, as you know, and facilities here, and the monuments are the responsibility of the federal government and the proceedings and process of the federal government take place here. And so when you have a large scale civil disturbance that is damaging federal property, threatening federal property, threatening federal law enforcement officers, threatening the officials in government and their offices and our great monuments, it is the responsibility of the federal government to render that protection.
Barr described how that Federal jurisdiction — and his invocation of the word "riot" — allows them to lead the response via what is the intelligence-driven network used against terrorists.
The Justice Department is also working closely with our state and local partners to address violent riots around the country.  Our federal law enforcement efforts are focused on the violent instigators.

Through the FBI, U.S. Attorney's Offices, component field offices, and state and local law enforcement, we are receiving real-time intelligence, and we have deployed resources to quell outbreaks of violence in several places.
While Wray didn't use the word "riot" he described the centrality of the Joint Terrorism Task Force to the Federal response.
We're making sure that we're tightly lashed up with our state, local, and federal law enforcement partners across the country, by standing up 24-hour command posts in all of our 56 field offices. We have directed our 200 Joint Terrorism Task Forces across the country to assist local law enforcement with apprehending and charging violent agitators who are hijacking peaceful protests.
Timothy Shea invented an excuse not used in his request to get involved: the DEA has jurisdiction because some people stole controlled substances from pharmacies, possibly after they had been looted.
In addition, DEA continues to investigate drug related crimes, including the theft of controlled substances from looted pharmacies, which is happening here in the District of Columbia and across the country. In the national capital region, approximately or over 150 DEA special agents have partnered with the metropolitan police department at their request and the National Guard to enforce security posts and maintain a secure perimeter in designated areas.
Acting ATF Director Regina Lombardo made a similar claim to jurisdiction (though theirs legitimately extends to explosives activity): ATF is investigating firearm dealer thefts.
 ATF has also responded to 73 federal firearms licensed dealers. We have identified many suspects that made arrest and recovered many firearms already.
When it came to Bureau of Prisons Director Michael Carvajal, the only real excuse he offered was that Billy Barr requested BOP get involved. Though he did offer the bogus claim that BOP's riot team is "experienced in … conflict resolution."
The Attorney General asked the BOP to request and assist other law enforcement agencies in maintaining order and peace in the district of Columbia. BOP crisis management teams are highly trained to deal with various types of emergency situations, including crowd control and civil disturbances. They are experienced in confrontational avoidance and conflict resolution.
Barr offered even more transparently bullshit excuses for inviting in the kinds of people who put down riots among violent felons, claiming that there weren't enough Marshals to go around, and that no one else in the US Government (like Park Police) know how to deal with the kinds of crowds they deal with all the time. Barr also provided a totally bullshit excuse for why the riot teams weren't wearing identification.
Let me just add that the Bureau of Prisons SORT teams are used frequently for emergency response and emergency situations, in either civil disturbances or hurricanes or other things like that. They're highly trained. They're highly trained units. And in fact, in the Department of Justice, we do not really have large numbers of units that are trained to deal with civil disturbances. I know a lot of people may be looking back on history, think we can call on hundreds and hundreds and hundreds of US Marshals, and that's simply not the case. Our marshals' response for us is approximately a hundred US Marshals. And so, historically when there have been emergencies where we have to respond with people who do have experience in these kinds of emergencies that are highly trained people, we use what are called SORT teams, response teams from the Bureau of Prisons.

And I could see a number … Now, in the federal system, we don't wear badges with our name. I mean, the agents don't wear badges and their names and stuff like that, which many civilian police agents, I mean, non-federal police agencies, do. And I could understand why some of these individuals simply wouldn't want to talk to people about who they are, if that were, if that in fact was the case.
The photo op was not a photo op
But Barr's bullshit explanation for why he sicced riot teams on peaceful protestors was still more credible than the excuse he offered for violently attacking peaceful protestors, including priests at a church serving them, for a photo op. He had decided (using the jurisdiction assumed by claiming everything is a federal building) to expand the perimeter around the White House.
Unfortunately, because of the difficulty in getting appropriate units into place, by the time they were able to move our perimeter up to I street, a large number of protestors had assembled on H Street. There were projectiles being thrown and the group was becoming increasingly unruly. And the operation to what… They were asked to three times if they would move back one block, they refused. And we proceeded to move our perimeter out to I Street.
And that had nothing at all whatsoever with the President's desire for a photo op and he just happened to be in the photo op that had nothing to do with the violent attack on peaceful protestors and the exploitation of a house of worship.
Obviously, my interest was to carry out the law enforcement functions of the federal government and to protect federal facilities and federal personnel, and also to address the rioting that was interfering with the government's function. And that was what we were doing. I think the president is the head of the executive branch and the chief executive of the nation, and should be able to walk outside the White House and walk across the street to the church of presidents. I don't necessarily view that as a political act. I think it was entirely-I don't necessarily view that as a political act. I think it was entirely appropriate for him to do. I did not know that he was going to do that until later in the day after our plans were well underway to move the perimeter, so there was no correlation between our tactical plan of moving the perimeter out by one block and the president's going over to the church. The president asked members of his cabinet to go over there with him, the two that were present, and I think it was appropriate for us to go over with him.
Let me be clear. These are — most of them — transparently bullshit excuses. Unfortunately, the way our intersecting justifications for using national security authorities work, such transparently bullshit excuses provide the legal cover that the Federal government has long used, especially when it comes to spying on brown people.
To be clear, this is not new. It's just incredibly ham-handed and pretty transparently done after the fact, after the press already identified Barr's abuses. And I assume OLC only now is writing memos to match the transparently bogus claims made in yesterday's presser.
https://www.emptywheel.net/wp-content/uploads/2017/12/Screen-Shot-2017-12-07-at-5.32.28-PM.png
832
2028
emptywheel
https://www.emptywheel.net/wp-content/uploads/2016/07/Logo-Web.png
emptywheel
2020-06-05 13:13:31
2020-06-05 13:14:05
When Billy Barr Called a Press Conference to Target Non-Terrorists Rather than Brag about the Right Wing Terrorists FBI Caught