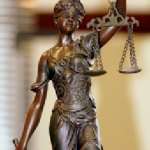 Since Dzhokhar Tsarnaev was taken into custody just over a week ago, the hue and cry in the public and media discussion has centered on "Miranda" rights and to what extent the "public safety exception" thereto should come into play. That discussion has been almost uniformly wrongheaded. I will return to this shortly, but for now wish to point out something that appears to have mostly escaped notice of the media and legal commentariat – Tsarnaev repeatedly tried to invoke his right to counsel.
Tucked in the body of this Los Angeles Times report is the startling revelation of Tsarnaev's attempt to invoke:
A senior congressional aide said Tsarnaev had asked several times for a lawyer, but that request was ignored since he was being questioned under the public safety exemption to the Miranda rule. The exemption allows defendants to be questioned about imminent threats, such as whether other plots are in the works or other plotters are on the loose.
Assuming the accuracy of this report, the news of Tsarnaev repeatedly attempting to invoke right to counsel is critically important because now not only is the 5th Amendment right to silence in play, but so too is the right to counsel under both the 5th and 6th Amendments. While the two rights are commonly, and mistakenly, thought of as one in the same due to the conflation in the language of the Miranda warnings, they are actually somewhat distinct rights and principles. In fact, there is no explicit right to counsel set out in the Fifth at all, it is a creature of implication manufactured by the Supreme Court, while the Sixth Amendment does have an explicit right to counsel, but it putatively only attaches after charging, and is charge specific. Both are critical to consideration of the Tsarnaev case; what follows is a long, but necessary, discussion of why.
In fact, "Miranda rights" is a term that is somewhat of a misnomer, the "rights" are inherent in the Constitution and cannot be granted or withheld via utterance of the classic words heard every day on reruns of Law & Order on television. Those words are an advisory of that which suspects already possess – a warning to them, albeit a critical one.
In addition to being merely an advisory of rights already possessed, and contrary to popular belief, advising suspects of Miranda rarely shuts them down from talking (that, far more often, as will be discussed below, comes from the interjection of counsel into the equation). As Dr. Richard Leo has studied, and stated, the impact of Miranda on suspects' willingness to talk to interrogators is far less than commonly believed. One study has the effect rate of Miranda warnings on willingness to talk at 16%; from my two plus decades of experience in criminal defense, I would be shocked if it is really even that high.
On top of this fact, the Miranda warnings relate only to the admissibility of evidence or, rather, the inadmissibility – the exclusion – of evidence if it is taken in violation of Miranda. Professor Orin Kerr gives a great explanation here.
Since there is, without any real question, more than sufficient evidence to convict Tsarnaev without the need for admissibility of any verbal confession or other communicative evidence he may have provided the members of the HIG (High Value Detainee Interrogation Group), the real Read more →
https://www.emptywheel.net/wp-content/uploads/2016/07/Logo-Web.png
0
0
bmaz
https://www.emptywheel.net/wp-content/uploads/2016/07/Logo-Web.png
bmaz
2013-04-29 12:25:45
2013-04-30 03:39:37
Tsarnaev: Right to Counsel, Not Miranda, Is the Key