Donald Trump nearly killed his Vice President by tweet — the tweet he sent at 2:24PM on January 6, 2021.
111. At 2:24 p.m., after advisors had left the Defendant alone in his dining room, the Defendant issued a Tweet intended to further delay and obstruct the certification: "Mike Pence didn't have the courage to do what should have been done to protect our Country and our Constitution, giving States a chance to certify a corrected set of facts, not the fraudulent or inaccurate ones which they were asked to previously certify. USA demands the truth!"

112. One minute later, at 2:25 p.m., the United States Secret Service was forced to evacuate the Vice President to a secure location.

113. At the Capitol, throughout the afternoon, members of the crowd chanted, "Hang Mike Pence!"; "Where is Pence? Bring him out!"; and "Traitor Pence!"

114. The Defendant repeatedly refused to approve a message directing rioters to leave the Capitol, as urged by his most senior advisors-including the White House Counsel, a Deputy White House Counsel, the Chief of Staff, a Deputy Chief of Staff, and a Senior Advisor.
As the indictment tells it, at the time Trump sent his potentially lethal tweet, inciting the mob bearing down on Mike Pence, Pence's spouse, and daughter, Donald Trump was alone in his dining room with the murder weapon: an unknown phone, and his Twitter account.
But when DOJ served a warrant on Twitter for Trump's Twitter account on January 17, they couldn't be sure who was holding the murder weapon. They also wouldn't know whether triggering the murder weapon was coordinated with other events.
That explains why, as Thomas Windom described in a February 9 hearing, metadata from Trump's Twitter account showing any other account associated with his own may have been just as important for the investigation as any DMs obtained with the warrant.
MR. HOLTZBLATT: Well, Your Honor, we don't — the issue, Your Honor — there isn't a category of "associated account information"; that's not information that Twitter stores.

What we are doing right now is manually attempting to ascertain links between accounts. But the ascertainment of links between accounts on the basis of machine, cookie, IP address, email address, or other account or device identifier is not information that Twitter possesses, it would be information that Twitter needs to create. So that's the reason why we had not previously produced it because it's not a category of information that we actually possess.

[snip]

MR. WINDOM: It is, as explained more fully in the warrant — but for these purposes, it is a useful tool in identifying what other accounts are being used by the same user or by the same device that has access to the account is oftentimes in any number of cases, user attribution is important. And if there are other accounts that a user is using, that is very important to the government's investigation.

[snip]

MR. HOLTZBLATT: That's right. If the records — if the linkage between accounts, which is what we understand this category to be referring to, is not itself a piece of information that we keep, then it's not a business record that we would ordinarily produce.

What I understand the government to be asking is for us to analyze our data, as opposed to produce existing data. And we are trying to work with the government in that respect, but that is the reason that it is not something that — that is a different category of information. [my emphasis]
By that point, DOJ would have had Cassidy Hutchinson's testimony describing what she saw sitting outside Trump's dining room door (and once, going in to pass off Mark Meadows' phone). They would have had two grand jury appearances from the two Pats, Cipollone and Philbin, the White House Counsel and Deputy Counsel described in the passage. They would have had at least one interview with Eric Herschmann — the Senior Advisor trying to calm him down.
They did not yet have privilege waived testimony from the Chief of Staff — Mark Meadows — or the Deputy Chief of Staff — Dan Scavino.
And Dan Scavino was the most likely other person to know about that near murder by tweet, because Dan Scavino was in his position, the Deputy Chief of Staff, first and foremost because he had masterminded Trump's own mastery of Twitter going back to 2016.
So one thing DOJ needed to know before they conducted an interview that took place after Beryl Howell rejected yet another frivolous Executive Privilege claim in March was how Dan Scavino accessed Trump's Twitter account when he did, from what device.
Who else had access to Trump's Twitter account, one part of the murder weapon?
When DOJ asked Twitter to go back and figure out which other accounts shared IP addresses, cookies, or other device identifier with Trump's Twitter account, they were asking for a list of other people (or at least clues to identify those people) who might be holding that murder weapon on January 6, Trump's Twitter account, instead of Donald Trump.
Before Dan Scavino told the grand jury that he wasn't in the room when that tweet was sent, as he must have, DOJ would have needed a better idea whether Scavino sent the tweet, to know whether he was telling the truth once he did sit for a privilege waived interview.
But they were also asking for a very specific clue about the other part of that murder weapon: some way to identify the phone from which the potentially deadly tweet was sent. Identifying which phone was alone in the room with Donald Trump on January 6 would also identify which phone to go seize to learn who else Trump was communicating with when he was sitting alone in his dining room as he watched his supporters assault the Capitol. Identifying which phone was alone in the room with Donald Trump on January 6 would help to fill the gap in communications that the January 6 Committee never completely filled.
And not just that phone.
Obtaining the associations to Trump's Twitter account would also help explain one of the most enduring mysteries about January 6: What happened between the time Sidney Powell left after a screaming meeting on December 18 and the time Trump announced the rally in the early hours of December 19, leading thousands of his most rabid followers to start planning to come to DC?
87. On December 19, 2020, after cultivating widespread anger and resentment for weeks with his knowingly false claims of election fraud, the Defendant urged his supporters to travel to Washington on the day of the certification proceeding, tweeting, "Big protest in D.C. on January 6th. Be there, will be wild!" Throughout late December, he repeatedly urged his supporters to come to Washington for January 6.
That December 19 tweet, and the phone it was sent from, was another kind of murder weapon, the shot that would set off the entire riot. And to figure out who was wielding it, the circumstances in which it went off, investigators would work backwards from where it was stored, on Twitter.
They would want to know, too, how Ali Alexander and Alex Jones copped on so quickly — whether any of the participants in the DM lists via which Stop the Steal was coordinated had a user who also had access to Trump's Twitter account.
Even before Trump became President, his communication habits made it very difficult to pin down his actions. Roger Stone, for example, would call Trump during the 2016 election on Trump's cell, his Trump Tower phone, two work phones, via three different assistants, and Keith Schiller. And Stone often used other people's phones to call on.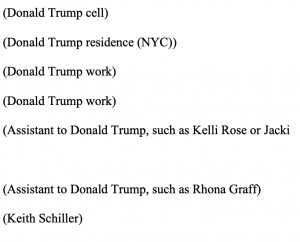 Trump still has a habit of using other people's phones. The stolen documents indictment reflects Molly Michael telling Walt Nauta that Trump had had her phone. Several of Trump's aides were asked by J6C whether Trump ever used their phones; several probably didn't tell the truth in response.
But much of execution of January 6 went through the single most stable means of communication Donald Trump had: his Twitter account. And to attribute any actions that happened using Trump's Twitter account, DOJ needed as much data as possible about who else used it and in what circumstances.
User attribution is important. Especially with a guy who has the ability to murder by tweet.