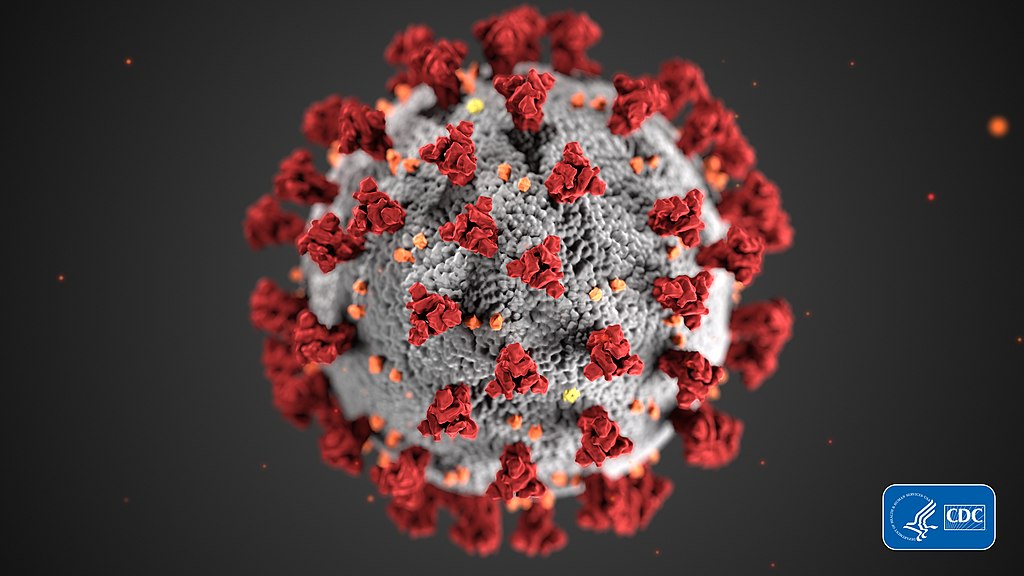 Update: I've updated this and reposted. At least six states have added stay at home orders since Trump said he wanted to reopen the economy by Easter. This post was originally published on March 24, just before mid-day.
As noted, yesterday Trump signaled that he wants to turn the economy back on, perhaps 15 days after his original Emergency declaration on March 13 (which would mean the emergency would end on Saturday, March 28). As Ron Klain just noted, though, Trump doesn't have that ability: Governors, not the President, have been the ones to shut things down (along with a number of mayors and corporate executives).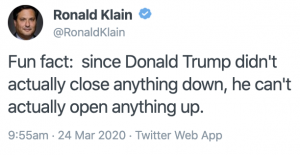 It will be governors, not Trump, who decide when to reopen the economy.
Over the last week, a set of governors (currently 28) have issued stay-at-home orders; another (MA) imposed a suggested stay at home declaration, and a number of cities and counties have similarly shut down. This NYT story has a great map and numbers showing how many people are affected (though without durations or governor party affiliation).
As the list below makes clear, Trump can't turn the economy back on without finding a way to rescind the executive orders of a bunch of governors, including those of Republicans Eric Holcomb (whose order goes until April 6), Mike DeWine (whose order goes until April 6), and Jim Justice (whose order doesn't have a termination date).
Update: Trump just said, "I would love to have the country opened up and raring to go by Easter."
Update: This has been updated through March 27. This is the most comprehensive list of orders I've seen, including those closing businesses as opposed to ordering people to stay at home (though as of today it is missing a business closure from AL's Kay Ivey).
Update, March 30: Maryland's Larry Hogan and Virginia's Ralph Northam, whose initial non-essential business shutdowns had stopped short of a stay-at-home order, have both now issued the latter.
---
Full stay-at-home orders
Non-essential business closures
Kentucky (Democratic Governor Steve Beshear)
Maine (Democratic Governor Janet Mills)
Nevada (Democratic Governor Steve Sisolak)
https://www.emptywheel.net/wp-content/uploads/2020/03/1024px-COVID-19_2871.jpg
576
1024
emptywheel
https://www.emptywheel.net/wp-content/uploads/2016/07/Logo-Web.png
emptywheel
2020-03-27 17:00:37
2020-03-30 15:14:09
Trump Can't Turn the Economy Back on Without Overriding Executive Orders of 28 Governors