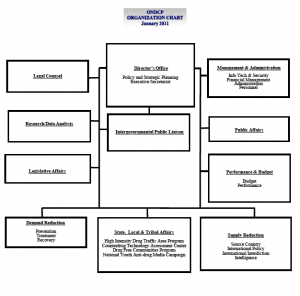 At the Daily Press Briefing today, Jay Carney was asked whether the White House approves of the NYPD spying on New York and New Jersey's Muslim communities.
He responded by claiming that the Office of National Drug Control Policy–the Drug Czar!–has no authority over the money.
The Office of National Drug Control Policy is a policy office that has no authority–no authority to and does not conduct, direct, manage, or supervise any law enforcement operations. The funding is provided to the H-I-D-T-A, HIDTA program, of New York and New Jersey, which then provides it to law enforcement agencies to assist in the procurement of resources like computers and other items.

[snip]

This is not an Administration program or a White House program. This is a program of the NY Police Department.
Now, there's reason to believe the response was bullshit. As the Drug Czar org chart above shows–and Deputy Drug Czar Benjamin Tucker's biography makes clear–HIDTA is solidly in the chain of command in the Drug Czar's office.
In his position, Mr. Tucker oversees ONDCP's High Intensity Drug Trafficking Areas (HIDTA) program , Drug-Free Communities (DFC), National Youth-Anti-Drug Media Campaign, and Counter-Drug Technology Assessment Center (CTAC).

With 40 years of experience in the fields of law enforcement and criminal justice, Mr. Tucker is a recognized expert in community policing.
Furthermore, the Director of HIDTA, Dr. Ellen Scrivner, has her office in the Executive Office of the President.
Drug Czar Gil Kerlikowske "coordinates all aspects of Federal drug control programs" and one of those programs is HIDTA, which apparently funds spying on Muslims. And the Drug Czar's Policy Coordination Circular–which was updated on August 3, 2011–requires that the Drug Czar review any chances to "drug policy."
Pursuant to 21 U.S.C. §1704(b), agencies are required, except under exigent circumstances, to notify ONCDP of any proposed change in policies relating to their activities under the National Drug Control Program prior to implementation of such change.

[snip]

The Director of ONCDP reviews such proposed changes and certifies in writing whetehr such change is consistent with the National Drug Control Strategy.
In other words, Obama's Deputy Drug Czar oversees this program, its Director works in EOP, and any changes on anything pertaining to drug policy must be approved by the Drug Czar.
That kind of micro-management inside the White House is the whole point of having a Czar rather than a congressionally-supervised agency head.
https://www.emptywheel.net/wp-content/uploads/2016/07/Logo-Web.png
0
0
emptywheel
https://www.emptywheel.net/wp-content/uploads/2016/07/Logo-Web.png
emptywheel
2012-02-27 18:09:20
2012-02-27 18:20:22
If the Drug Czar Does Not Supervise the Money It Doles Out, Who Does?