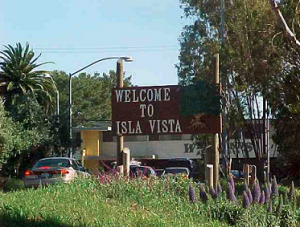 I have not been there in a while, but I have been there quite a bit before, and the Isla Vista/Goleta area surrounding UCSB is everything good and bad that surrounds any major university. It is a melting pot teeming with brilliant young minds, eager to expand and ready to experiment and socialize. It is also cliquish and too easy to separate the in from the out crowd and, sometimes, rich from poor. Above all else, at least from my visits there when I was younger, IV was one wild party that could be anywhere along a couple of key streets, if not indeed out in the streets themselves. It was one hell of a good time.
But not this Memorial Day weekend. Something different and jolting happened, leaving seven souls dead, seven more injured and yet another community, and national audience, grieving and reaching for answers.
I don't know what the answers are, and to a great extent, I do not think the pathology of this incident is yet ripe enough to draw them with any real definition. That has not, of course, stopped the light speed social justice court of Twitter and the internet.
The reaction on Twitter has run the spectrum from sober to hysterical. If you are on Twitter, you have seen it, if you are not, it is not hard to imagine if you are internet savvy enough to be reading the instant post. Speaking only for myself, however, I have been a little disturbed by the alacrity with which valuable social justice movements, and their participants, have glommed on to a tragic spree crime as the defining vehicle for their arguments, whether it be women's rights, gun control or otherwise.
It strikes me, while certainly all of these things figure into the Rodger situation to some extent, hitching up to a spree murder by a mentally disturbed individual is not exactly a great vehicle for your social justice movement. It is more complex than that, and it is too easy in haste to mistake manifestations for root causes. Post hoc, ergo propter hoc if you will.
And, while I know the intent was good, I have found the "hashtag advocacy" via such tags as #YesAllWomen, and the reflexively responsive #NotAllMen, to not necessarily do all that much to further the well meaning intention of their adopters. While some of those tweets have seemed germane and helpful, a great many seem Read more →
https://www.emptywheel.net/wp-content/uploads/2016/07/Logo-Web.png
0
0
bmaz
https://www.emptywheel.net/wp-content/uploads/2016/07/Logo-Web.png
bmaz
2014-05-26 14:16:59
2014-05-27 15:05:31
The Carnage In Isla Vista, Hashtag Justice and Echidne