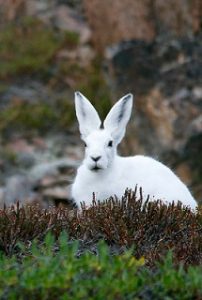 Wow, it's been ten years! Time sure flies when you're having fun — and yes, some of us have a rather perverse sense of amusement, editors, contributors, and readers alike.
I've always enjoyed falling into yawning 'rabbit holes' begging for investigation. It's often as frustrating as chasing an actual zippy white rabbit, the target evading capture. But following the trail, finding new leads, seeing the prey so far and so near — it can be exhilarating. Or it can be incredibly exasperating. No two investigative searches are ever the same, and emptywheel has offered some intense and heady chases over its ten years here.
Unlike the rest of my fellows here at emptywheel, I don't have a Top 10 favorite posts. I do have three things which I am happy I had a chance to post here — my four-part series for The Angry Left, the timeline on Flint's Water Crisis, and the post I wrote this past spring on WannaCry.
~ 3 ~
The Angry Left series was originally posted at Firedoglake but it needed to be revisited; it needs revisiting again even now as we work toward a revitalization of civics during resistance. Many new political groups have emerged, operating in parallel with the existing political parties. Their members need institutional knowledge from past organizing efforts to avoid making the mistakes of the past to become a more effective political force.
~ 2 ~
Flint's Water Crisis timeline isn't complete and remains a work in progress; there are a number of pieces still needed, and much of them come from this site's community members who offered them in comments (I'm looking at you, harpie, especially — thank you). But even in its current condition, the timeline demands answers: what city and state officials were involved in the key decision on the night before the cutover, when Detroit's water system made a last-ditch offer by email with a rate cheaper than the new Karegnondi pipeline's water? Why was a pipeline to Saginaw, ~30 miles north, never suggested or evaluated, instead of the ~60-mile-long Karegnondi? How many Flint-originated cases of Legionnaires' disease actually affected the state of Michigan besides the 12 known deaths in 2014-2015?
A new question emerged recently: why does Michigan's attorney general Bill Schuette think he stands a chance as a gubernatorial candidate after failing to hold Governor Rick Snyder and his office accountable for the poisoning of an entire city, let alone failing to protect their interests before the poisoning began? Why has the state failed residential property owners in Flint after their property values crashed thanks to Snyder's crappy governance?
The timeline was personal, too; my oldest adult child lived in Flint during the first two years of the water crisis, suffering a number of unusual health problems after the city's water supply was cut over to the Flint River. We don't know if or when health risks from exposure will end, for my eldest or the hundreds of children and their families who lived and continue to live in Flint.
~ 1 ~
This WannaCry post still haunts me; there are open questions which beg for answers, threats still hanging over head — this is one of the rabbits which has slipped away yet teases me to this day.
~ 0 ~
What do you think was the best of this ten years of emptywheel? Share your favorites in comments; we'd love to hear what you've found most interesting, educational, worthwhile.
And if you can afford it, please chip in to help keep the work you enjoy at emptywheel as independent as it has been this last ten years. We don't take advertising dollars; this is a labor of love for our team of contributors. But bandwidth, server space, software maintenance and development cost money, and the more important our work is, the more likely it is to need more bandwidth and additional security to keep our work online, uninterrupted.
Thank you for making this ten years so worthwhile. We hope we'll continue to see you in comments into the future at emptywheel.
https://www.emptywheel.net/wp-content/uploads/2017/12/Rabbit_AndyBrunner-Unsplash.jpg
1000
1500
Rayne
https://www.emptywheel.net/wp-content/uploads/2016/07/Logo-Web.png
Rayne
2017-12-07 08:00:06
2017-12-05 23:16:30
10 Years of emptywheel: Many Happy Rabbit Holes