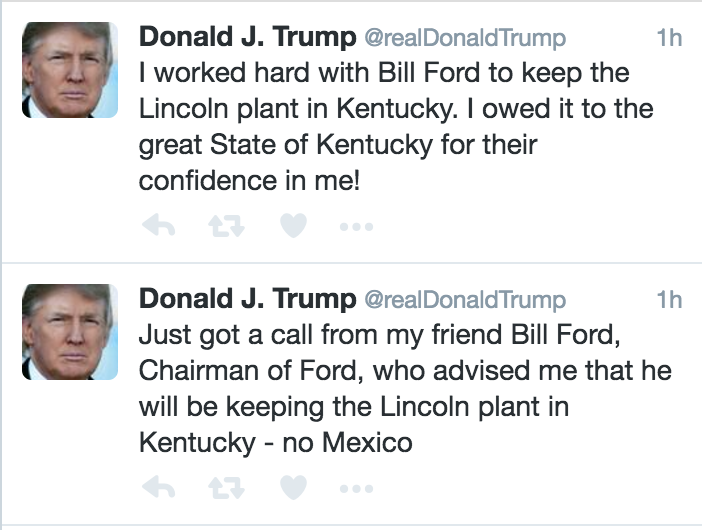 The President Elect appears to be completely ignorant about American made cars.
That's the most generous conclusion one can draw from these two tweets: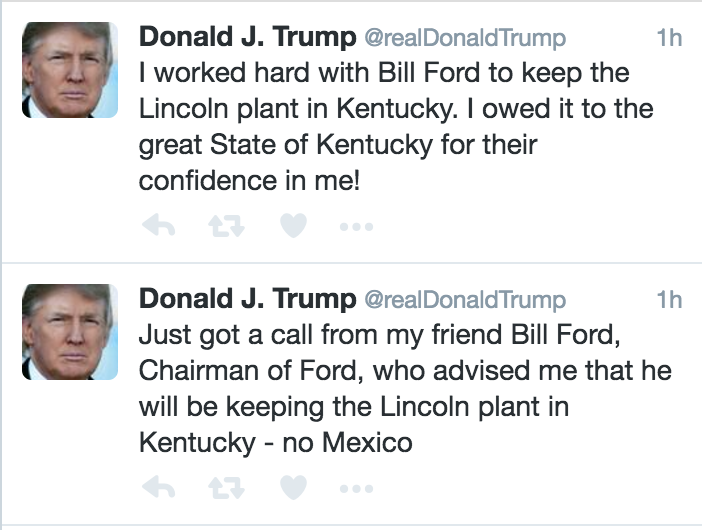 Perhaps Trump does know the difference between a Lincoln Navigator MKC and a Ford Focus. If so, then this is a cynical bullshit ploy to pretend he has saved American jobs.
Trump has been harping on Ford's production siting decisions throughout his campaign since April, when Ford announced it was building a new plant in Mexico (I need to check but I believe Ford sources more cars in the US than any other US manufacturer).
Things heated up in September when Trump made several inflammatory claims about Ford's sourcing, including that Ford will "fire all its employees in the United States."
Ford responded that "they will be here forever." That debunking was even among the stories that created the most Facebook impressions toward the end of the campaign.
Nevertheless, Trump threatened to tax any cars made in Mexico.
A few days ago Ford reiterated that it was, indeed, moving the C-platform production to Mexico as it said it would, even in spite of Trump's claims, even while it reiterated that it would replace the production in the US with two other products.
Ford Motor is moving ahead with plans to shift production of small cars to Mexico from Michigan, while "two very important products" will be built in its U.S. factories, Chief Executive Officer Mark Fields told Reuters on Tuesday.

President-elect Donald Trump has criticized Ford for the decision to shift production of Focus small cars to Mexico in 2018, and said he would consider levying tariffs on Mexican-made Fords. Trump has also said he wants to scrap the North American Free Trade agreement, which also includes Canada, and to build a wall on the U.S.-Mexico border to stop undocumented immigrants.

"We're going forward with our plan to move production of the Ford Focus to Mexico, and importantly that's to make room for two very important products we'll be putting back into Michigan plants," Fields said in an interview on the sidelines of the Los Angeles Auto Show. "There will be no job impact whatsoever with this move."
Note what we've seen so far: small cars. Focus. C-Max, Small cars (replaced by pick-ups in the US). Small cars.
The only thing Ford was ever talking about were small cars: Ford Focuses, mostly.
Which led to these Trump tweets: Lincolns in Louisville.
Ford (owner of Lincoln) has two plants in Kentucky. Both are truck/SUV plants. Along with a bunch of Fords, they make the Lincoln Navigator and the MKC. The Navigator is a such a nice car I've even seen one (I believe the first one ever) sold in Beijing for $100,000.
The reason American manufacturers make all their trucks in the US and their smaller cars offshore is margins: a Lincoln Navigator (and an MKC) have much bigger margins that Ford Focuses do, and Ford isn't obliged to sell any MKCs to meet CAFE standards. (MKC is the same C-Segment, so it would help meeting CAFE standards.)
Lincoln Navigator production was never moving to Mexico. There are mixed reports about where Ford was considering moving MKC production (it's possible that's what it was going to move to MI). But that didn't stop Trump from claiming that it was Mexico — and that he had saved the production. Bonus points, too, that it makes the Majority Leader, KY Senator Mitch McConnell, make good.
But ultimately, either Trump can't tell the difference between a Navigator MKC and a Focus. Or he's just lying.
Update: It appears Ford was considering moving the Lincoln MKC out of Louisville, not the Navigator.
The auto maker confirmed in a statement that production of the Lincoln MKC crossover will remain at its assembly plant in Louisville, Ky. Ford had initially planned to move output of the Lincoln model to another plant to boost production of the Escape, which is built at the same factory. The company didn't say where it had planned to move production of the Lincoln crossover.

Ford communicated that plan to the United Auto Workers in 2015 as part of a broader contract negotiation. The Louisville plant, employing about 4,700 workers, wasn't in danger of closing.

"We are encouraged that President-elect Trump and the new Congress will pursue policies that will improve U.S. competitiveness and make it possible to keep production of this vehicle here in the United States," the company said.
This post has been updated accordingly.
Note, Ford's language about competitiveness may mean Trump has already confirmed with Ford he'll drop CAFE standards.
https://www.emptywheel.net/wp-content/uploads/2016/11/Screen-Shot-2016-11-17-at-10.28.00-PM.png
530
702
emptywheel
https://www.emptywheel.net/wp-content/uploads/2016/07/Logo-Web.png
emptywheel
2016-11-17 22:48:39
2016-11-18 07:54:29
BREAKING: President-Elect Trump Can't Tell Difference between Lincoln Navigator MKC and Ford Focus