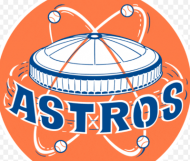 This week's Trash Talk has to start with Houston Town. Space City.
It was the best of times: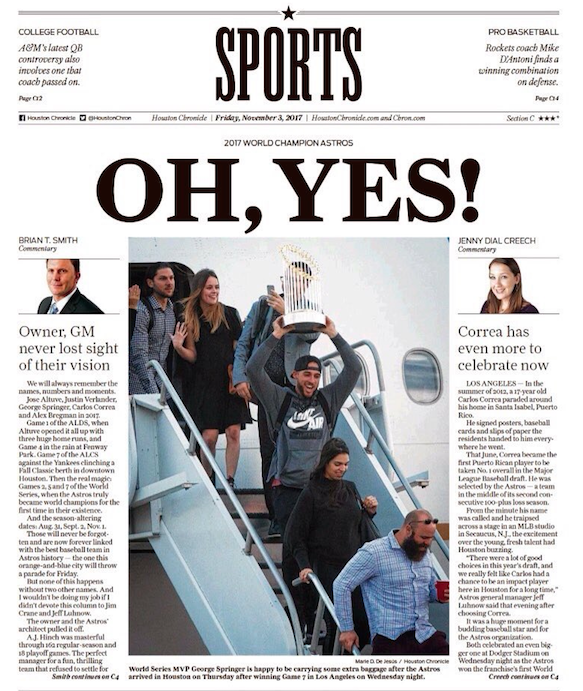 It was the worst of times: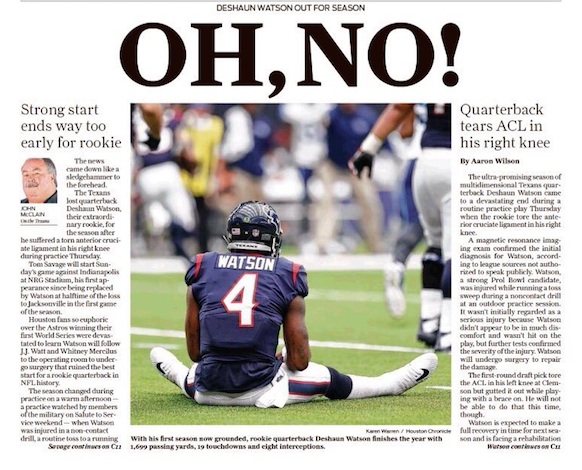 Although the last game was kind of one sided and a bit of a letdown, the Astros and Dodgers 2017 World Series was truly one for the ages. Games two and five were some of the most astounding baseball I have ever watched, World Series or otherwise. Baseball is unique among the major sports in America in that you can get up and get a snack, or go to the bathroom or whatever, and you likely won't miss anything. It charmingly crawls along. Man, not in these games, they were white knuckle every second of the way. We here in Phoenix have always been a little smug that the 2001 World Series between the DBacks and Yankees was one of the best ever. And it was. But move over rover, 2017 has passed you by. Just wow. And the weird thing is, the Astros trade deadline acquisition of Justin Verlander really supercharged their late season run and through the AL playoffs, but he did not win a WS game. Anyway, wow, what a series. Baseball needs more of that.
In football, however, Houston has just been devastated this year. First, defensive studs JJ Watt and Whitney Mercilus were lost for the year. A league leading defense went immediately to only okay. But rookie QB Deshaun Watson was arguably, along with Carson Wentz, in the running for the league MVP award. He had a season line of 19 TD's, only 8 interceptions and 1,699 yards for an overall QB rating of 103 in seven games. But it was not just the stats, it was the scintillating way he way doing it. Electric. And then he tore his ACL in a non-contact play in practice. The Texans won't quit, and may even still have a chance in their division, but what a loss, both for them, the league and fans everywhere.
Okay, on to the games. In the student athlete area, UCLA got absolutely blown up by an unusually mediocre Utah team in Salt Lake, and on national TV, last night. Ugly. The Pac-12 is having a very weird year so far, but tonight's tilt between USC and the very surprising Arizona Wildcats may be the biggest game of the regular season. Watch out for Arizona's Khalil Tate. You probably don't know his name, but you should. Take a look at what he has done so far this year, it is ridiculous. If he keeps it up, he will be in the Heisman race. This game is worth the watch just for him alone.
Penn State at the Sparty's of Michigan State is interesting, I think PSU bounces back behind Saquon Barkley, but never sleep on Sparty. Indiana has an early 10-0 lead on Wisconsin, and that would be a shocking upset if they pull it off. Undoubtedly the best looking game is Oklahoma at Oklahoma State. You just never know what you will get from the Sooners. Their record isn't bad, but hard to see LSU having anything for Alabama this year.
As to the Pros, The Jets made life easier on the Pats by easily taking out the Bills Thursday night. And the game was not nearly as close as the final 34-21 score. The aforementioned Houston Texans have the good fortune of facing the hapless Colts at home in Houston. That ought to get them a win and a 4-4 record to close out the first half of the season. What is up with Andrew Luck? He is not coming back this year (never really seemed like he was, but it is official now) and people are starting to whisper he may just be done. That would be a shame, truly hope he is back for next year. Kansas City at Dallas looks very interesting. The Chefs had a hiccup, are they back on track? the SNF game of Raiders at Fins looks pretty good too, but no idea how Miami will look after trading away their entire running game, Jay Ajayi, to Philly for a mid-round draft choice. That was a total head scratcher. Lastly, the Kittehs at Cheesers for Monday night will be interesting. Would be a hell of a lot more interesting with Aaron Rodgers though. Have to go with Detroit, but it is almost a must win for the Cheesers. Did the extra practice afforded by their bye week give Brett Hundley enough time to synch up with his offense? He sure wasn't in their last game against the Saints.
Okay, that is it for this week. Eat some food, tilt a cold one and enjoy the games.
https://www.emptywheel.net/wp-content/uploads/2017/11/Screen-Shot-2017-11-04-at-10.05.40-AM-e1509815193487.png
161
190
bmaz
https://www.emptywheel.net/wp-content/uploads/2016/07/Logo-Web.png
bmaz
2017-11-04 13:02:44
2017-11-04 13:06:52
Space City Trash Talk