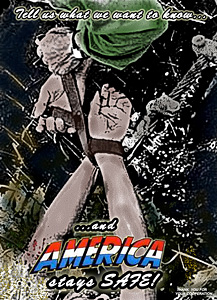 [SEE CRITICAL UPDATE BELOW]
Although many people have been long familiar with her name and career, there seems to be new buzz about the [possible] identity of the female CIA operative lionized in the bin Laden killing and talk of the town movie "Zero Dark Thirty".
The Twitters are abuzz this morning, but this article from John Cook at Gawker last September tells the tale:
Her name is Alfreda Frances Bikowsky and, according to independent reporters Ray Nowosielski and John Duffy, she is a CIA analyst who is partially responsible for intelligence lapses that led to 9/11. The two reporters recently released a "documentary podcast" called "Who Is Richard Blee?" about the chief of the agency's bin Laden unit in the immediate run-up to the 9/11 attacks and featuring interviews with former counterterrorism official Richard Clarke, former CIA agent Bob Baer, Looming Tower author Lawrence Wright, 9/11 Commission co-chairman Tom Keane, and others. In it, Nowosielski and Duffy make the case that Bikowsky and another CIA agent named Michael Anne Casey deliberately declined to tell the White House and the FBI that Khalid al-Mihdhar, an Al Qaida affiliate they were tracking, had obtained a visa to enter the U.S. in the summer of 2001. Al-Mihdhar was one of the hijackers on American Airlines Flight 77. The CIA lost track of him after he entered the U.S.

Bikowsky was also, according to Nowosielski and Duffy, instrumentally involved in one of the CIA's most notorious fuck-ups—the kidnapping, drugging, sodomizing, and torture of Khalid El-Masri in 2003 (El-Masri turned out to be the wrong guy, and had nothing to do with terrorism). As the Associated Press' Adam Goldman and Matt Apuzzo reported earlier this year, an analyst they described only by her middle name—"Frances"—pressed for El-Masri to be abducted even though some in the agency weren't convinced he was the terrorist that Frances suspected he was. Instead of being punished or fired for the error, "Frances" was eventually promoted to running the Global Jihad Unit by then-CIA director Michael Hayden. According to Goldman and Apuzzo's story, "Hayden told colleagues that he gave Frances a pass because he didn't want to deter initiative within the counterterrorism ranks."
My, my, the CIA does have problems keeping secrets lately, don't they? A point saliently noted by Marcy in relation to both Matt Bissonnette and the Mexican "trainers" who were involved in in an ambush. I guess the de rigueur Obama Administration leak prosecution will be along any second.
It is fairly amazing Bikowsky's name has been kept out of the real limelight surrounding [speculation on] Zero Dark Thirty this long, considering her known involvement in the other issues, especially the one about gleefully horning in on the torture show viewing [which Bikowsky did in regards to KSM]. An attitude that speaks volumes as to Read more →
https://www.emptywheel.net/wp-content/uploads/2016/07/Logo-Web.png
0
0
bmaz
https://www.emptywheel.net/wp-content/uploads/2016/07/Logo-Web.png
bmaz
2012-12-13 13:07:40
2012-12-13 17:05:31
Zero Dark 30 "Heroine" Outed and Scarred By European Torture Judgment