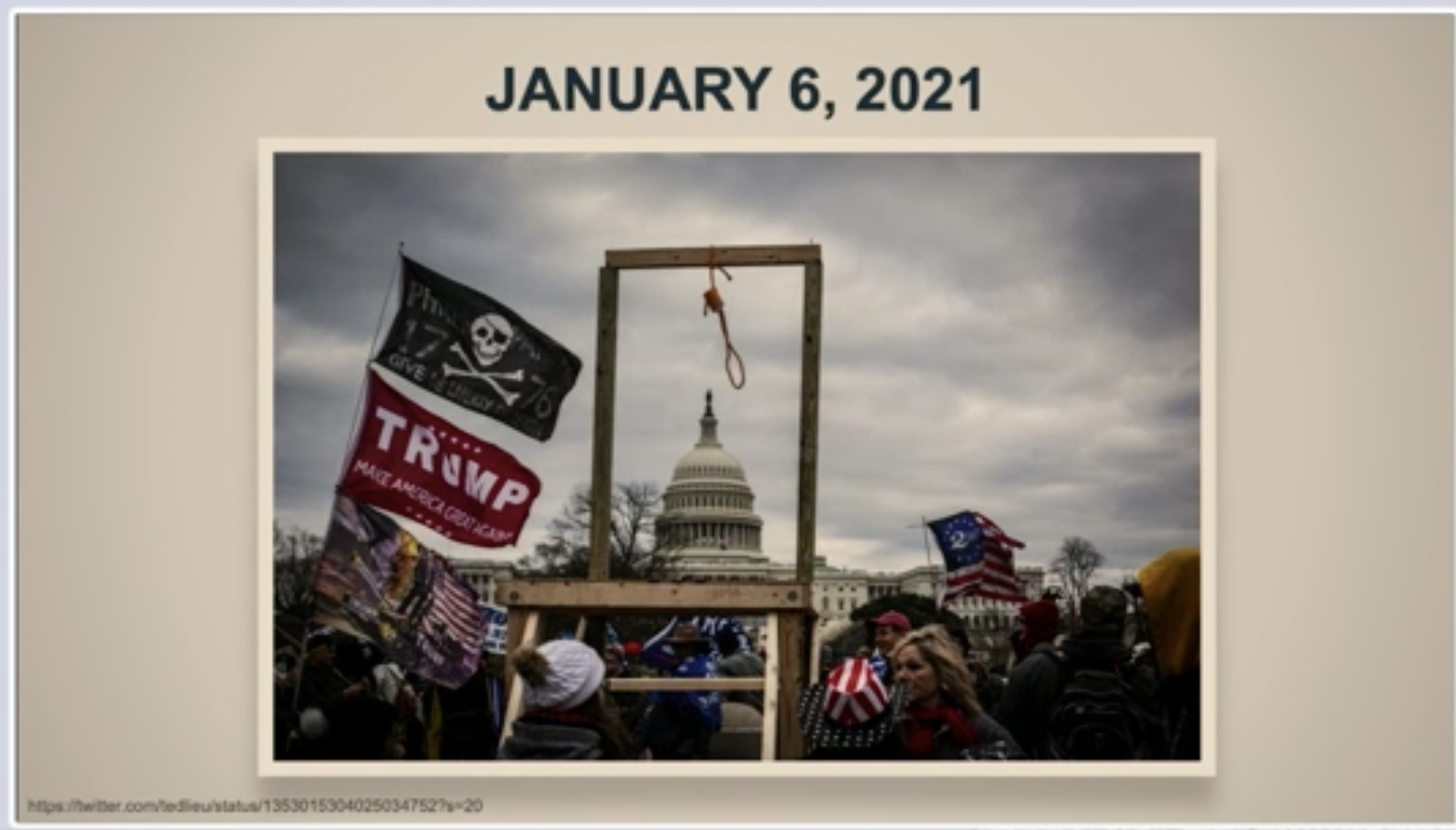 CNN's ace Prettyman stakeout reporters spied John McEntee, Trump's body man turned personnel enforcer, going into a grand jury appearance Friday.
That led me to spend quality time with his January 6 Committee transcript this weekend; I was trying to get a sense of whether this interview — one of the first that would have been scheduled after DOJ had an opportunity to read J6C transcripts turned over in early December — gave a sense of why Jack Smith prioritized McEntee.
I agree with CNN, this is likely part of it:
When testifying to the House committee, McEntee recalled a meeting in the Oval Office on Vice President Mike Pence's role in certifying the election, in which he said he was asked to look into precedent. McEntee also recounted in-person exchanges between Trump and Pence, in which he heard Trump say, "Michael, do the right thing," and "Do what you think is right, Mike."
Here's how it appears in the transcript.
Q Did you ever witness any conversations between the President and the Vice President about the Vice President's role?

A No. No.

Q Or any phone calls? Anything like that?

A I remember the President saying, "Michael, do the right thing." You know, "Do what you think is right, Mike." That's all I heard him say.

Q You heard him say that to Vice President Pence?

A Yeah.

Q Was it over the phone or in person?

A In person.

Q Okay. And was that in the Oval Office?

A Yeah.

Q Was anybody else there?

A I think Short was there, yeah.

Q Do you remember when that was?

A I don't. It was, like, when he was going up for the evening, the President, and they were just finishing something up, so I came in to, like, grab all his stuff, and then he said that to him.

Q Okay.

A At the conclusion of the day at some point.

Q And did the Vice President say anything in response?

A No. He just nodded.
If credible, it would be exculpatory. DOJ needs to interview anyone who might have exculpatory information before they make a decision to charge Trump.
They may also be trying to get all testimony about Trump's comments to Mike Pence before they move to interview Mike Pence, because they'd need to make a case they couldn't get his testimony anywhere else.
But McEntee was not particularly credible, and I would imagine with call records and other testimony, DOJ would be able to prove that.
Indeed, even in the J6C testimony, McEntee got caught providing a dubious explanation for a call he had with Trump after the attack on January 6. At first, he claimed most of his conversation with Trump consisted of "colorful" comments about the people who resigned on January 6.
Q Did President Trump ever talk to you about the events of January 6th even after the fact?

A Just vaguely that night when we spoke.

Q Okay. Tell us about that conversation.

A I called, and I just went down the list of all the people who had resigned.

And then we discussed a little bit about each just colorfully. And then he just said this is a crazy day and, you know, I'll see you tomorrow. But he didn't go into many details.

Q Okay. Can you remember anything else he said about the events of that day?

A I can't, other than he acknowledged that it was, like, wild, and we would talk tomorrow, you know, or next — we'll see you in the morning, or something like that.

Q Okay.

A We were mostly going through all these people that resigned, and then kind of talked about them. And I was just relaying, because O'Brien called me and said you got to let him know I'm not resigning. So then I called, and he said, well, who has resigned? And then, like, I went through the list of the ones I knew at the time. And then the next day some more came out.

Q When the President said it was a crazy day, or something to that effect, what was his tone?

Q A Kind of like a little disbelief. Like, wow, like, can you believe this shit, you know?

A  Did he express any sadness over the violence?

Q No. I mean, I think he was shocked by, you know, it getting a little out of control, but I don't remember sadness, specifically.
But in a final question, J6C pointed out the problem with that. Trump didn't know any of the people who resigned on January 6; the people he knew who resigned only resigned on January 7.
Q I just want to ask, that conversation that January 6th evening, I think from the — the diary indicates it's a 20-minute-long conversation. And you described it.

Many of the people who resigned that day Mr. Trump didn't even know. In fact, the ones that he did know didn't resign till the next day.

So 20 minutes is a long conversation, Mr. McEntee, and I'm wondering if you could just describe, when you say "disbelief" and "day is crazy," what more color can you add to the feelings of that day as expressed to you?

A You know, it's hard to remember, honestly. I don't remember any details we went into about it. I know we went through each person, and I had to explain who each person was, so that took a minute or two on each –
There are other parts of McEntee's testimony that strain credulity. He has little explanation for how he spent his day on January 6. He claimed not to understand most of what he was doing as he served as a go-between, between Steve Bannon and the White House via Bannon's Chief of Staff Alexandra Preate. His response to being asked about a rumor that he slept at the White House for several days after the attack was weak — "not that I'm aware of."
McEntee also described Trump using his (McEntee's) phone — and he was a bit squishy about whether it was just his White House phone, or also his personal one — from time to time. McEntee likely learned this habit from working with Keith Schiller, who offered the same service as a body man.
But there's an aspect of McEntee's testimony that is far more alarming.
Shortly after returning to the White House in 2020, he was elevated to run personnel. He was wildly unqualified for the task, as intended for a government bureaucracy, but he was quite adept at politicizing every bit of the political appointment process, and demanding absolutely loyalty in the process.
And in that role, McEntee served as a means to drive the policy of the entire Pentagon.
The committee first reviewed McEntee's role in firing Mark Esper for refusing to invoke the Insurrection Act during the summer of 2020. Then it turned to how, after simply interviewing Douglas MacGregor for an advisory role at the Pentagon, McEntee sent a memo to DOD ordering them, days after the election was called for Biden, to withdraw from Afghanistan and Somalia.
The exchange led his attorney, David Warrington, who at the time was paid by Trump's PAC and who still represents a slew of January 6 witnesses, to go on an extended complaint about the scope of questions.
McEntee's role in enforcing policy came up again in an exchange about the response to Army Secretary Ryan McCarthy saying, on December 18, that the military would play no role in determining the outcome of the election.
On December 18th, the Secretary of the Army, Ryan McCarthy, and the Army Chief of Staff issued a statement that there was no role for the U.S. military in determining the outcome of an American election.

Do you remember what impact, if any, that had on the White House?

A I don't remember that being brought up.

Q Do you remember conveying a message to Secretary Miller about the White House's frustration that DOD, particularly the Secretary of Army, had issued such a  statement?

A No, I don't remember. I don't remember that.

Q Secretary Miller told the committee that he was contacted by you soon after the statement was made and you asked why McCarthy made the statement and, quote, "wanted me," meaning Mr. Miller, "to remind McCarthy that the President was not going to — it was — I know this sounds kind of wonky, but it was an authorities issue. He," meaning you, "said the President is not going to invoke the Insurrection Act but that doesn't mean he couldn't, which I thought was an interesting comment because it dealt with the authority, not so much — the concern was not with what McCarthy said, was the way I interpreted it. It was the fact that the Secretary of Army was saying he had authorities that actually resided with the President."
This was a response to Mike Flynn's call for martial law, but it also came after Stewart Rhodes had already called for Trump to invoke the Insurrection Act several times. And it also came as Flynn and others were advising Trump to seize the voting machines.
After getting McEntee to deny remembering this and claiming any interference at DOD was simply in his role as Assistant to the President, J6C then brought out a note, written by McEntee, that Trump or someone else had ripped up before it was preserved by the Archives.
It showed that McEntee had intervened in this response in a personnel, not an assistant, function — because he got Miller to agree to fire McCarthy and others if they ever made comments about DOD's role in the election again.
McEntee claimed he remembers none of that.
Q One second. Sorry.

These are handwritten notes that have been produced to us from the National Archives.

Is that your handwriting, Mr. McEntee?

A It looks like it, yes.

Q And it looks like the page has been torn. But it says, "Chris Miller spoke to both of them and anticipates no more statements coming out." And then in parentheses, "If another happens, he will fire them."

Do you remember writing this?

A No, I don't remember writing this.

Q But this is your handwriting?

A Yes.

Q So, just want to be clear. This is your handwriting, but you have no memory of calling Secretary Miller and requesting him to call Secretary McCarthy to express the President's disappointment with the statement regarding there's no role of military in the United States election?
This is important background to McCarthy's indolent response to the attack on January 6. Trump's chief enforcer had already intervened to make sure he didn't do anything to fall afoul of Trump's whims.
But it's also important background to another comment in the interview.
As I suggested in this post, the J6C transcripts make it clear that a long-public reference to Trump requesting 10,000 National Guard on January 3 was misrepresented, no doubt deliberately so. Trump made the request not, as reported, in the interest of keeping his followers safe. Rather, he first floated having 10,000 Guard after it became clear the National Park Service would not approve a permit for a march to the Capitol, out of security concerns.
Effectively, Trump floated having 10,000 Guard present on January 6 to enable his march to the Capitol.
And that, plus McEntee's role in firing Esper because he refused to invoke the Insurrection Act and his threats of firing McCarthy because he said DOD would not intervene in the election, makes this reference all the more chilling. When asked about his role in the rally, McEntee described that he intervened to ask Christopher Miller to involve the Guard.
Q Did you have any conversations with the President that day?

A Only that night.

Q Okay. We'll get to that in a minute. Did you go to the rally on the Ellipse?

A No.

Q Were you involved in any conversations about planning the rally?

A No.

Q Were you aware of any discussions about groups such as the Proud Boys, Oath Keepers, or anybody else being involved in the protests?

A I was not. The only thing I had to do that even remotely dealt with the rally was the President wanted to make sure it was safe. And either a day or two or three before, he had me call Chris Miller and ask if we could bring the National Guard in.

Q Okay. What did Mr. Miller say?

A I think he said he would look into it.

Q And do you know if anything happened after that?

A I don't know if anything happened or came of it, no.

Q Did you report back to the President on what Secretary Miller said?

A I just let him know that I relayed his message to Chris, yeah.
Having earlier claimed not to recall using threats of firing to make demands on DOD and having earlier disclaimed any knowledge of Trump's plan to walk to the Capitol, here's the bullshit explanation McEntee offered for why Trump wanted to involve the Guard.
Q And did the President say anything about why he wanted the National Guard there?

A I think because that summer we had the Republican Convention. And if you remember, like, Rand Paul was getting attacked in the street. And, I don't know, it just got kind of crazy. So this time he thought we're going to have so many people, like, you know, we need to make sure that this city is safe. That kind of a thing.

Q Do you know why he said it to you?

A No, I think it was just on his mind and I just happened to be next to him. So he said call Chris and let him know. So I just called Chris.

Q Were you traveling at the time?

A We could have been, like, golfing, yeah, or something. You know, we could have been at his golf course maybe.
As I said above, I agree with CNN that one thing Jack Smith's team would have wanted to ask McEntee about was his claim to have heard, alone among all known witnesses, Trump say something exculpatory.
DOJ would also want to see whether McEntee wanted to reiterate some of the more fantastic claims he made to J6C, especially knowing that DOJ would have the legal means to disprove some of them.
DOJ likely would want to ask about a conversation McEntee had with Trump, along with Dan Scavino (who has definitely appeared before the grand jury) and Molly Michael (who has definitely been interviewed in the stolen document case and likely interviewed in J6C), about testifying to J6C.
But depending on what other witnesses DOJ has already interviewed, DOJ may want to know more about McEntee's role in arranging an ostensible Praetorian Guard for the President as he walked to the Capitol as they moved to certify his loss.
McEntee was among the people referred to, publicly at least, in the mix for a pardon after January 6. In his interview, McEntee only discussed that pardon, if it happened, in the context of a blanket pardon for staffers involved in January 6.
It was never entirely clear why McEntee might need one.
Unless he has knowledge of Trump's attempt to use the National Guard as a Praetorian Guard to accompany his own march on the Capitol.
https://www.emptywheel.net/wp-content/uploads/2021/02/Screen-Shot-2021-02-10-at-9.37.01-PM.png
974
1708
emptywheel
https://www.emptywheel.net/wp-content/uploads/2016/07/Logo-Web.png
emptywheel
2023-01-23 06:32:20
2023-01-23 06:59:10
Johnny McEntee: Enforcer of Trump's Authority to Invoke the Insurrection Act