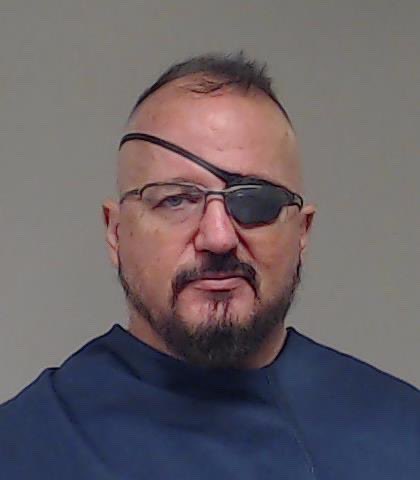 Last April, I noted that Stewart Rhodes was on overlapping phone calls with Kelly Meggs and Person Ten (since identified as Mike Simmons AKA Greene) that suggested Rhodes had conferenced the two together.

We now know that about a month after that, the FBI interviewed both Rhodes Simmons AKA Greene and obtained their phones. Here's what Simmons AKA Greene said about his calls during this period in his second interview.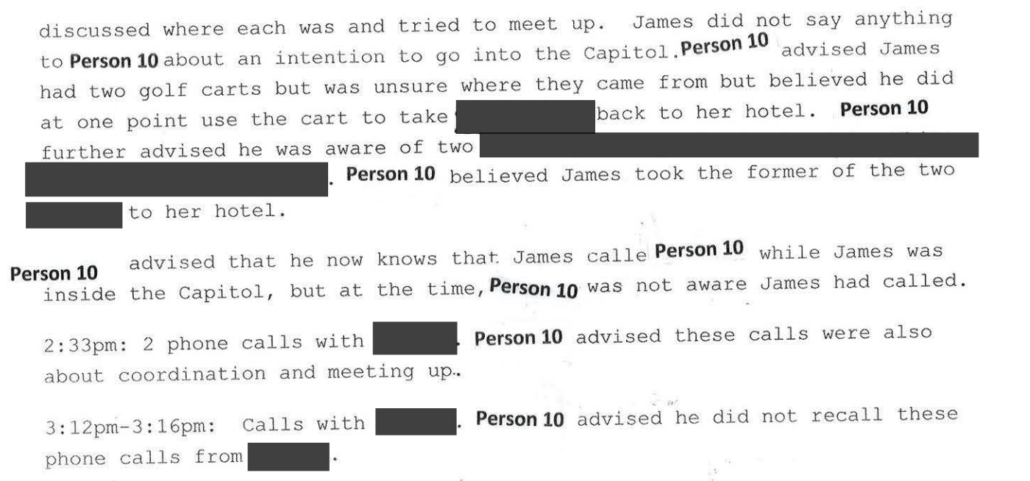 We have yet to see Rhodes' interview report (it must not be that helpful, or Meggs or Kenneth Harrelson would have released it). Prosecutor Kathryn Rakoczy described that there were tens of thousands of Signal texts on Rhodes phone, and it took a good deal of time to sift through that all for both exculpatory and inculpatory evidence.
Whether just those interviews or call records, the investigation has confirmed I was right. Here's how that call appears in the sedition conspiracy indictment charging Rhodes and Meggs, but not Simmons, unsealed last month.
92. At 2:32pm., MEGGS placed a phone call to RHODES, who was already on the phone with the operation leader. RHODES conferenced MEGGS into the call.
The call was one of the contentious issues in a detention hearing for Rhodes before Judge Amit Mehta yesterday that illustrates why even this investigation has taken so long.
Prosecutor Kathryn Rakoczy argued that the call suggested that, before the Stack busted into the Capitol, Rhodes encouraged the intrusion in some way. Rhodes' attorney James Bright, on the other hand, noted that all three men have denied they talked about busting into the building. Mehta seemed reasonably convinced by Rakoczy's inference — but absent more proof about what was said, wasn't sure that was strong enough to hold Rhodes on.
Judge Mehta didn't resolve the detention question yesterday. Rakoczy also presented evidence that the third party custodians proposed by Rhodes weren't entirely forthright about their ties to the Oath Keepers in an earlier detention hearing. Plus, Mehta seemed unconvinced that placing Rhodes in the custody of family members who would be in a different house (he would share a building with no Internet access with older adults) would provide enough supervision. One way or another, though, Rhodes will either be under home incarceration or remain jailed.
Which made the hearing more interesting for the way it revealed certain things about the case.
Take Mike Simmons AKA Greene, currently referred to as the "operation leader" in indictments. He called into the hearing as a potential witness for Rhodes (he failed to keep his second pseudonym secret before other journalists called in), meaning he was willing to testify under oath and be cross-examined about the substance of that call. That makes it quite clear he is not cooperating with the government. Which, in turn, means that the government simply hasn't found probable cause to charge him yet (unlike Rhodes, he hasn't left a string of damning comments online and on his cell phone). The government believes he didn't tell the truth in two interviews last May, but thus far they're not prepared to charge him.
Part of the problem pertains to that phone call. The government has multiple cooperating witnesses to what Meggs did in Florida before the riot. They've got cooperating witnesses to what Meggs did inside the Capitol. They've got a cooperating witness implicating Joshua James' actions that day. They may have a witness to James' side of conversations with Simmons AKA Greene from the Willard Hotel, where the Oath Keepers were with Roger Stone.
But because all three men on that critical phone call — Rhodes, Simmons AKA Greene, and Meggs — remain uncooperative, the government can't prove what happened on it. The government likely needs to flip one of them or James to get further.
Which may be why the attorney for Jonathan Walden, Thomas Spina, submitted a motion to continue yesterday, discussing a, "possible resolution of this case." Notably, the motion was dated February 15, but it stated that a reverse proffer necessary to conduct what must be plea discussions couldn't happen until February 11, which would have been last Friday. If Walden has key information prosecutors need to move further in its investigation into what the Oath Keepers were doing with Roger Stone, he can likely demand a pretty sweet plea deal.
There was one other really fascinating development yesterday. Rhodes' attorney, Bright, argued that everything Rhodes did was designed to comply with the law. The Quick Reaction Force remained, all the time, in VA, even when Ed Vallejo offered to bring in arms. Bright argued that was proof that Rhodes didn't take the opportunity to arm when he could have.
More interesting still, it's clear Bright will argue that, under an interpretation of the Insurrection Act, the President can rely on private militias. That is, Rhodes is going to argue that an insurrection would be legal.
That'll be an interesting legal debate!
There are factual problems with Rhodes' story that I'll let the prosecutors unpack at a future time.
But yesterday's hearing confirms something I laid out some time ago: Each step prosecutors take away from those who trespassed, defendants will be able to make First Amendment challenges to their prosecution, however unbelievable, that will make prosecution more difficult. To get from Stewie to Roger Stone, I'm sure they'll need some more cooperators.
And until then, DOJ will be able to make a persuasive inference about what happened on that phone, but not direct proof.
Update, February 19: Last night Judge Mehta detained Rhodes. Interestingly, AUSA Kathryn Rakoczy stated that she agrees Rhodes shouldn't be housed in the DC jail with the other Jan6ers, so he may stay in Texas. The Oath Keepers investigation is run so much more smartly than the Proud Boys one.
https://www.emptywheel.net/wp-content/uploads/2022/01/Stewie.jpeg
480
420
emptywheel
https://www.emptywheel.net/wp-content/uploads/2016/07/Logo-Web.png
emptywheel
2022-02-17 10:27:05
2022-02-19 04:10:22
Stewart Rhodes' Detention Hearing Clarifies Investigative Challenges