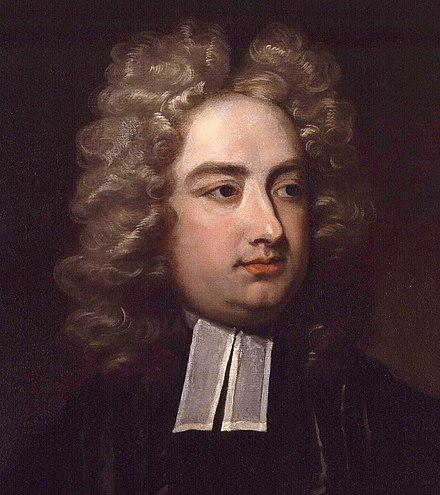 Joe Tacopina has filed for a mistrial in the E. Jean Carroll suit, accusing Judge Lewis Kaplan of bias.
The motion would not go over well with Kaplan on a good day.
But among Tacopina's complaints is that Judge Kaplan recognized a literary reference Carroll had made in her book that Tacopina didn't even recognize as a literary reference.
When Defendant's counsel elicited testimony from Plaintiff that her book contained reference to all men in this country being sent to Montana and retrained, the Court, in order to bolster the testimony of Plaintiff, chose to essentially testify himself as to why such commentary was a satire due to Jonathan Swift's work A Modest Proposal:

Q. Okay. At one point I think in your book you propose we should dispose of all the men?

A. Into Montana.

Q. Into Montana?

A. Yeah, and retrain them.

Q. So retrain. So all the men here in this courtroom, in this country, all get shuffled off to Montana and get retrained.

A. You understand that that was said as a satire.

Q. Ah, Okay.

THE COURT: It comes from Jonathan Swift's A Modest Proposal 700 years ago, right?

THE WITNESS: Yes.

THE COURT: Let's move on.

MR. TACOPINA: Thank you, your Honor.
When Kaplan interjected like this, Adam Klasfeld noted how common it is for Kaplan to identify a literary reference. Others following along chortled at the irony of Tacopina missing the joke. This joke.
But it wasn't enough for Tacopina to complain, in this mistrial motion, that he wasn't in on the joke because he didn't recognize it as one. He decided to double down, scolding Carroll for misapplying one of the most recognizable forms of satire in the English language.
After Carroll testified that the above-referenced notion of disposing and retraining of all men was a satire, the Court interjected in a manner that corroborated such testimony by stating such notion derived from Swift's A Modest Proposal. Rather than addressing the subject of men, Swift's "proposal [was] to 'solve' the problem of Irish poverty by killing and eating Irish children. See Jonathan Swift, A Modest Proposal (1729)." Farah v. Esquire Mag., 736 F 3d 528, 536 (D.C. Cir. 2013). That said, if Plaintiff wished to elicit testimony about a three-hundred year old book that did not address the subject matter of her own book, she could have done so on re-direct. It was not for the Court to provide evidence from the Bench to corroborate Plaintiff's position in a way that suggested to the Jury favoritism of any one party.
Note that Tacopina is not referring to some expert literary source for his assertion, in bold, of what A Modest Proposal is. He's referring to a DC Circuit opinion upholding the dismissal of a lawsuit Jerome Corsi and Joseph Farah filed — represented by Larry Klayman — against Esquire Magazine for mocking their Birther book when it was published. The very next line in the opinion, after the citation, reads,
Satire's unifying element is the use of wit "to expose something foolish or vicious to criticism." Satire,Encyc. Britannica Online.
The opinion ultimately ruled that no reasonable reader could miss that the Esquire piece was satire (and indeed, Farah recognized it as parody; he just complained that it wasn't very good parody).
Even if none of these elements standing alone—the story's substance, outlandish and humorous details, stylistic elements—would convince the reasonable reader that the blog post was satirical, taken in context and as a whole they could lead to no other conclusion. Farah immediately recognized the blog post as a "parody," although he told The Daily Caller that in his view it was "a very poorly executed" one. Findikyan Decl. Ex. 28. Admittedly, apart from its headline, the article did not employ the sort of imitation and exaggerated mimicry that are typical of parody. But satire is a far broader concept than parody, incorporating a variety of literary forms and devices. And poorly executed or not, the reasonable reader would have to suspend virtually all that he or she knew to be true of Farah's and Corsi's views on the issue of President Obama's eligibility to serve in order to conclude the story was reporting true facts.
I guess, legally, Tacopina wants to refashion Kaplan's reference as premature judgment that Carroll's argument was satire, in hopes that he could get the 2nd Circuit to rule that his legal arguments were as stupid as those of Klayman, Corsi, and Farah.
Ultimately this comes off as Tacopina — and by extension, Trump — whining that he's not in on the joke, whining that there's some kind of elite culture that Carroll and Kaplan share that grab-them-by-the-pussy types can't be expected to adhere to.
But he's doing it about one of the most recognizable works of classical English, Christian culture out there. E. Jean Carroll and Judge Kaplan are so woke they both have shared reference to the English literary canon.
I'm just hoping some nice mother in Florida with a sense of humor will make the Modest Proposal that Swift be banned under Ron DeSantis' anti-woke censorship laws for being — as a canonical work of English culture — too woke.
https://www.emptywheel.net/wp-content/uploads/2023/05/440px-Jonathan_Swift_by_Charles_Jervas_detail.jpg
495
440
emptywheel
https://www.emptywheel.net/wp-content/uploads/2016/07/Logo-Web.png
emptywheel
2023-05-01 07:32:13
2023-05-01 07:32:13
Joe Tacopina Complains about Woke Jonathan Swift