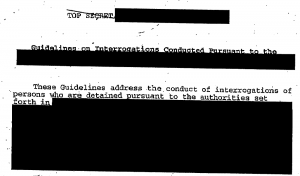 Let me divert from my obsession on the CIA's efforts to hide references to what I believe is the September 17, 2001 Memorandum of Notification authorizing torture and a whole lot else to talk about what a neat bureaucratic trick George Tenet pulled. As I've confirmed, what the CIA is going to some length to hide is the second half of the title of the document George Tenet drew up to try to impose some kind of controls on the CIA's torture program in January 2003. The title reads, "Guidelines on Interrogations Conducted Pursuant to the" with the authorities that authorize such interrogations redacted.
But let's take a step back and put that document–with its now highly sensitive invocation of the authorities on which the torture program rested–in context.
As far as I'm aware, unlike Michael Hayden and John Rizzo, Tenet has not publicly confirmed a Presidential Memorandum of Notification authorized the torture program. In his memoir, he describes a briefing he conducted on September 15, 2001, two days before Bush signed the MON. He describes asking for authority to detain al Qaeda figures.
We raised the importance of being able to detain unilaterally al-Qa'ida operatives around the world.
He also pitched using drones to kill al Qaeda operatives.
We suggested using armed Predator UAVs to kill Bin Laden's key lieutenants, and using our contacts around the world to pursue al-Qa'ida's sources of funding, through identifying non-governmental organizations (NGOs) and individuals who funded terrorist operations.
And he describes a whole bunch of other asks, like partnering with the Uzbekistan and–as part of another ask–with Syria and Libya. In short, Tenet describes asking for authorization to do the things we know are included in that MON.
Then, he describes watching Bush kick off the war on September 20, reflecting,
By then, as I remember, the president had already granted us the broad operational authority I had asked for.
Well, sucks to be Tenet, because as it happens, Bush authorized those activities broadly, but never put in writing that the authorization to detain al Qaeda figures included the authorization to torture
A few days after the attacks, President Bush signed a top-secret directive to CIA authorizing an unprecedented array of covert actions against Al Qaeda and its leadership. Read more →
https://www.emptywheel.net/wp-content/uploads/2016/07/Logo-Web.png
0
0
emptywheel
https://www.emptywheel.net/wp-content/uploads/2016/07/Logo-Web.png
emptywheel
2012-04-19 17:19:57
2012-04-19 18:10:09
George Tenet's Bureaucratic CYA