Detailed information is not yet available, but by all accounts there was a very large explosion east of Tehran Sunday night, around 11:15 local time. Many believe that the explosion took place at Parchin, the military site that has been at the center of controversy raised by those who accuse Iran of carrying out work there to develop an explosive trigger for a nuclear bomb. Some of the most detailed information comes from Thomas Erdbrink of the New York Times:
A mysterious explosion at or near an important military complex rocked the Iranian capital on Sunday, lighting up the skies over the city.

Iranian official sources denied the explosion had taken place at the complex, the expansive Parchin military site east of the city, where international monitors suspect Iran once tested triggers for potential nuclear weapons. But the enormous orange flash that illuminated Tehran around 11:15 p.m. local time clearly came from that direction, several witnesses said.

Officials at Iran's Defense Industries Organization, though also denying that the explosion took place at Parchin, confirmed that two people were missing after "an ordinary fire" caused by "chemical reactions of flammable material" at an unspecified production unit, according to the semiofficial Iranian Students' News Agency. There was no word on the location of the fire.

Witnesses in the east of Tehran said that windows had been shattered in the vicinity of the military complex and that all trees in a hundred-yard radius of two villages, Changi and Hammamak, had been burned. The villages are on the outskirts of the military site.
The map below shows the area in question:
As seen on the map, Changi is very close to Parchin, but Hammamak is on the other side of Parchin and the two villages are over three miles from one another. A blast fireball that scorched trees over three miles apart must have been quite spectacular.
Many factors go into calculating the strength of blasts, including the type of explosive and what type of containment might have been present. However, FEMA provides (pdf) this rough guideline (via DTRA) of the radius over which various types of damage might be expected to occur as a function of the amount of explosive material used: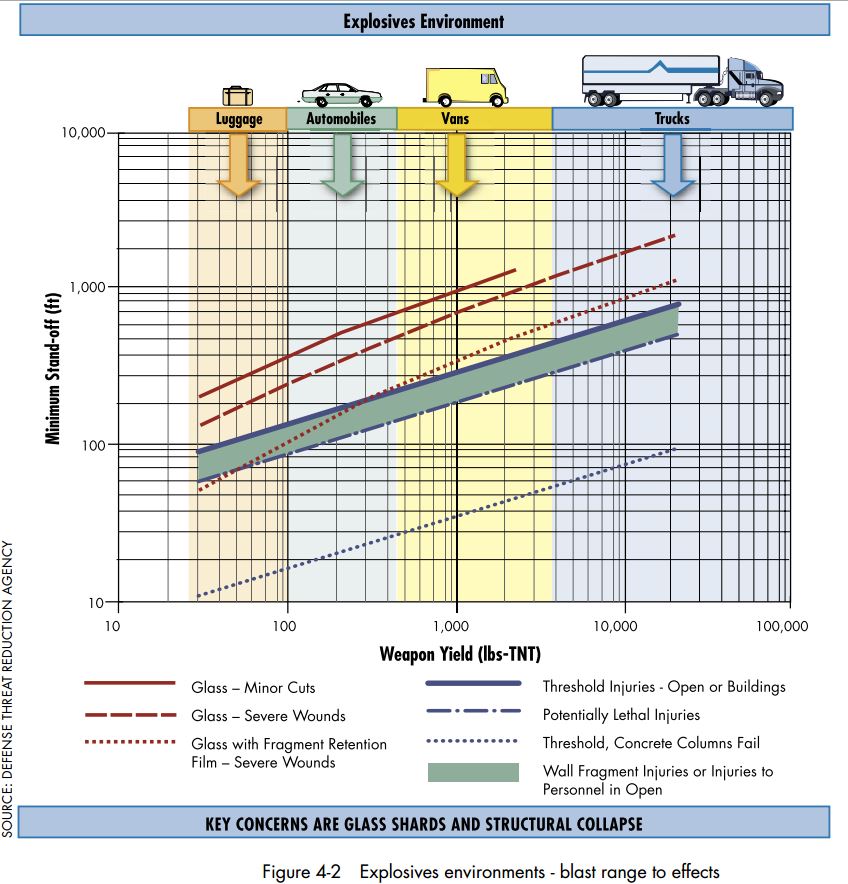 Because it relates to assessing damage from terrorist bombs, the FEMA figure breaks the amounts of explosives down into the amounts that can be carried by cars, vans and large trucks. The Times story doesn't report on how far away from the complex windows were shattered, but the effect of burned trees in villages over three miles from one another suggests that such damage would reach quite a ways. At the very least, it would appear that the blast had the equivalent of more than 10,000 pounds of TNT, and perhaps significantly more than that.
A report from BBC does give a blast radius for window breakage: Read more →
https://www.emptywheel.net/wp-content/uploads/2016/07/Logo-Web.png
0
0
Jim White
https://www.emptywheel.net/wp-content/uploads/2016/07/Logo-Web.png
Jim White
2014-10-07 12:00:49
2014-10-07 12:00:49
Blast at Parchin Kills at Least Two; Timing Stinks