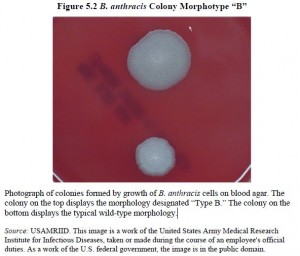 A huge portion of the FBI's circumstantial case against Bruce Ivins in the Amerithrax investigation of the 2001 anthrax attacks relies on the scientific analysis carried out to provide a genetic fingerprint of the anthrax spores in Ivins' RMR-1029 flask as the source from which the attack material was cultured.  One of the central supporting pieces of evidence the FBI touts in this regard is the claim that Ivins submitted a sample to the FBI in April of 2002, labeled as arising from the RMR-1029 flask, but missing the key genetic variants which the FBI used to characterize the material in RMR-1029.  Through diligent analysis of thousands of pages of FBI files, a team consisting of McClatchy, ProPublica and Frontline has found that the FBI has not been entirely forthcoming about samples submitted to them by Ivins:
Prosecutors have said Ivins tried to hide his guilt by submitting a set of false samples of his Dugway spores in April 2002. Tests on those samples didn't display the telltale genetic variants later found in the attack powder and in sampling from Ivins' Dugway flask.

Yet records discovered by "Frontline," McClatchy and ProPublica reveal publicly for the first time that Ivins made available at least three other samples that the investigation ultimately found to contain the crucial variants, including one after he allegedly tried to deceive investigators with the April submission.

Paul Kemp, who was Ivins' lawyer, said the government never told him about two of the samples, a discovery he called "incredible." The fact that the FBI had multiple samples of Ivins' spores that genetically matched anthrax in the letters, Kemp said, debunks the charge that the biologist was trying to cover his tracks.
As a ProPublica article piles onto the material above from McClatchy, the lead prosecutor in the case continues to claim that the one sample lacking variants is a strong indicator of Ivins' guilt and shows that he tried to hide the RMR-1029 flask from further scrutiny: Read more →
https://www.emptywheel.net/wp-content/uploads/2016/07/Logo-Web.png
0
0
Jim White
https://www.emptywheel.net/wp-content/uploads/2016/07/Logo-Web.png
Jim White
2011-10-12 13:06:46
2011-10-12 13:06:46
FBI Accused Ivins of Hiding Material While FBI Hid Data From Public, Ivins' Attorney