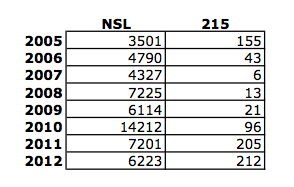 Both the NYT (Charlie Savage and Mark Mazzetti) and WSJ (Siobhan Gorman, Devlin Barrett, and Jennifer Valentine-Devries) tell the same story today: the CIA is collecting bulk data on international money transfers. Given that someone has decided to deal this story to two papers at the same time, and given the number of times the Administration has pre-leaked stories to Gorman of late to increasingly spectacular effect (even making most national security journalists forget the very existence of GCHQ's notoriously voracious taps at cable landings just off Europe) I assume this may be some kind of limited hangout.
It's not that I doubt in the least that CIA gets and uses financial data. I don't even doubt the government uses PATRIOT authorities to do so (as both stories assert).
But it would be unlikely that this data comes in through an FBI order and does not also get shared with Treasury and National Counterterrorism Center (if not NSA), both of which would have better infrastructure for analyzing it, and both of which we know to use such data for their known intelligence products. Indeed, in response to a question from both papers about this practice Western Union points to Treasury programs.
 A spokeswoman for one large company that handles money transfers abroad, Western Union, did not directly address a question about whether it had been ordered to turn over records in bulk, but said that the company complies with legal requirements to provide information.

"We collect consumer information to comply with the Bank Secrecy Act and other laws," said the spokeswoman, Luella Chavez D'Angelo. "In doing so, we also protect our consumers' privacy."
And at WSJ a consultant to the industry points even more firmly towards Treasury.
Money-transfer companies are "highly, highly aware of their obligations under the Patriot Act," said Robert Pargac, a director in global investigations and compliance at Navigant Consulting Inc. who has worked at several such companies. Western Union said last month it would be spending about 4% of its revenue in 2014 on compliance with rules under the Patriot Act, the Treasury Department's Office of Foreign Assets Control and other anti-money-laundering and terrorist-financing requirements.
We know that, at least until 2008, the FBI maintained that it could share materials that came in through Section 215 with any agency so long as that agency asserted it had a need for the information, and there's little reason to believe the FBI has changed that policy. So I would assume at least Treasury and NCTC gets this data as well. It may be all this story indicates is that — as they do with much Section 702 data — CIA gets its own access to the data. That's a minimization story, not a collection story, because we've known this data was collected (as WSJ points out).
Then there's the evidence both papers point to to show that this is a Section 215 program. Read more →
https://www.emptywheel.net/wp-content/uploads/2016/07/Logo-Web.png
0
0
emptywheel
https://www.emptywheel.net/wp-content/uploads/2016/07/Logo-Web.png
emptywheel
2013-11-15 09:57:08
2015-05-26 08:26:57
The CIA (&etc) Money Orders