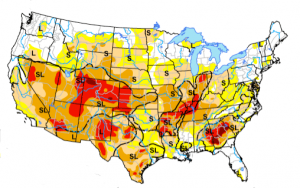 There's an ominous storm brewing in flyover country that may amount to little more than higher food and fuel prices, or may amount to something else.
First there's the drought. Last week's heat wave and the last month's dry weather hit just as much of America's corn crop was set to pollinate. And if the corn doesn't pollinate, it never grows kernels. Even as I've been writing this post, USDA sharply cut forecasts for the corn harvest.
As a result, corn prices (soy prices too) are rising sharply. Which will, for better and worse, have repercussions on all the aspects of our super-processed life that relies on corn.
"The drought of 2012 will be one for the records," said Peter Meyer, the senior director for agricultural commodities at PIRA Energy Group in New York, who forecasts a drop in output to 11 billion bushels if the hot, dry spell lasts another three weeks. "Whether it's ethanol or livestock, no one is immune from this impending disaster. The ramifications will be widespread, affecting everything from your food to your gasoline."
And all that's before any follow-on effects, if the drought continues. Even in Grand Rapids, we've had some unusual fires. Rivers that were experiencing historic floods last year are approaching record lows this year; traffic on the Mississippi has already slowed.
Yet all that–even with our country's industrialized reliance on corn–might be no more concerning than other droughts, such last year's drought in Texas.
Meanwhile, banksters keep stealing farmers' money–first via MF Global and now with Peregrine.
The U.S. futures industry reeled as regulators accused Iowa-based PFGBest of misappropriating more than $200 million in customer funds for more than two years, a new blow to trader trust just months after MF Global's collapse.
https://www.emptywheel.net/wp-content/uploads/2016/07/Logo-Web.png
0
0
emptywheel
https://www.emptywheel.net/wp-content/uploads/2016/07/Logo-Web.png
emptywheel
2012-07-11 10:58:29
2012-07-11 12:13:35
Fat Al Gore Colludes with Banksters in the Midwest