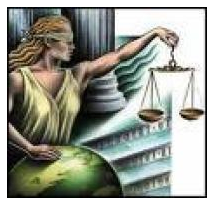 The popular meme has been that Ray Rice got some kind of miraculous plea deal to diversion (pre-trial intervention, or "PTI", in New Jersey parlance) and that NOBODY in his situation ever gets the deal he did.
Is that true? No. Not at all. Kevin Drum wrote a few days ago at Mother Jones on this subject:
First, although Ray Rice's assault of Janay Palmer was horrible, any sense of justice—no matter the crime—has to take into account both context and the relative severity of the offense. And Ray Rice is not, by miles, the worst kind of domestic offender. He did not use a weapon. He is not a serial abuser. He did not terrorize his fiancée (now wife). He did not threaten her if she reported what happened. He has no past record of violence of any kind. He has no past police record. He is, by all accounts, a genuinely caring person who works tirelessly on behalf of his community. He's a guy who made one momentary mistake in a fit of anger, and he's demonstrated honest remorse about what he did.

In other words, his case is far from being a failure of the criminal justice system. Press reports to the contrary, when Rice was admitted to a diversionary program instead of being tossed in jail, he wasn't getting special treatment. He was, in fact, almost a poster child for the kind of person these programs were designed for. The only special treatment he got was having a good lawyer who could press his cause competently, and that's treatment that every upper-income person in this country gets. The American criminal justice system is plainly light years from perfect (see Brown, Michael, and many other incidents in Ferguson and beyond), but it actually worked tolerably well in this case.
Mr. Drum is absolutely correct, Ray Rice was quite appropriate for the diversion program he was ultimately offered and accepted into by Atlantic County Superior Court. Let me be honest, Kevin talked to me about this and I told him the truth.
In fact, that is exactly the deal I would hope, and expect, to get for any similarly situated client in Rice's position. It is also notable the matter was originally charged as a misdemeanor assault in a municipal court, which is how this would normally be charged as there was no serious physical injury. Rice would have gotten diversion there too and, indeed, that was the deal his lawyer, Michael Diamondstein, had negotiated with the municipal prosecutors before the county attorney snatched jurisdiction away and obtained a felony indictment. Despite the brutality depicted by the video, this is precisely the type of conduct that underlies most every domestic violence physical assault (seriously, what do people think it looks like in real life?) and it is almost always charged as a simple misdemeanor assault.
Janay Palmer Rice clearly did not receive a "serious physical injury" level of injury under the applicable New Jersey definition in NJ Rev Stat § 2C:11-1(b) and a small period of grogginess/unconsciousness is not considered, by itself, as meeting the threshold. Now, to be fair, New Jersey has two levels of injury that can lead to a felony charge, the aforementioned "serious physical injury", and the lower "significant physical injury", pursuant to NJ Rev Stat § 2C:11-1(d) that Rice was charged under, and which is a far less serious charge, even though still nominally a felony under New Jersey classification.
The injury to Janay Palmer (Rice) did fall within the lower "significant physical injury" threshold under New Jersey's criminal statutes because of the momentary apparent lapse of consciousness. So, under the New Jersey statute, while the felony, as opposed to simple misdemeanor, charge may have not been the norm for such a fact set, it was certainly minimally factually supportable. That said, most all similar cases would still be charged as simple assault, as indeed, as stated above, Rice initially was. The New Jersey assault statute, with its different iterations of offenses, and offense levels, is here.
With that description of the nature and structure of assault in New Jersey out of the way, there is something else that must be addressed: I am absolutely convinced that the Read more →
https://www.emptywheel.net/wp-content/uploads/2016/07/Logo-Web.png
0
0
bmaz
https://www.emptywheel.net/wp-content/uploads/2016/07/Logo-Web.png
bmaz
2014-12-05 02:54:03
2019-09-20 19:04:09
Yes, Ray Rice's Diversion Adjudication Was Appropriate