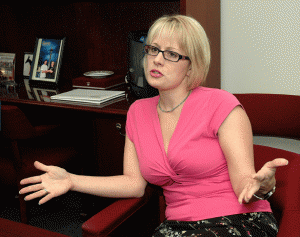 As the kerfuffle over SB-1062 dies down, politics march on here at ground zero in Arizona. The GOP runs the key Executive Branch offices such as governor and Secretary of State but, more importantly in many respects, also the state legislature, and as long as they do state politics will continue to be dominated by clusterfucks and cleanups. But Arizona has issues with their statewide federal elected officials too. The current manifestation is not McCain, Flake, nor even the Pleistocene era brainfart known as Trent Franks.
No, today's issue is the once and forever self proclaimed liberal Democrat, Kyrsten Sinema. The transformation of Sinema, who aggressively sold herself as progressive liberal when seeking election, to a conservative Blue Dog toadie of the Minority centrist Dem leadership has been nothing short of astounding, especially for those of us who reside in her district and voted for her in 2012. She completely betrayed her base constituents in Arizona District 9. That is mostly a story for another day though, today's story is not about discrete policy issues, but wholesale admission of the deceptive nature of Kyrsten Sinema's incursion into AZ-9 to start with.
The baseline is this: Thursday, longtime Arizona Democratic Congressman Ed Pastor of AZ-7 announced his decision to retire and not seek reelection in 2014. Local politicians, from seemingly forever Maricopa Board of Supervisor's member Mary Rose Wilcox to new and fairly refreshing voices like state legislature member Ruben Gallego, were literally stepping over one another to announce they would be running for Pastor's seat. They are almost all minorities vying to represent a solidly minority district. And this is no small thing, as most all of them have to give up their current position to do so under Arizona's "resign to run" law.
I was asked early on Thursday, not long after Pastor's announcement, by a friend who supports liberal Dems nationwide, about Kyrsten Sinema jumping in. I thought it was a joke question and said so. Because it was crazy talk. The joke, however, was squarely on me and her other constituents in AZ-09. Yeah, Kysten Sinema, who pledged herself to AZ-09, started lusting after AZ-07 the second it was announced available.
Not that Kyrsten Sinema (see her Twitter feed, which is a litany of everything but her contemplated district switch) or her managers/spokespeople will admit it, or even address the subject, but she was ready to walk from second one. How do we know? Because the Arizona Republic/12 News (via the excellent Brahm Resnik) got a copy of an email to Sinema's inside staff proving it.
So, why is this a big deal? Because it shows that, for first term congresswoman Kyrsten Sinema, her own raw narcissistic ambition, in a dynamic situation, immediately trumps loyalty to her constituents Read more →
https://www.emptywheel.net/wp-content/uploads/2016/07/Logo-Web.png
0
0
bmaz
https://www.emptywheel.net/wp-content/uploads/2016/07/Logo-Web.png
bmaz
2014-03-03 08:42:57
2014-03-03 13:54:08
The Naked and Unbound Ambition of Kyrsten Sinema