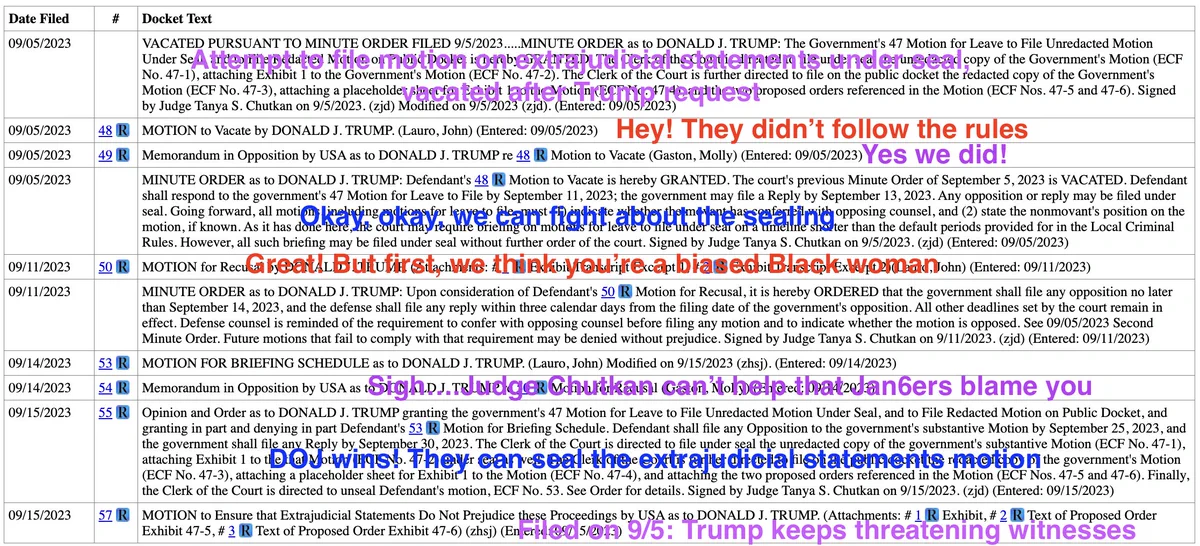 As I predicted, John Lauro misrepresented the timing of prosecutors' request for a limited gag on Trump's violent speech. Lauro presents his response as if DOJ first asked to limit Trump's violent speech on September 15 in docket entry 57, and not (in sealed form, to which Trump objected, on September 5) at docket 47.
President Trump respectfully submits this response in opposition to the prosecution's motion to impose unconstitutional prior restraints on President Trump's political speech. (the "Motion," Doc. 57, seeking the "Proposed Gag Order," Doc. 57-2).
Here's the handy dandy annotated docket I did so NYT journalists could understand the true timing (even if they didn't note their corrections once they did belatedly understand it).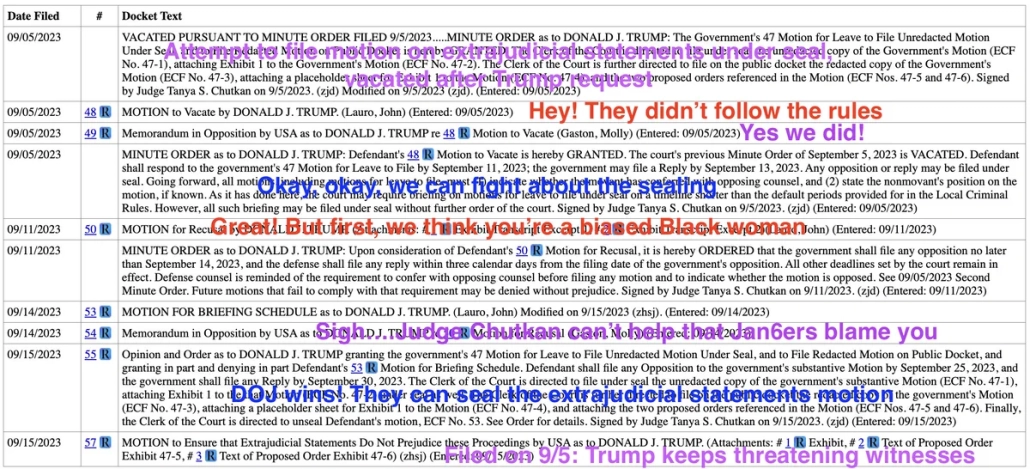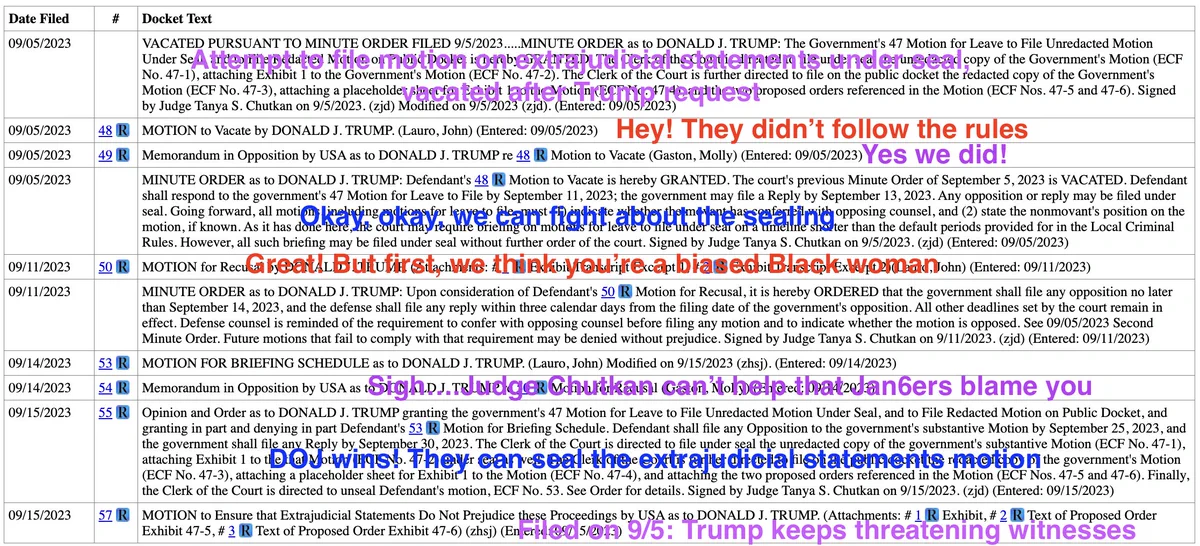 One reason Lauro's manufactured misrepresentation about the timing of the motion — September 5 versus September 15 — matters is because he's now falsely suggesting that DOJ only issued this request after Biden got a bunch of bad polling data.
At bottom, the Proposed Gag Order is nothing more than an obvious attempt by the Biden Administration to unlawfully silence its most prominent political opponent, who has now taken a commanding lead in the polls. Indeed, this very Motion came on the heels of adverse polling for President Biden.
To be sure, Lauro must recognize what rank bullshit this claim is, given that he doesn't cite the polling in question (which probably is meant to invoke the outlier WaPo poll of this week). This is designed to work for the Federalist and Fox set, not for Judge Chutkan.
But the timing matters for another reason.
Probably because Lauro wants to set up a future argument balancing election-related speech against defendant-related restrictions, he suggests DOJ is doing this primarily to silence criticism of Jack Smith, and not to protect witnesses, prosecutors, and Judge Chutkan herself.
[T]he prosecution complains that President Trump's political statements "undermine confidence in the criminal justice system," which it asserts somehow justifies the Proposed Gag Order. Motion at 2, 6, 8, 15. The prosecution cites no authority in support of this bizarre claim. Nor can it. As the Supreme Court has repeatedly emphasized, "speech critical of the exercise of the State's power lies at the very center of the First Amendment." Gentile, 501 U.S. at 1034; New York Times Co. v. Sullivan, 376 U.S. 254, 273 (1964) ("Criticism of their official conduct does not lose its constitutional protection merely because it is effective criticism and hence diminishes their official reputations."). This includes criticism of the Court and the Special Counsel.
When Lauro finally gets around to dealing with the violent threats Trump has issued, he ignores the bulk of the examples DOJ provided, instead focusing exclusively on the one Trump's team had already addressed.
[N]o witness has suggested that he or she will not testify because of anything President Trump has said. To the contrary, witnesses appear eager to share their expected testimony with the media and will undoubtedly testify at a potential trial, if called to do so.7 Nor has any witness suggested that President Trump's protected statements have "influenc[ed] [his or her] testimony," as the prosecution baselessly suggests. Motion at 15.

This is entirely unsurprising, as President Trump has never called for any improper or unlawful action. Quite the opposite, the prosecution's cited posts show that President Trump intends to redress the unfairness of this proceeding through legitimate means. This includes, for example, filing motions with the Court—a form of relief that President Trump has every right to pursue and talk about. This is a far cry from the type of "true threat" the prosecution would need to show to justify a prior restraint. Virginia v. Black, 538 U.S. 343, 360 (2003) ("Intimidation in the constitutionally proscribable sense of the word is a type of true threat, where a speaker directs a threat to a person or group of persons with the intent of placing the victim in fear of bodily harm or death.").8

Unable to identify any instance where President Trump uttered any threat, the prosecution points to others, claiming President Trump "knows that when he publicly attacks individuals and institutions, he inspires others to perpetrate threats and harassment against his targets." Motion at 3. Again, the prosecution offers no evidence of any causal connection between his speech and the alleged unlawful acts of others to support this meritless claim.

7 Two "potential witnesses" the prosecution does not want President Trump speaking about, for example, are former Attorney General Bill Barr and former Vice President Mike Pence. Both have written books about their tenure with President Trump and the latter is currently running for president. See, e.g., Geoff Bennett, Bill Barr: Trump Committed a "Grave Wrongdoing" in Jan. 6 Case, PBS NEWSHOUR, Aug. 3, 2023. Neither shies away from a hearty public debate with President Trump. Both were at the very top of government and it is absurd to think that they would be intimidated by social media posts. Others the prosecution identifies as "harassed," are likewise current and former government officials who have made politics, for all its discord and discourse, a large part of their lives.

8 The prosecution once again cites President Trump's August 4, 2023, Truth Social post; however, as previously explained, Doc. 14 at 7–8 n.8, that post did not concern this case. See Nick Robertson, Trump campaign defends threatening social media posts as free speech, The Hill (August 5, 2023) (quoting a Trump campaign statement that "[t]he Truth post cited is the definition of political speech, and was in response to the RINO, China-loving, dishonest special interest groups and Super PACs, like the ones funded by the Koch brothers and the Club for No Growth.").

In today's environment, this Court could easily take judicial notice that "[t]he language of the political arena . . . is often vituperative, abusive, and inexact," Watts, 394 U.S. at 708 (citations omitted), and even "very crude [or] offensive method[s] of stating a political opposition" are not true threats. Id.

Finally, the prosecution raised (and President Trump addressed), this same post in connection with its motion for a protective order. Doc. 14 at 7–8 n.8. Despite having ample opportunity to dispute President Trump's explanation, including in a reply brief, Doc. 15, and at oral argument, Doc. 29, the prosecution chose not to do so. Now, the prosecution once again tries to revive this debunked position in support of its Motion. The Court should accord such unpersuasive arguments no weight. [my emphasis]
Lauro ignores the multiple cases, cited in prosecutors' filing, where people told Trump directly that his incitement had ratcheted up threats against people like Jeff Duncan, Chris Krebs, and Ruby Freeman. He ignores prosecutors' citation of Trump bragging about the way his followers respond to Trump.
As he acknowledged in a televised town hall on May 10, 2023, his supporters listen to him "like no one else."
Perhaps more importantly, Lauro ignores something he has already ignored, in his reply to his own motion to recuse Tanya Chutkan.
As I noted, by filing a motion to recuse based off things Judge Chutkan said when January 6 defendants blamed Trump for their actions, Trump invited prosecutors to lay out the many more times defendants had done just that. Not only did prosecutors provide eight other examples where defendants already sentenced by Chutkan blamed Trump for their actions, DOJ laid out something that Robert Palmer said of his own actions on January 6: That he went to the Capitol "at the behest" of Trump and took action to prevent the certification of the vote because of the false claims Trump had made.
On December 17, 2021, the Court sentenced Robert Scott Palmer, an individual who, on January 6, 2021, after attending the former president's remarks at the Ellipse and while wearing a "Florida for Trump" hat, "threw a wooden plank at" police officers; "sprayed the contents of a fire extinguisher at the officers until it was empty, and then threw the fire extinguisher" at them; and "assaulted another group of law enforcement officers with a 4-5 foot pole," which he threw "like a spear at the officers." United States v. Palmer, 21-cr-328, ECF 30, at 10, 2 (Govt. Sentencing Mem.); id., ECF No. 23, at 3 (D.D.C. Oct. 4, 2021) (Statement of Offense). Palmer was charged with, and pled guilty to, assaulting, resisting, or impeding certain officers using a dangerous weapon, in violation of 18 U.S.C. §§ 111(a) and (b). Id., ECF No. 24 at 1 (D.D.C. Oct. 4, 2021) (Plea Agreement).

In a sentencing memorandum filed before his hearing, Palmer's attorney asserted that he had gone to the Capitol "at the behest of" the defendant and had been convinced by individuals, including the defendant, that the election was fraudulent and that Palmer needed to take action to stop the presidential transition. Id., ECF No. 31 at 8 (D.D.C. Dec. 13, 2021) (Def. Sentencing Mem.). [my emphasis]
John Lauro is lying when he claims that there is "no evidence of any causal connection between his speech and the alleged unlawful acts of others." Lauro himself elicited that evidence. And the evidence is that, according to Robert Palmer, because of the false claims Trump and others told about the election, Palmer went to the Capitol on January 6 "at the behest of" Donald Trump, and serially assaulted several cops.
Trump's reply ignored the substance of Palmer's claims; it even dropped all mention of the Palmer case. Trump thereby left uncontested DOJ's representation of Palmer's claim that he did what he did "at the behest" of Trump.
Thus far, in the case against Trump, DOJ has been rather reserved about the dockets and dockets full of evidence that rioters believed they had been ordered by Trump to do what they did. The indictment itself shows that Trump's several days of pressure — including his 2:24PM tweet — resulted in direct threats from rioters to Pence.
111. At 2:24 p.m., after advisors had left the Defendant alone in his dining room, the Defendant issued a Tweet intended to further delay and obstruct the certification: "Mike Pence didn't have the courage to do what should have been done to protect our Country and our Constitution, giving States a chance to certify a corrected set of facts, not the fraudulent or inaccurate ones which they were asked to previously certify. USA demands the truth!"

112. One minute later, at 2:25 p.m., the United States Secret Service was forced to evacuate the Vice President to a secure location.

113. At the Capitol, throughout the afternoon, members of the crowd chanted, "Hang Mike Pence!"; "Where is Pence? Bring him out!"; and "Traitor Pence!"
Yet, DOJ has not made it anywhere explicit that evidence in the case of dozens, if not hundreds, of Jnauary 6 defendants make it clear that these threats to Pence arose directly from Trump's statements. And in their motion for a gag order, DOJ did not tie the threats against Pence Trump elicited on January 6 to one he has made recently that they included in the motion.
But because John Lauro made it an issue in his recusal motion, DOJ has provided crystal clear evidence of one case where someone believed he was taking action — violent assaults against cops — "at the behest of Trump."
John Lauro wanted it this way — he wanted to create the false illusion that whatever gag Chutkan might impose came only after he accused her of being a biased Black Woman. But in the process, he himself elicited proof that Trump's statements to lead directly to violence.
https://www.emptywheel.net/wp-content/uploads/2023/09/Docket.webp
546
1200
emptywheel
https://www.emptywheel.net/wp-content/uploads/2016/07/Logo-Web.png
emptywheel
2023-09-26 06:34:05
2023-09-26 07:17:14
John Lauro's False Claims about Assaults "at the Behest" of Donald Trump