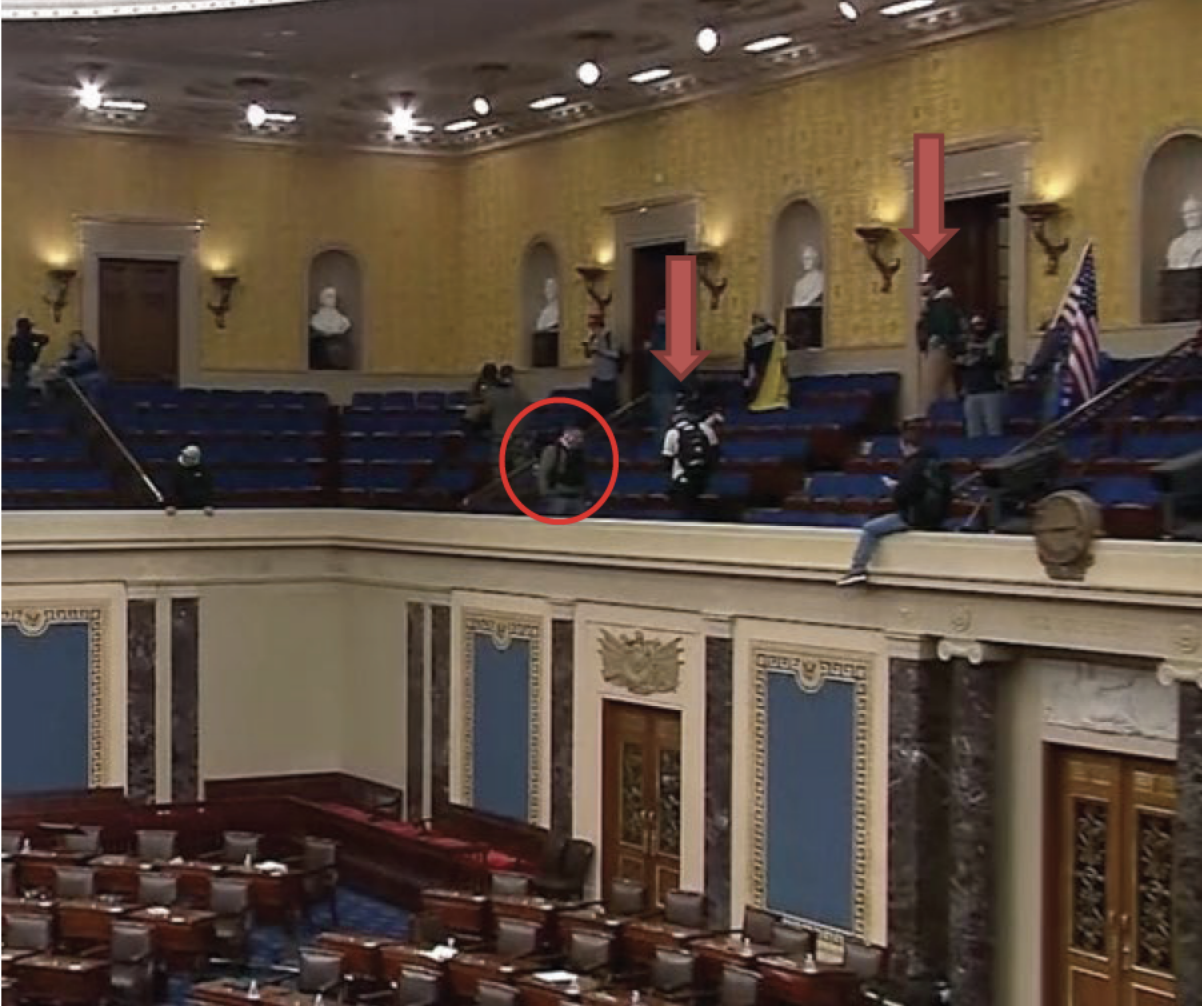 Nine minutes after President Trump called Tommy Tuberville at 2:26PM on January 6 to ask him to raise more objections in an effort to delay the vote count, riot defendant Brady Knowlton entered the Capitol in what DOJ alleges was an intentional effort to delay the vote count.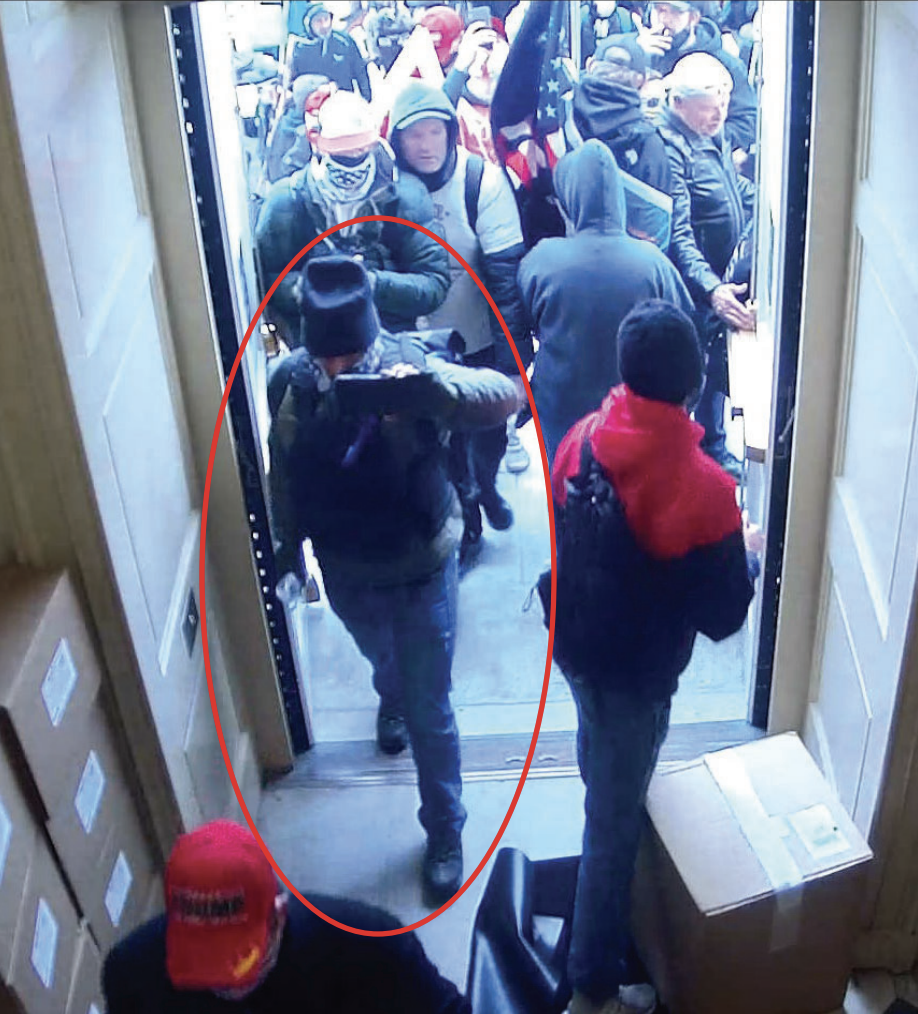 Nineteen minutes after Trump placed that call, at 2:45PM, Knowlton entered the Senate Gallery, maybe fifteen minutes after Tuberville had told the President he had to hang up because the Senators were being evacuated because people like Knowlton were invading the Capitol.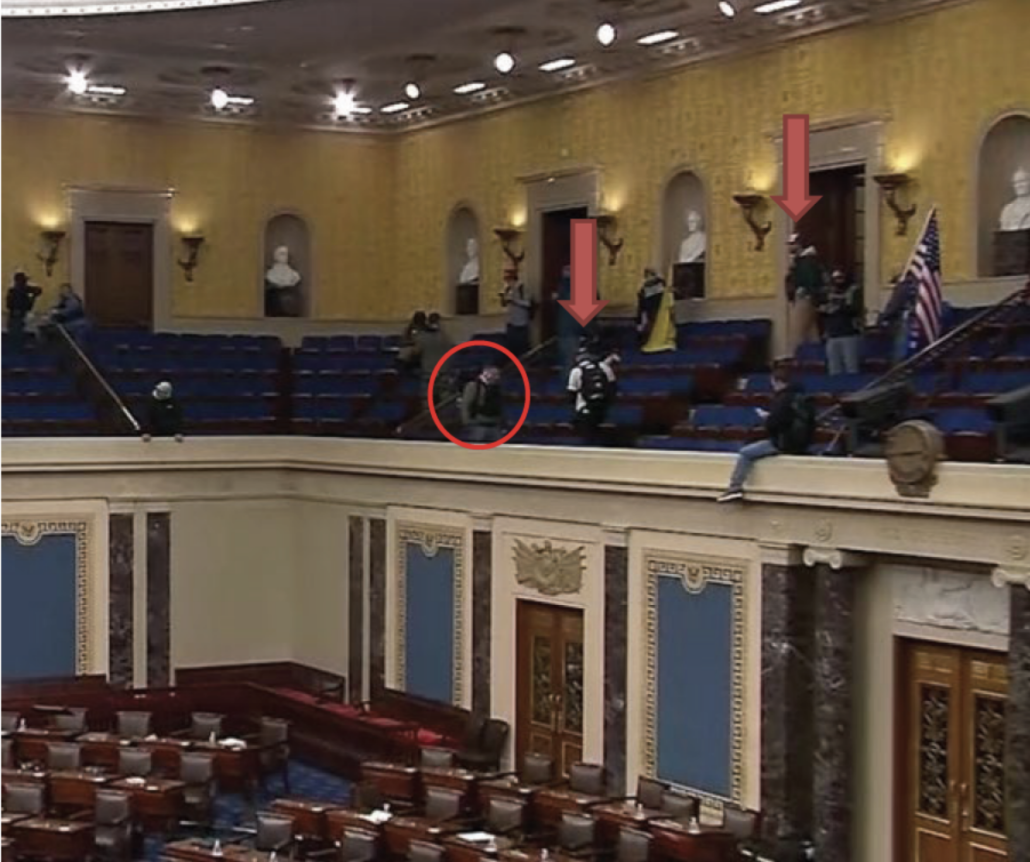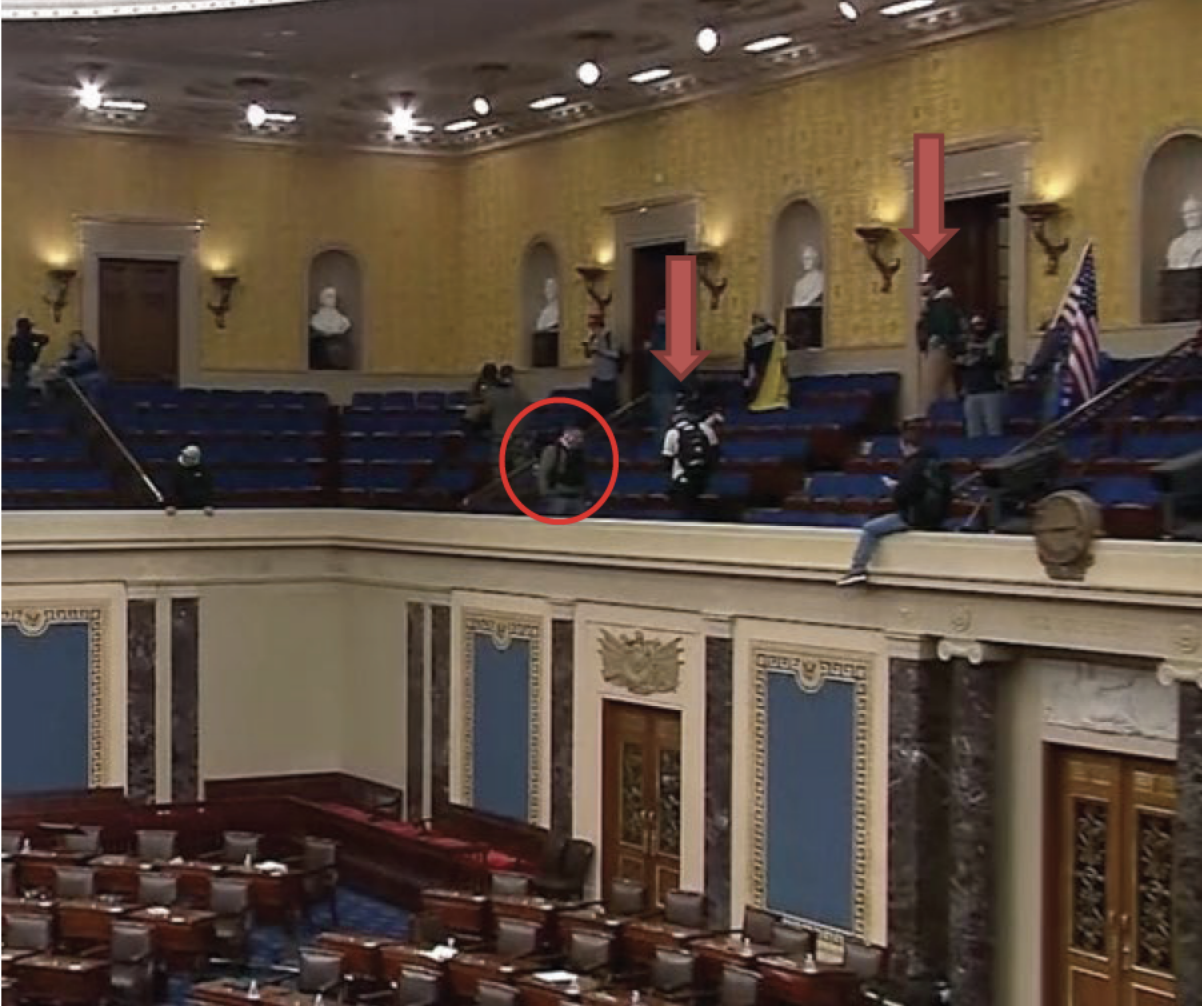 A number of people have pointed me to this article on Tuesday's hearing before Judge Randolph Moss in Knowlton's challenge to DOJ's use of 1512(c)(2) to charge those who, DOJ alleges, came to the insurrection with the intention of delaying or stopping the certification of the votes. Here's my live thread of the hearing and my own post on it; I've linked some of my other posts on the application of obstruction below.
The article is a good summary of the legal questions around the application. But in my opinion, its emphasis does not adequately convey what went on at the hearing. For example, the headline and first three paragraphs emphasize Judge Moss' concerns about constitutional vagueness, which Moss didn't focus on until an hour into the hearing.
Lead felony charge against Jan. 6 defendants could be unconstitutionally vague, U.S. judge warns

A federal judge has warned that the lead felony charge leveled by the government against Capitol riot defendants could be unconstitutionally vague, potentially putting convictions at risk of being overturned on appeal.

U.S. District Judge Randolph D. Moss identified the latest hurdle for federal prosecutors investigating January's attack on Congress during a two-hour hearing this week over whether to dismiss the "obstruction of an official proceeding" charge from a 10-count indictment against two men from Colorado and Utah.

Moss's remarks highlight the challenge prosecutors have faced in defining the most severe criminal conduct allegedly committed on Jan. 6. Prosecutors have employed the obstruction charge rather than sedition or insurrection counts in accusing at least 235 defendants of corruptly disrupting Congress's certification of the 2020 electoral-college vote.
It doesn't mention how Moss started the hearing — by expressing skepticism about Knowlton's argument — until the last line of the fourth paragraph.
Attorneys for Brady Knowlton and Patrick Montgomery claimed that specific offense did not apply to them, arguing that the joint House and Senate session that met Jan. 6 does not qualify as an official proceeding of Congress. Moss made clear he was not persuaded by that claim at this point. [my emphasis]
At least before Moss, then, this challenge faces an uphill climb (some of the other challenges to this application of obstruction make a slightly different legal argument that may have more promise of success). And while the WaPo piece notes that Moss asked for additional briefing from both sides, it doesn't note what I consider a fairly major strategic error from Knowlton's team: choosing to define an "official proceeding" as one in which the ultimate decision of the proceeding is an adjudication that has real import to the life and liberty of those involved.
In effect, Knowlton lawyer Brent Mayr claimed that Joe Biden (and the 81 million Americans who voted for him) would have suffered no harm if Congress had been so intimidated by the people roaming the hallways threatening their assassination that they certified Donald Trump as the victor of the 2020 election instead of Biden, or if the insurrectionists managed to cause lasting unrest that delayed the certification indefinitely, giving Trump a chance to attempt another desperate ploy to remain in power.
By making that argument, Mayr provided DOJ the opportunity to lay out — in the additional briefing Moss ordered — the real adjudication that took place on January 6 and the import to justice and rule of law that the adjudication had, something DOJ has done, albeit in less focused fashion, in other filings in this investigation. Mayr gave DOJ an opportunity to explain that there was a very real risk that the lawfully elected President of the United States would not have his victory officially recognized, which was precisely the goal, DOJ would argue, that Brady Knowlton sought.
Mayr gave DOJ that opportunity even amid heightened coverage of how real the threat of a travesty of justice was.
The reporting on Jeffrey Rosen's testimony about Jeffrey Bossert Clark's attempt to force DOJ to endorse Trump's Big Lie makes it clear how corrupt all this was (showing corrupt intent is key to proving Knowlton or anyone else guilty of the obstruction charge).
Filling in just one more detail will tie together Trump's efforts to recruit DOJ in telling his Big Lie and Brady Knowlton's response to that Big Lie of flying to DC, invading the Capitol, and heading to the place where the vote was supposed to be counted.
[B]ody-worn camera footage from the Metropolitan Police Department [] shows Knowlton and [Knowlton's co-defendant Patrick] Montgomery outside the Capitol at around 2:00 p.m.  In the video, Knowlton confronts officers who are making their way through the crowed and yells at them saying, "You took an oath! You took an oath!" and pointedly asking them, "Are you our brothers?" Montgomery is standing right behind Knowlton. The government also located another body-worn camera video of both defendants after they left the Senate Gallery, confronting officers inside the Capitol in a hallway near Senate Majority Leader Schumer's office. In the video, both Knowlton and Montgomery direct officers to move out of the way. Knowlton tells the officers, "We don't wanna push through there. We do not wanna push through there." Knowlton also tells the officers, "This is happening. Our vote doesn't matter, so we came here for change."
That detail is that Donald Trump made an effort to ensure the Senators would still be there when Knowlton and others arrived.
"How's it going, Tommy?" the president asked.

Taken a little aback, Lee said this isn't Tommy.

"Well, who is this? Trump asked. "It's Mike Lee," the senator replied. "Oh, hi Mike. I called Tommy."

Lee told the Deseret News he realized Trump was trying to call Sen. Tommy Tuberville, the newly elected Republican from Alabama and former Auburn University football coach. Lee walked his phone over to Tuberville who was talking to some colleagues.

"Hey, Tommy, I hate to interrupt but the president wants to speak with you," Lee said.

Tuberville and Trump talked for about five to 10 minutes, Lee said, adding that he stood nearby because he didn't want to lose his cellphone in the commotion. The two were still talking when panicked police ordered the Capitol to be evacuated because people had breached security.

As police were getting anxious for senators to leave, Lee walked over to retrieve his phone.

"I don't want to interrupt your call with the president, but we're being evacuated and I need my phone," he said.

Tuberville said, "OK, Mr. President. I gotta go."
To be clear: there's no evidence that Knowlton had direct ties to Trump (though Knowlton is one of just seven defendants thus far from Utah, and a week after the riot, Rudy Giuliani appears to have been in contact with James Sullivan, the brother of defendant John Sullivan, who told Rudy he had gotten his "agent" and three others from Utah out of trouble). There's even less evidence that, at the moment Knowlton crossed the threshold of the Capitol, he knew Trump had just tried to convince Tuberville to delay long enough for Knowlton to arrive in the Senate.
This is not yet a conspiracy that ties the President's actions to obstruct the vote count with Brady Knowlton's alleged actions to achieve the same goal.
But even as Brady Knowlton's lawyers have argued that an official proceeding is one in which the parties can suffer dire consequences if rulings don't go in their favor, more evidence is coming out about how Knowlton's actions fit into a larger, undeniably corrupt scheme to deprive Joe Biden (and Kamala Harris, who was present and participating on that day) of their electoral win.
If that's the standard, then Knowlton's lawyers have made a compelling argument against his case.
The WaPo's not wrong about the seriousness of this larger challenge. And whether or not this argument succeeds, it's still not clear that DOJ will be able to prove that Knowlton had the requisite corrupt intent to delay the vote.
But Knowlton's argument may be overtaken by the new evidence proving just how corrupt this effort was.
---
Posts on obstruction
July 17, 2021: General thoughts on the application of obstruction in advance of the Paul Hodgkins' sentencing
June 4, 2021: How Ethan Nordean's challenge to the application of obstruction degrades the challenge
June 14, 2021: How the III Percenter conspiracy indictment might use the threats of violence enhancement from the obstruction statute
July 31, 2021: How DOJ blew an opportunity to explain the difference between the Brett Kavanaugh protests and the January 6 rioters
July 27, 2021: How Donald Trump might be charged with obstruction
August 3, 2021: Brady Knowlton's lawyer falsely claimed his client's alleged obstruction posed no harm of injustice
August 4, 2021: Trump's Big Lie demonstrates the threat of harm from insurrectionists' obstruction
List of all obstruction challenges
https://www.emptywheel.net/wp-content/uploads/2021/04/Screen-Shot-2021-04-19-at-8.13.40-PM.png
1006
1202
emptywheel
https://www.emptywheel.net/wp-content/uploads/2016/07/Logo-Web.png
emptywheel
2021-08-08 08:55:40
2021-08-08 13:18:09
19 Minutes: The Tuberville Call and DOJ's Use of Obstruction in January 6 Prosecutions