At a hearing for Danny Rodriguez on August 31, Judge Amy Berman Jackson asked, as she had in the last hearing, why Rodriguez wasn't included in the indictment with a bunch of other men who, like him, are accused of assaulting Michael Fanone, a case over which she is also presiding. As also happened in that last hearing, ABJ asked about a plea offer. In July, AUSA Kimberly Paschall said Rodriguez might not be offered a plea deal at all. On Tuesday, Paschall said he would only be offered a plea deal if he were willing to be debriefed first, prosecutor's jargon meaning that someone will only be permitted to plead guilty if he cooperates against others. Paschall also said that any plea would necessarily include the 18 USC 1361 charge against Rodriguez for breaking a window because it carries a terrorism enhancement. When prompted by Rodriguez' attorney (who sourced her intelligence to Twitter), Paschall admitted there may be a superseding indictment against Rodriguez, widely assumed to be some kind of conspiracy indictment with other extremists from Southern California.
As HuffPo reported in February (relying heavily on the work of online researchers including Deep State Dogs), before his arrest Rodriguez was a well-known participant in a group of Southern California anti-maskers, one who had been reported for assault even before boarding a plane to DC in January.
Rodriguez, who goes by "Danny" and "DJ," is well known among Trump supporters in the Los Angeles area as a superfan of the former president. Multiple news outlets have featured him in their coverage of the local pro-Trump movement in recent years, in articles that included his name and photo. He regularly attended the weekly Trump rallies in Beverly Hills last year. He was recognizable there by his dark-rimmed glasses and the many distinctive pins on his hat, which has a big GOP elephant symbol on the brim.
Rodriguez coordinated with other members of this network — including Gina Bisignano — while at the riot.
What Paschall basically admitted in Tuesday's hearing is that DOJ intends to hold Rodriguez accountable as a terrorist, possibly in conjunction with his network of right wing operatives. But for all the reports (on Twitter) about network members flipping on each other, the network of extremists still manages to sow violence in front of the LAPD with impunity.
There are other public signs, however, that DOJ is going after this network. In June, DOJ rolled out a conspiracy indictment against six Three Percenters, including Alan Hostetter and Russell Taylor. In spite of explicit threats of execution detailed in it, it doesn't include a crime of terrorism like the one charged against Rodriguez. While the Three Percenter ties, the plans to come to DC armed, and the defendants' role in a January 5 Stop the Steal rally attracted a lot of attention, the import of a Telegram channel described in it got less focus.
On January 1, 2021, [Russ] TAYLOR created a Telegram chat called "The California Patriots-DC Brigade" (the "DC Brigade") and invited other individuals to join. TAYLOR, HOSTETTER, WARNER, KINNISON, MARTINEZ, and MELE all joined, along with more than 30 others.

In the "about" section that described the purpose of the DC Brigade group, TAYLOR wrote:

This group will serve as the Comms for able bodied individuals that are going to DC on Jan 6. Many of us have not met before and we are all ready and willing to fight. We will come together for this moment that we are called upon.

In a series of messages on January 1, 2021, TAYLOR further explained the purpose of the group. In one message, he explained: "This thread is exclusive to be utilized to organize a group of fighters to have each other's backs and ensure that no one will trample on our rights. Also, if there is key intel that we need to be aware of tor [sic] possible threats." He added: "I am assuming that you have some type of weaponry that you are bringing with you and plates as well." TAYLOR also asked members to identify if they had previous law enforcement experience, military experience, or "special skills relevant to our endeavors," as well as the planned date and time of their arrival in D.C.
There were 36 people in this thread and DOJ may have arrested just 4 before this conspiracy charge, leaving at least 26 others who participated in a channel about coming armed to the Capitol still out there.
In recent days (close to three months after the conspiracy indictment), DOJ has started arresting those participants. On August 26, for example, DOJ arrested Jeffrey Scott Brown on charges of assault, civil disorder, and trespassing based in part on him spraying an irritant at the police.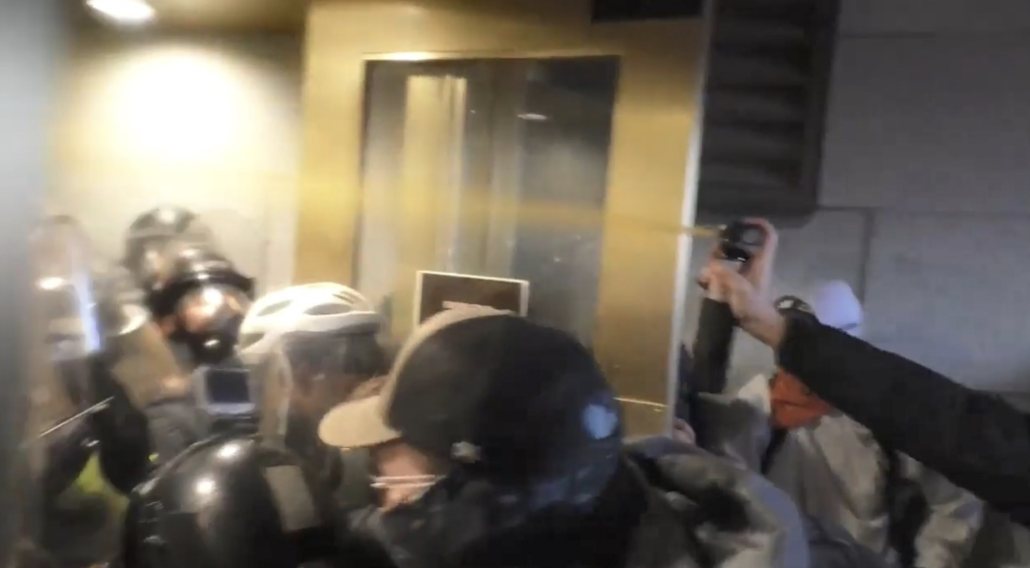 The government cited Brown's participation in Taylor's Telegram channel to substantiate pre-meditation for his violence.
During the course of the investigation into the events of January 6, 2021, law enforcement has identified communications that documented planning and coordination amongst individuals in advance of January 6, 2021. As detailed below, the investigation has established that JEFFREY SCOTT BROWN participated in a Telegram group chat on an encrypted messaging app in the days leading up to January 6. In the Telegram chat "about" section was the following description: "This group will serve as the Comms for able bodied individuals that are going to DC on Jan 6. Many of us have not met before and we are all ready and willing to fight. We will come together for this moment that we are called upon."

One of the members of this chat was Telegram user "JB" (UID XXXXXX1832). On January 5, 2021, at approximately 6:30 a.m. PST, Telegram user "JB" posted a picture of himself with the caption "Boarding LAX." LAX is the airport code for the Los Angeles International Airport.
Yesterday, another of the participants on Taylor's Telegram channel, Ben Martin, was arrested for his sustained efforts to get and keep the North doors of the Capitol open.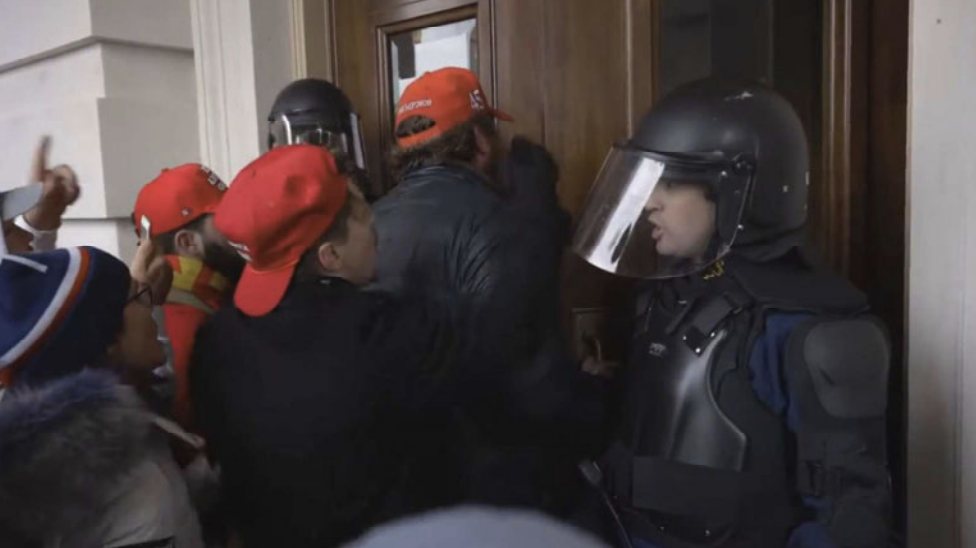 Among the pictures of Martin included in his arrest affidavit at that North door are some also included in a detention memo for Matthew Klein that depict the Klein brothers, already charged with conspiracy for their efforts to open it.

Martin's arrest warrant describes Facebook Messenger discussions Martin had with an RT who, like Russell Taylor, publicly called for violence in advance of the riot. That RT invited Martin to a Telegram channel that sounds (except for RT's boasts about its size) just like The California Patriots-DC Brigade.
A search warrant of the MARTIN Facebook account identified by the tipster revealed that the account was registered as "benjamin.martin.90410." A review of the account further revealed communications between MARTIN and a Facebook account associated with R.T. Based on a different investigation, R.T. is known to the FBI to have advocated for violence in the lead-up to January 6, organized others to travel to D.C. for January 6 (some of whom participated in the riot at the U.S. Capitol), and to have participated himself in the riot at the U.S. Capitol on January 6. MARTIN's account contained communications occurring on January 3, 2021, between R.T. and MARTIN through Facebook Messenger in which MARTIN and R.T. discussed traveling to Washington D.C. for January 6, 2021. In the communications, R.T. invited MARTIN to join a Telegram chat for "a group of 200+ California patriots that are going to DC Jan 6," which MARTIN accepted and joined. On January 6, 2021, MARTIN sent four messages to R.T. that stated, "we need to meet", "I just spoke to Peggy Hall she said we need to meet", and "I am in DC as we", "well" [sic].
Consider what you have in this network:
Ties to two militias, the Three Percenters and the Proud Boys
Organization based in localized, violent anti-mask activism
A direct tie to one of two organized rallies on January 5
A Telegram channel tying a group of participants together
The use of blowhorns and radios during the riot to maximize impact
Taylor's description of a plan, formulated at least by December 30, to "surround the capital," followed by Simon's sustained efforts to open a new front on the North side of it
Discussions in advance of executing traitors followed by an assault on Michael Fanone that caused a heart attack
By dint of Rodriguez' damage to a window of the Capitol, a crime of terrorism that can (and Paschall is intent, will) carry a terrorism enhancement
At Tuesday's hearing, Paschall didn't seem sure whether they will end up charging Rodriguez in a conspiracy with some of the others (though she said DOJ would likely finalize their decision on that point by October 1). Certainly, it doesn't seem like local law enforcement in LA is anything but an impediment.
But this network of extremists is a good place to look to understand how the various parts of the riot came together.