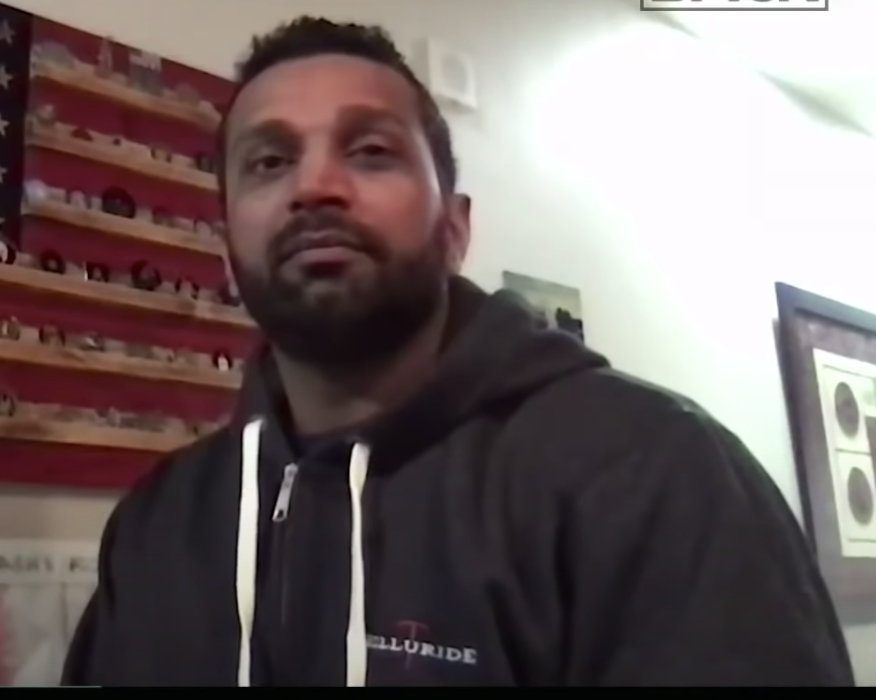 Thankfully, the NYT has written a second story reporting that DOJ is considering asking Beryl Howell to give Kash Patel use immunity in the Trump stolen document investigation, because I was about to go back and write about the first one.
Earlier this month, the prosecutors summoned Mr. Patel to testify before a grand jury in Washington hearing evidence about whether Mr. Trump had mishandled classified documents and obstructed justice when he refused to return the records to the government.

Mr. Patel repeatedly invoked his Fifth Amendment right against self-incrimination. In response, prosecutors asked a top federal judge in Washington to compel Mr. Patel to answer questions — a move Mr. Patel's lawyers have strenuously opposed. The question now is whether the Justice Department will grant him immunity in order to secure his testimony.
The first was newsworthy — as I laid out in this thread and as Jay Kuo wrote up in this piece — for its silence about the fact that Stanley Woodward is the defense attorney for both people described in the story (the other was Walt Nauta, the valet who moved documents around before Evan Corcoran did a search of what was left).
Woodward represents a slew of key defendants who might serve as firewalls in a larger and much more damning crime: in addition to Patel and Nauta, Dan Scavino, Peter Navarro, Oath Keeper Kelly Meggs (who has ties to Roger Stone), and the guy who kicked off the entire riot, Ryan Samsel. Woodward's a decent defense attorney (not least because, unlike many Trump attorneys, he is a defense attorney), but he's got a conspiracy streak that should be accounted for when reporting on his representation of events.
Both NYT stories portray Patel's unnamed attorneys as resisting the move to immunize him.
In response, prosecutors asked a top federal judge in Washington to force Mr. Patel to testify — a move fought by Mr. Patel's lawyers, who are concerned the government wants to use Mr. Patel's own statements to incriminate him. [first]

[snip]

The push for the testimony has also created friction between the Justice Department and Mr. Patel's lawyers, who have argued that the department could use his statements against him if they build out a larger obstruction investigation. [second]
This is, frankly, silly reporting. Stanley Woodward doesn't get a choice in whether Patel is immunized. That's the point: You immunize a witness to compel his testimony. And defense attorneys and prosecutors are adversarial; there is supposed to be "friction" between them. That's the nature of an adversarial system.
Including these claims in the story without explaining the import of compelled testimony does a disservice to readers and makes the story far more of vehicle for obstruction.
Best as I can tell (it's hard to tell, because the part of the earlier story addressing immunity was so muddled), this version of the story adds no new news except for the self-congratulatory detail that Trump only learned that Kash took the Fifth from the earlier story.
Mr. Trump first learned that Mr. Patel had invoked the Fifth Amendment when The New York Times reported it on Monday, according to person briefed on the matter.
This is not actually interesting unless you're a NYT reporter or someone like Stanley Woodward wanting to make clear he's not directly consulting on these defense issues in advance with Trump himself, which is different than consulting with someone like Boris Epshteyn, who (unlike Woodward) is not a defense attorney but nevertheless is purportedly in charge of Trump's defense. It just so happens that these anonymously sourced stories provide all the details that Trump would need and Woodward would want public to make sure he still got paid. (Not addressed, however, is a reference in the earlier story boasting about the treatment of the video surveillance that would have led to changed testimony from Nauta.)
Sadly, this story utterly misses several key points about the import of Kash Patel's testimony.
First, consider Kash's potential responses if Beryl Howell does grant him use immunity. Either he testifies truthfully, he lies, or he still refuses to testify and gets jailed for contempt. This is the real tension that Woodward is getting at — what should Kash do if he is immunized, as if the story is begging for directions from those paying the bills. While Trump was still President, the answer was easy: lie and await a pardon. It's more complicated when you're firewalling someone who may not return to the presidency anytime soon.
More importantly, consider possible reasons why Kash might have invoked the Fifth, if it was anything more than an attempt to avoid testifying in the absence of Executive Privilege claims.
NYT — which has spread the cover story that the only Russian documents Trump attempted to disseminate as he left office were the unclassified Strzok-Page texts (ABC had a detailed story about what really happened) — says that this is all about whether Kash's claims that Trump declassified the documents he stole are true.
Federal prosecutors investigating former President Donald J. Trump's handling of national security documents want to question one of his confidants about a claim that Mr. Trump had declassified national security documents he took when he left the White House.

[snip]

But the Justice Department's interest in questioning Mr. Patel about the claim shows that prosecutors see it as potentially relevant to their investigation into the handling of the documents and whether Mr. Trump or his aides obstructed the government's efforts to reclaim them.
If all Kash was asked about was whether — at a time when he was supposed to be running the Pentagon but instead happened to be at the White House at the precise moment Trump waved a magic wand to mass declassify documents he intended to steal — Trump had really declassified those documents, there'd be little cause to invoke the Fifth and he would have invoked Executive Privilege instead. If Trump didn't declassify the documents, Kash would be admitting to lying in Breitbart, which is not only not a crime, but it is generally assumed of columns that appear in Breitbart.
If Trump actually did declassify these documents with Kash as a witness, Kash has no legal exposure whatsoever.
So (again assuming Kash invoked the Fifth because he believed he had real exposure himself, which may not be the case), what might be those possible areas of exposure? Some possibilities include [these are hypotheticals]:
At some time before January 20, 2021, Kash and Trump coordinated to select a group of documents — including the Russian binder, but also (per the Breitbart piece quoted in the search affidavit) the Ukraine quid pro quo and other topics of national security import — that Trump would steal when he left; this is consistent with a great deal of what Kash has said publicly.
The Russian binder did circulate and because the declassification process was never finalized before Trump left office — and appears not to have been finalized at all — any classified documents in it would expose the person circulating the binder to Espionage Act charges himself. If an unredacted Carter Page application were included, it would expose the person to FISA violations as well, as I noted in August.
Trump and Kash both know that he never declassified the documents he stole, but leading up to May 5 — at a time when Trump was trying to stave off further investigation and even before FBI reviewed the boxes returned in January — they coordinated the false Breitbart column and the false claims about declassification since.
The decision to make Kash and John Solomon Trump's representatives to the Archives was an effort to assess what was stolen.
Kash was in some way part of the curating process of choosing which stolen classified documents to retain after 2021, effectively a continuation of the role he started to play in 2017, for which he was rewarded handsomely.
Again, all of these are strictly hypothetical! But they more closely match the known facts than the cover story that Trump was only disseminating unclassified Strzok texts.
And for all the NYT's focus on obstruction — goddamnit, Mike Schmidt, will you never tire of reporting that Trump is primarily exposed to obstruction?!?! — many of these actions would expose Patel not just to obstruction, but to charges under the Espionage Act himself (and, as I noted, potentially FISA).
I described on August 12 — four days after the search — that if Trump asked Kash or John Solomon to access the stolen classified documents at Mar-a-Lago, then it would expand Trump's exposure under the Espionage Act.
If Trump and Kash worked together while still in the White House to select a bunch of classified documents to steal and further disseminate, it might expose one or both to 793d.
(d)Whoever, lawfully having possession of, access to, control over, or being entrusted with any document, writing, code book, signal book, sketch, photograph, photographic negative, blueprint, plan, map, model, instrument, appliance, or note relating to the national defense, or information relating to the national defense which information the possessor has reason to believe could be used to the injury of the United States or to the advantage of any foreign nation, willfully communicates, delivers, transmits or causes to be communicated, delivered, or transmitted or attempts to communicate, deliver, transmit or cause to be communicated, delivered or transmitted the same to any person not entitled to receive it, or willfully retains the same and fails to deliver it on demand to the officer or employee of the United States entitled to receive it; or
If, before DOJ started making the more formalized requests for Trump to return the stolen documents (and so at a time when Trump might plausibly claim he was still sorting through his documents), Kash disseminated them forward from Mar-a-Lago, it might expose one or both to 793f.
(f)Whoever, being entrusted with or having lawful possession or control of any document, writing, code book, signal book, sketch, photograph, photographic negative, blueprint, plan, map, model, instrument, appliance, note, or information, relating to the national defense, (1) through gross negligence permits the same to be removed from its proper place of custody or delivered to anyone in violation of his trust, or to be lost, stolen, abstracted, or destroyed, or (2) having knowledge that the same has been illegally removed from its proper place of custody or delivered to anyone in violation of its trust, or lost, or stolen, abstracted, or destroyed, and fails to make prompt report of such loss, theft, abstraction, or destruction to his superior officer—
If Kash coordinated with Trump to try to create post hoc justification to keep the stolen classified documents — including with the Breitbart column and his subsequent claims about declassification — it might expose both to 793g.
(g)If two or more persons conspire to violate any of the foregoing provisions of this section, and one or more of such persons do any act to effect the object of the conspiracy, each of the parties to such conspiracy shall be subject to the punishment provided for the offense which is the object of such conspiracy.
Again, this post involves a lot of hypotheses (though with the advantage that, unlike the NYT, I'm not under the illusion that the only Russian documents Trump planned to disseminate were unclassified Strzok texts). But this is an absolutely critical thought experiment (especially when trying to assess venue, as Brandon Van Grack did here) because the question before DOJ is not, and never was, solely whether a former President refused to return documents he might implausibly claim to have declassified.
The question has always been about whether Trump had a premeditated plan to steal classified documents, and what Trump did with the classified documents after he stole them. Every single one of Kash's claims to be privy to a purported declassification are also claims about premeditation and dissemination to people not authorized to have classified documents.
And that's why he'd have a credible Fifth Amendment claim.
It would be unprecedented to charge a former President with violating 18 USC 793e for refusing to return classified documents — though I think DOJ has a clear case (with the South Florida venue that Van Grack explains in his piece) for documents retained between June 3 and August 8.
But if DOJ had evidence that Trump had a premeditated plan to steal classified documents and disseminate them to frothers — some with suspect associates — it would expand his exposure into crimes that are not close calls at all.
And that's why the decision whether to immunize Kash is not the hard trade-off that people are making it out to be. DOJ may or may not be able to mount a case against Kash himself. But if he were a key witness in a 793g case, it would make the gravity of crimes charged under the Espionage Act far more clearcut, even if charged in Florida. It would make any case against Trump far easier to prove.
Kash Patel is not primarily a witness about whether Trump declassified the documents he stole. He's a witness about whether Trump had a premeditated plan to steal classified documents and disseminate them to people not entitled to have them. And that's why the serial reports about DOJ seeking to immunize Kash's testimony are interesting.
https://www.emptywheel.net/wp-content/uploads/2021/04/Screen-Shot-2021-04-18-at-10.28.50-AM.png
700
876
emptywheel
https://www.emptywheel.net/wp-content/uploads/2016/07/Logo-Web.png
emptywheel
2022-10-27 05:52:04
2022-10-27 07:02:06
Kash Patel's Immunized Testimony Is about Premeditation, Not (Just) about Declassification