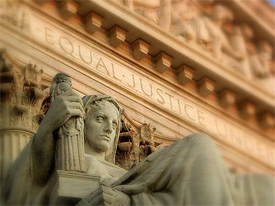 The Patient Protection and Affordable Care Act (ACA), otherwise popularly known as "Obamacare" had a bit of a rough go of it this week at the Supreme Court. Jeff Toobin called it a train wreck (later upgraded to plane wreck). Kevin Drum termed it a "debacle" and Adam Serwer a "Disaster".
Was it really that bad? Considering how supremely confident, bordering on arrogant, the Obama Administration, and many of the ACA's plethora of healthcare "specialists", had been going into this week's arguments, yes, it really was that bad. Monday's argument on the applicability of the tax Anti-Injunction Act (AIJA) went smoothly, and as expected, with the justices appearing to scorn the argument and exhibit a preference to decide the main part of the case on the merits. But then came Tuesday and Wednesday.
Does that mean the ACA is sunk? Not necessarily; Dahlia Lithwick at Slate and Adam Bonin at Daily Kos sifted through the debris and found at least a couple of nuggets to latch onto for hope. But, I will be honest, after reading transcripts and listening to most all of the audio, there is no question but that the individual mandate, and quite possible the entire law, is in a seriously precarious lurch.
Unlike most of my colleagues, I am not particularly surprised. Indeed, in my argument preview piece, I tried to convey how the challenger's arguments were far more cognizable than they were being given credit for. The simple fact is the Commerce Clause power claimed by Congress in enacting the individual mandate truly is immense in scope, – every man, woman and child in the United States – and nature – compelled purchase of a product from private corporate interests. Despite all the clucking and tut tutting, there really never has been anything like it before. The Supreme Court Justices thought so too.
I have no idea what kind of blindered hubris led those on the left to believe the Roberts Court was going to be so welcoming to their arguments, and to be as dismissive of the challengers' arguments, as was the case. Yes, cases such as Raich and Wickard established Congress could regulate interstate commerce and Morrison and Lopez established there were limits to said power. But, no, none of them directly, much less conclusively, established this kind of breathtaking power grant as kosher against every individual in the country.
Despite the grumbling of so many commentators that the law was clear cut, and definitively Read more →
https://www.emptywheel.net/wp-content/uploads/2016/07/Logo-Web.png
0
0
bmaz
https://www.emptywheel.net/wp-content/uploads/2016/07/Logo-Web.png
bmaz
2012-04-01 10:37:56
2012-04-01 12:29:49
Requiem For ACA at SCOTUS & Legitimacy Of Court and Case