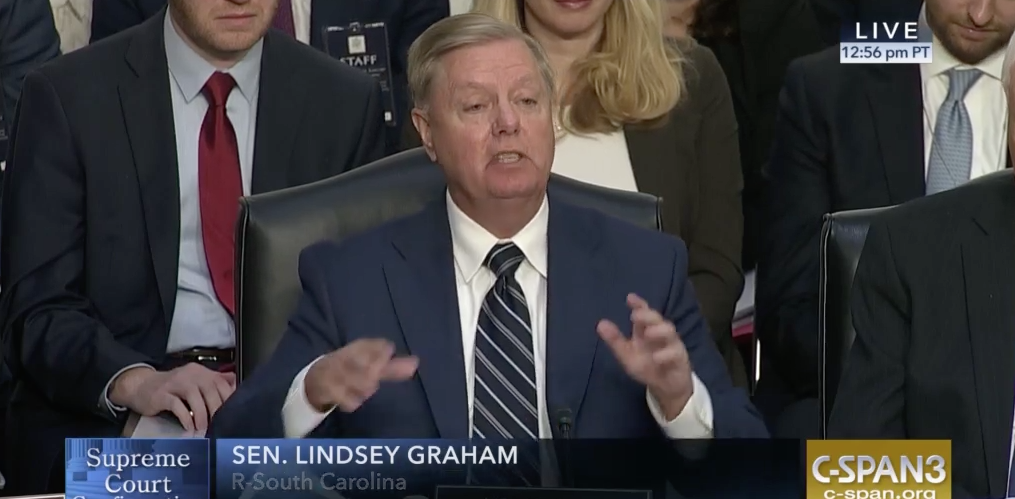 In his statement in Brett Kavanaugh's confirmation hearing yesterday, Lindsey Graham embodied the problem with Republicans' deliberate ignorance about Russian interference in the 2016 election.
As part of his statement, he raised the time Joe Biden pointed out what a hypocrite Brett Kavanaugh was for believing presidents should not be investigated during their term but nevertheless thought it necessary to ask Bill Clinton the following questions:
If Monica Lewinsky says that you inserted a cigar into her vagina while you were in the Oval Office area, would she be lying?

[snip]

If Monica Lewinsky says that she gave you oral sex in the Oval Office area, would she be lying?

If Monica Lewinsky says that you ejaculated in her mouth on two occasions in the Oval Office, would she be lying?
Lindsey did so to suggest Biden's comments about the Clinton investigation refute the claim that Trump picked Kavanaugh to protect himself from investigation, as if the investigation of Clinton for a blowjob was as legitimate as Mueller's investigation into whether Trump cheated to win the election.
To justify such an absurd claim, Lindsey suggests that the Mueller investigation is only about whether Trump acted improperly when he fired Comey.
When it comes to the pillar of political virtue, Comey. Harry Reid: "That he's been a supporter of Comey, and led the fight to get him confirmed, as he believed Comey was a principled public servant. With the deepest regret, I now see that I was wrong." Mr. Nadler, from NY. "The President can fire him for cause and ought to. He violated the guidelines and put his thumb on the scale of an election." Mr. Cohen, from Tennessee, a Democrat. "Call on Comey to resign his position, effective immediately, I'm sureupon reflection of this action he will submit his letter of resignation for the nation's good." To my Democratic friends,  you were all for getting rid of this guy. Now all of a sudden the country is turning upside down cause Trump did it.
The same guy who recently endorsed the idea of Trump firing Jeff Sessions once Kavanaugh gets confirmed then claimed he would do everything to protect the Mueller investigation. He says that even while suggesting he agrees with Kavanaugh that the president shouldn't be investigated.
There's a process to find out what happened in the 2016 election. It's called Mr. Mueller. And I will do everything I can to make sure he finishes his job without political interference. And I'm here to tell anybody in the country that listens, that this is so hypocritical of my friends on the other side. When it was their President, Kavanaugh was right. When you're talking about Roe v. Wade, it's okay to promise the nation it will never be overturned. It's okay to pick a Democratic staff member of this committee, but it's not okay to pick somebody who's been a lifelong Republican.
Which brings us to the stunning bit. Having just misrepresented the scope of the Mueller investigation — completely ignoring that the primary investigation is about whether Trump conspired with a hostile foreign power to win the election — Lindsey then suggests that Democrats should have no influence over judges because they lost the election the legitimacy of which Mueller continues to investigate (and about which Mueller has already provided evidence that the scope of Russia's help for Trump went further than initially known).
People see through this. You had a chance, and you lost. If you want to pick judges from your way of thinking, then you better win an election.
After discussing his support for Sonia Sotomayor and Elena Kagan, Lindsey then suggests that stripping the last limits on presidential power is just a game (even while admitting he likes Trump best of all for getting two SCOTUS picks).
I hope people in the country understand this game. It's a game that I'm sad to be part of. It's gotten really bad. The antidote to our problems in this country when it comes to judges and politics is not to deny you a place on the Supreme Court. This is exactly where you need to be, this is exactly the time you need to be there, and I'm telling President Trump, "You do some things that drive me crazy, you do some great things. You have never done anything better, in my view, than to pick Gorsuch and Kavanaugh.  Cause you had an opportunity to put well-qualified conservatives on the court — men steeped in the rule of law — who will apply analysis not politics to their decision-making, and you knocked it out of the park, and I say to my friends on the other side: you can't lose the election and pick judges.
Lindsey ends, again, by taunting Democrats that they can't have any input on Supreme Court justices if they lose an election.
An election the investigation of which Lindsey claims to, but is not, protecting. An election the investigation of which may be stymied by the confirmation of Brett Kavanaugh.
Of course, this is only possible because of the way four different efforts in Congress — including Lindsey's own — have served to obscure the matters under investigation. You've got Lindsey's investigation and Bob Goodlatte's — both more worried about a single FISA order that even a conservative Republican has told me was based on overwhelming evidence — than whether the guy making lifetime appointments cheated to get that authority. You've got Devin Nunes' investigation, better described as an information gathering effort to help Trump get away with any cheating he engaged in than an investigation of whether he did cheat. Finally, there is Richard Burr's investigation which, while on its face is more credible, nevertheless is not pursuing leads that support a case that Trump conspired with Russia to win the election.
Lindsey Graham is concerned about lies Christopher Steele may have told under oath in the UK, but not lies Don Jr clearly told his own committee. His big rush to stack SCOTUS suggests the reason for that has everything to do with a need to sustain a fiction that those SCOTUS choices are the result of a legitimate election win rather than willfully conspiring with a foreign adversary to get those choices.
https://www.emptywheel.net/wp-content/uploads/2018/09/Screen-Shot-2018-09-05-at-10.10.29-AM.png
499
1015
emptywheel
https://www.emptywheel.net/wp-content/uploads/2016/07/Logo-Web.png
emptywheel
2018-09-05 10:26:16
2018-09-05 10:26:16
Bill Clinton Did Not Win an Election By Getting a Blowjob: The Danger of Lindsey Graham's Willful Ignorance about Russian Interference