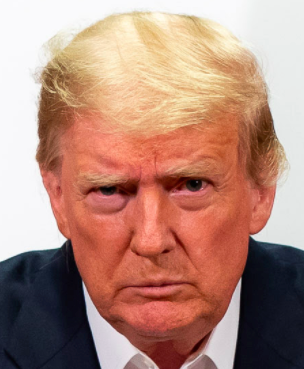 Something weird happened in the last few days.
On Sunday, Trump whisperer Josh Dawsey scooped that campaign finance filings that would be submitted yesterday would show that Trump's PAC, Save America, had spent more than $40M on legal fees in the first half of 2023.
Save America, the former president's PAC, is expected to disclose about $40.2 million in legal spending in a filing expected Monday, said the people familiar with the filing, who like others interviewed spoke on the condition of anonymity to discuss information that has not been made public.

That total is more than any other expense the PAC has incurred during Trump's 2024 presidential campaign and, according to federal filings from earlier this month, more than Trump's campaign raised in the second quarter of 2023.It will bring the PAC's post-presidential legal spending to about $56 million, as Trump faces a federal indictment in Florida, state charges in New York, and the prospect of additional criminal indictments in Washington and Fulton County, Ga.
Shortly after, Trump whisperer Maggie Haberman matched that scoop and added another, that Trump had gotten a $60M "refund" from his own SuperPAC.
The political action committee that former President Donald J. Trump is using to pay his legal bills faced such staggering costs this year that it requested a refund on a $60 million contribution it made to another group supporting the Republican front-runner, according to two people familiar with the matter.

[snip]

But the refund was sought as the political action committee, Save America, spent more than $40 million in legal fees incurred by Mr. Trump and witnesses in various legal cases related to him this year alone, according to another person familiar with the matter.

The numbers will be part of the Save America Federal Election Commission filing that is expected to be made public late on Monday.

That $40 million was in addition to $16 million that Save America spent in the previous two years on legal fees.
Dawsey's version explained to readers that Save America's fundraising was part of Jack Smith's criminal investigation.
The PAC's own fundraising and creation is under investigation, The Post has reported, though the group has not been accused of wrongdoing. Much of the money it is using to pay for legal bills was raised on false claims that the 2020 election was stolen.
Maggie's version laid out that Trump had raised the money by promising that he'd spend it to address alleged voter fraud, without disclosing that those false claims may be a crime, much less state clearly that the claims were false.
The PAC was the entity in which Mr. Trump had parked the more than $100 million raised when he sought small-dollar donations after losing the 2020 election. Mr. Trump claimed he needed the support to fight widespread fraud in the race. Officials, including some with his campaign, turned up no evidence of widespread fraud.
And then yesterday's disclosures came out and, per the Daily Beast, the key claim, that Trump had spent over $40M of his PAC's funds on legal fees, was wrong. It was exactly half that.
Early news reports of former President Donald Trump's astronomical $40.2 million in legal expenses now appear to have been off by about $20.1 million, or exactly half, according to a new Federal Election Commission filing.

Perhaps more notable, however, is the financial state of his former flagship leadership PAC, "Save America," which covered those fees. Once a fundraising juggernaut, Save America ended June with just $3.7 million in the bank—a $100 million drop from its $103 million stash just one year ago—as the legal threats are only increasing in scope and severity.

The highly anticipated filing shows about $20.1 million in legal costs, with another roughly $1.5 million in additional legal reimbursements.

The early news reports—sourced from "people familiar with the filing"—and the disclosure itself don't provide enough data to show where the error lay. However, the seemingly neat halfway split could suggest an accounting mistake—or, alternatively, possibly unreliable or intentionally misleading sourcing. Those fees do appear to extend to an array of law firms—indicating financial support for a long list of possible witnesses in several cases—as well as to Trump's own stable of attorneys.
The more interesting detail — involving the campaign of a guy whose corporate person was convicted of tax fraud last year and goes on trial for civil fraud in October — is that he between all of Trump's committees, he had to correct a bunch of past reports.
Trump's full operation also filed more than two dozen corrected reports across several committees on Monday, going back as far as January 2021.
The former President should have more reliable accounting than George Santos.
Meanwhile, the incorrect reporting from Sunday — which alerted MAGAts and rich Republicans who believe they're stuck with Trump that his burn rate on legal fees is eating up any campaign funds — came days after Trump rolled out a legal defense fund. As Sollenberger notes, as a 527, it will allow for a whole bunch of slush. Campaign manager Susie Wiles, who is (at least) a witness in the stolen documents case and also in the thick of the alleged illegal use of PAC funds has a role in managing the fund.
And yet experts said the shadiest, most notable part of the legal defense fund was not that it would pay for lawyers for potential witnesses against Trump. That part isn't all that new. The Trump team reportedly worked hand-in-hand with CPAC chair Matt Schlapp's "First Amendment Fund" earlier this year to provide legal help to Jan. 6 committee subpoena targets, and Trump's "Save America" leadership PAC also bankrolled handpicked attorneys for Jan. 6 witnesses.

Instead, experts pointed to the group's unique tax status opening an array of new fundraising opportunities for Trump as the most unsettling element—including for unlimited donations from individuals and corporations.
I can't help but remember that DOJ shut down the investigation into the suspected $10 million donation in September 2016 from an Egyptian bank that was key to Trump remaining in the case.
Someone with knowledge of Trump's filings preempted bad news about his terrible burn rate — but did so inaccurately (and in a way that has yet to be corrected, or explained). But it happened at a time when Trump is planning on using his criminal exposure to launch an entirely new kind of fundraising.
Trump's campaign finance looks a lot like his corporate finance. And his criminal exposure is now part of what he's selling.
https://www.emptywheel.net/wp-content/uploads/2020/10/COVID-Don.png
369
304
emptywheel
https://www.emptywheel.net/wp-content/uploads/2016/07/Logo-Web.png
emptywheel
2023-08-01 14:22:04
2023-08-01 14:22:04
The $40 Million, Er, the Unlimited Slush Fund Man