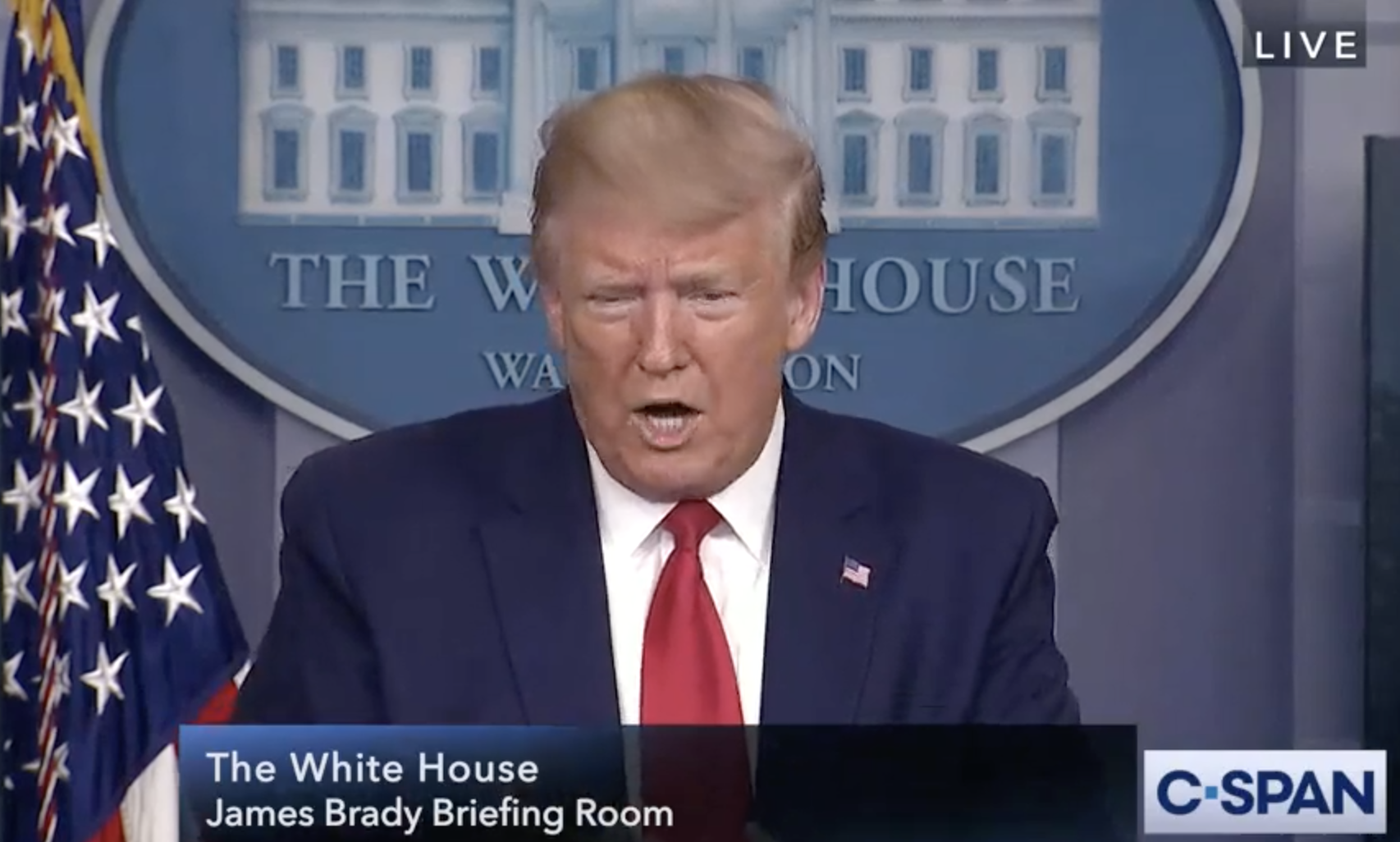 Back on March 13, in the same press conference where he first declared an emergency, the Administration made several claims about their plan to roll out testing.
First, the White House said the White House was intimately involved in the effort to increase testing. The effort to expand testing was a public-private initiative, as Mike Pence explained.
Mr. President, I know I join you in saying that every American should be proud of this incredible public-private partnership that's going to speeding access of testing to millions of Americans in the weeks ahead.
As Dr. Deborah Birx explained, Donald Trump was at the center of this public-private initiative.
DR. BIRX:  Thank you, Mr. President.  It's a pleasure to be here with all of you.

I think you know — at the beginning of this epidemic, HHS, through CDC, proactively developed an assay built on the existing flu surveillance system.  That surveillance system was then converted to diagnostic system.

But last Tuesday, seeing the spread of the virus around the globe, the President realized that our current approach to testing was inadequate to need — to meet the needs of the American public.  He asked for an entire overhaul of the testing approach.  He immediately called the private sector laboratories to the White House, as noted, and charged them with developing a high-throughput quality platform that can meet the needs of the American public.

We are grateful to LabCorp and Quest for taking up the charge immediately after the meeting and within 72 hours bringing additional testing access, particularly to the outbreak areas of Washington State and California, and now across the country.

We are also very grateful to the universities and large hospital systems that took up the charge to develop their own quality tests made available by new FDA guidance.  This has resulted in expanded testing across New York, California, Washington, Colorado, and you see sometimes those drive-thru options that have been made available through these high-throughput options.

Following the meeting last week, major commercial laboratory equipment and diagnostic companies took immediate action to adopt and develop new testing systems.  Last night, the initial company, Roche, received FDA approval, moving from request to development to approval in record time.

This innovative approach centered fully on unleashing the power of the private sector, focusing on providing convenient testing to hundreds of thousands of Americans within short turnaround times.  In less than two weeks together, we have developed a solution that we believe will meet the future needs — testing needs of Americans.
Both Pence …
But today, I trust that people around the country that are looking on at this extraordinary public and private partnership to address the issue of testing with particular inspiration.  After you tapped me to lead the White House Corona Task Force, Mr. President, you said this is all hands on deck, and you directed us to immediately reach out to the American business sector commercial labs to meet what we knew then would be the need for testing across the spectrum.  And today, with this historic public-private partnership, we have laid the foundation to meet that need.

And for Americans looking on, by this Sunday evening, we'll be able to give specific guidance on a — on when the website will be available.  You can go to the website, as the President said.  You'll type in your symptoms and be given direction whether or not a test is indicated.

And then, at the same website, you'll be directed to one of these incredible companies that are going to give a little bit of their parking lot so that people can come by and do a drive-by test.

[snip]

But what the President charged us with, when I was tasked to take over the White House Coronavirus Task Force, was: Open up tests all across the country.  And the President said, a few days ago, that we made it clear that any American that wanted to get a test would be able, clinically, to get a test.  Because I literally heard from the Governor of Washington State, who said the doctors in Washington State were saying that if you were only mildly symptomatic, they would not order a test.  And fortunately, the President directed CDC to clarify that.

Now anyone in consultation with their physician, regardless of their symptoms can request a test and their doctors will contact those agencies, those labs in their state.  But very soon, Americans will be able to go to these — these drive-in sites and be able to obtain and participate in a test.
Dr. Birx…
So we want to also announce this new approach to testing, which will start in the screening website up here, facilitated by Google, where clients and patients and people that have interest can go, fill out a screening questionnaire — move down for symptoms or risk factors, yes.  They would move down this and be told where the drive-thru options would be for them to receive this test.  The labs will then move to the high-throughput automated machines to be able to provide results in 24 to 36 hours.

That is the intent of this approach.
And Trump himself  promised drive-thru testing.
At the same time, we've been in discussions with pharmacies and retailers to make drive-thru tests available in the critical locations identified by public health professionals.  The goal is for individuals to be able to drive up and be swabbed without having to leave your car.
The CEO of WalMart, Doug McMillon, even got into the act of claiming to be working towards drive-thru testing.
THE PRESIDENT:  Thank you very much, Tony.

If I could, some of these folks we know; they're celebrities in their own right.  They're the biggest business people, the greatest retailers anywhere in the world.  And one of them is Doug McMillon from Walmart.  And I'd like to have Doug, if you would, say a few words, wherever you may be.

Doug, please.

MR. MCMILLON:  When we got the call yesterday from the White House, we were eager to do our part to help serve the country.  And given what we're facing, that's certainly important to do.  We should all be doing that.

So we've been asked to make portions of our parking lot available in select locations in the beginning, and scaling over time as supply increases, so that people can experience the drive-thru experience that the President described.

We'll stay involved and do everything we can from a supply-chain point of view to be of assistance.

Thank you, sir.
Within days, it became clear that the President's son-in-law was behind the promises for both the website and the drive-thru testing in the parking lots of Big Box stores.
Following the news conference, it quickly became evident that the announcement, engineered by the office of Jared Kushner, Trump's son-in-law and senior adviser, far exceeded the actual preparations.

Asked about the specific plans afterward, representatives of the four companies — Target, Walgreens, Walmart and CVS — said they had few details on how the tests would be administered or where or when they would begin.

And an hour after the president and his aides left the Rose Garden, a Google communications account tweeted a comment from Verily, the life sciences division of Google parent company Alphabet, that suggested the idea of building a broadly available website is preliminary.
Almost a month  and over 10,000 deaths later, the Big Box stores that got the free advertising associated with these planned parking lot drive-thru test sites still have fewer than two dozen sites open.
Walgreens said Tuesday that it plans to open 15 drive-thru testing locations for the coronavirus across seven states, starting later this week.

The sites will be in Arizona, Florida, Illinois, Kentucky, Louisiana, Tennessee and Texas, the drugstore chain said in a news release. They will use Abbott Laboratories' rapid COVID-19 test.

Walgreen's expansion of drive-thru testing marks the acceleration of an effort that the White House announced more than three weeks ago. President Donald Trump met with leaders of major U.S. retailers and health-care companies March 13 and announced in the Rose Garden that four companies — Walmart, Target, CVS Health and Walgreens — would host drive-thru testing in their parking lots. The U.S. has lagged behind other countries in the availability of coronavirus testing.

Since then, only about a handful of sites have opened in the retailers' parking lots. Most are staffed by government health-care workers. Walmart has two drive-thrus and Walgreens has one drive-thru in the Chicago area, but they restrict tests to first responders. CVS has a drive-thru in Massachusetts and said Monday that it would open two new drive-thru locations: one in Atlanta and one near Providence, Rhode Island. These latest sites are not in CVS parking lots, but at larger locations that can support multiple lanes of cars.
Last night, when Trump got asked about the inadequate state of testing in the country, he got snippy.
Kristen Fisher: I know you don't want to talk about the Inspector General Report, but testing is still a big issue in this country. [Trump sighs audibly.] When can hospitals expect–

Trump [speaking over her]: Can you put that slide up again please

Fisher: When can hospitals expect to receive a quick test of the test results?

Trump [again speaking over her]: Are you ready? Are you ready? Hospitals can do their own testing also. States can do their own testing. [points at her] States are supposed to be doing testing. Hospitals are supposed to be doing testing. You understand that? We're the Federal government — [reporter tries to restate] Listen [points at her] We're the Federal government. We're not supposed to stand on street corners doing testing. They go to doctors. They go to hospitals. They go to the state. The state is a more localized government. You have fifty of them. And they can go — fifty — within — you also have territories, as you know. And they do the testing. And if you look at the chart, if you take a look, have you put it up? Yeah. Just take a look. And these are testing, and the results are now coming in very quickly. Initially speaking, the tests were old, obsolete, and not really prepared. We have a brand new testing system that we developed very quickly and that's your result. And you should say Congratulations, great job, instead of being so horrid in the way you asked a question.
There's a lot that's bullshit in this comment. There were no "old, obsolete" tests when this started (though it is true that Trump's Administration was, "not really prepared." It's not clear anyone has a definitive count of tests, as claimed in Trump's chart.
But his key claim here — that the Federal government is "not supposed to stand on street corners doing testing" — is unresponsive to Fisher's question (which was about turnaround), but was a defense against the observation that Trump and the totally unqualified family member he brought in to this process have utterly failed to deliver something promised 25 days ago, drive-thru testing, the closest thing America could get to standing on the street corner testing people.
It may or may not be the Federal government's job to stand on street corners testing, but that is what he promised, and that is what Jared Kushner has utterly failed to deliver.
https://www.emptywheel.net/wp-content/uploads/2020/04/Screen-Shot-2020-04-07-at-10.28.06-AM.png
1026
1706
emptywheel
https://www.emptywheel.net/wp-content/uploads/2016/07/Logo-Web.png
emptywheel
2020-04-07 10:35:51
2020-04-07 10:35:51
Last Night, Trump Admitted that Jared Kushner — Who Promised Testing in Big Box Parking Lots — Had Failed