I've had some wonderful recognition for my work in the past — the RightsCon award for being an Internet human rights hero, the trust and support of my readers, some snazzy fellowships, fame for my pottymouth, the Hillman Prize. But this honor ranks right up there among the best: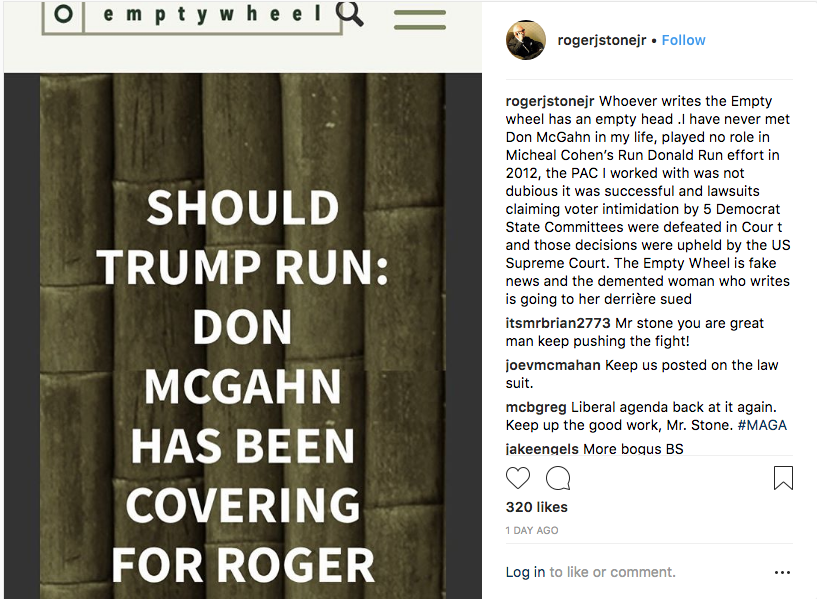 Roger Stone has threatened to sue me for pointing out that if Don McGahn has been interviewed by the Mueller team recently, it's not (as Maggie and Mike so credulously parrot) because he helped Trump obstruct the FBI investigation, but because he was involved in approving or defending a series of sketchy campaign finance decisions, including Stone's dodgy "Stop the Steal" 527 in 2016, which is fairly clearly the focus of much of Mueller's current investigative attention.
So, at least according to this Instagram threat, Roger Stone is willing to be deposed to prove that my claim that his voter suppression efforts in 2016, efforts which paralleled those of Russian spies, weren't "dodgy."
My attorney is already popping popcorn in anticipation of that deposition.
As I disclosed last month, I provided information to the FBI on issues related to the Mueller investigation, so I'm going to include disclosure statements on Mueller investigation posts from here on out. I will include the disclosure whether or not the stuff I shared with the FBI pertains to the subject of the post.