The guy who managed the first steps of the process that led to Trump announcing a withdrawal of troops from Syria yesterday was hiding secret ties to both Russia and Turkey when that process started. That's one of the reasons why it matters that Mike Flynn lied about his relationship with Turkey for so long. It means that both Russia and Turkey have always known Flynn and Trump were vulnerable because they were hiding lies about their ties with those countries.
In this post, I noted that while the work Flynn did as an unregistered foreign agent for Turkey reportedly ended not long after election day (though WSJ reported that he and his spawn met with representatives of Turkey in mid-December to speak further about Fethullah Gulen), that relationship with Turkey would remain unregistered — that is, Flynn would continue to lie about the true nature of it — all the way through his guilty plea on December 1, 2017. For some reason, virtually everyone reporting on Flynn is getting this wrong, claiming that his March 7, 2017 registration — the one he has pled guilty to lying on — constitutes full disclosure about his ties to Turkey. It did not, because it hid that he was working, knowingly, for Turkey.
That's important because, as I described in a post on what the redactions in the published version of the 302 ("302" is what the FBI calls their interview reports) memorializing Flynn's January 24, 2017 interview with the FBI hide, he explained away the conversations by claiming that he and Sergei Kislyak discussed the Trump Administration's plans on working with Russia and Turkey.
The redactions in Flynn's 302 included two passages on Flynn's December 29, 2016 phone calls with Ambassador Kislyak. In the first, Flynn offered up that he and Kislyak had discussed two things: a phone call with Vladimir Putin that would take place on January 28, and whether the US would send an observer to Syrian peace talks Turkey and Russia were holding in Kazakhstan the next month.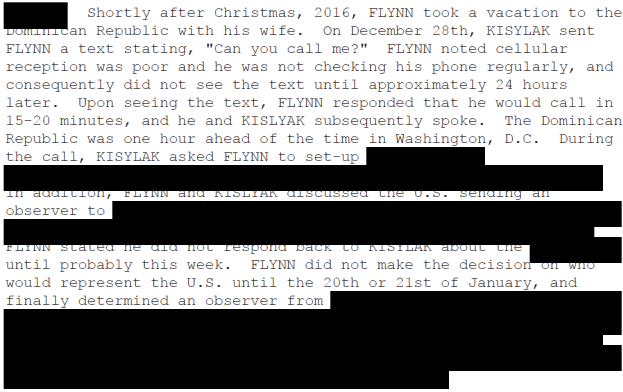 Later in Flynn's FBI interview, as Agents were quoting bits of the transcript back to Flynn, he again denied he and Kislyak had discussed expulsions of Russia's diplomats. He appears to have, again, claimed they talked about sending representatives to Astana.

For some reason, the government considers the specific description Flynn used with the FBI to remain too sensitive to publicly release, either because they don't want co-conspirators to know precisely what Flynn said, and/or they don't want the Russians and Turks to know.
The claim that those Kislyak phone calls discussed a later call with Putin and the Astana conference is the same one the Transition would offer to the WaPo the day after David Ignatius made clear that the FBI had recordings of the call. Mueller's reply to Flynn's sentencing memo describes that Flynn asked a subordinate to feed this information to the WaPo.
The defendant asked a subordinate member of the Presidential Transition Team to contact the Post on the morning of January 13 and convey false information about the defendant's communications with the Russian ambassador. The "UPDATE" included at the end of the Post story later reported that two members of the Presidential Transition Team stated that the defendant "didn't cover" sanctions in his conversation with the Russian ambassador.
As Mueller laid out, after Flynn told this cover story about his calls publicly, he continued to double down on it, such that by the time the FBI came to his office on January 24, he had to stick to that story.
Over the next two weeks, the defendant repeated the same false statements to multiple members of the Presidential Transition Team, including Vice President-Elect Michael Pence, incoming White House Chief of Staff Reince Priebus, and incoming White House Press Secretary Sean Spicer. Those officials then repeated the defendant's false statements on national television. See, e.g., Face the Nation transcript January 15, 2017: Pence, Manchin, Gingrich, CBS NEWS (Jan. 15, 2017) (Vice President Pence recounting that defendant told him he did not discuss sanctions with the Russian ambassador); Meet The Press 01/15/17, NBC NEWS (Jan. 15, 2017) (Priebus recounting that he had talked to the defendant and "[t]he subject matter of Case 1:17-cr-00232-EGS Document 56 Filed 12/14/18 Page 2 of 7 -3- sanctions or the actions taken by the Obama [sic] did not come up in the conversation [with the Russian ambassador.]"); White House Briefing by Sean Spicer – Full Transcript, Jan. 23, 2017, CBS NEWS (Jan. 24, 2017) (Spicer recounting that he had spoken with the defendant the day before, who again stated that he (the defendant) had not spoken to the Russian ambassador about the sanctions). Thus, by the time of the FBI interview, the defendant was committed to his false story.
Flynn's lies to cover the discussion about sanctions and expulsions were not entirely invented; he's a better liar than that. The Transition really was struggling over its decision of whether to join in a Syrian peace plan that would follow Russia (and Turkey's lead) rather than the path the Obama Administration had pursued in the previous year. As he noted to the FBI, the Trump Administration had only decided not to send a senior delegation to Astana earlier that week. It was announced on January 21.
These lies compromised Flynn in two ways. As Sally Yates noted when she described the problem with Flynn's lies to Don McGahn two days after his interview, because Flynn was saying something publicly that Russia knew to be false, Russia could hold that over him (and the Administration).
But by staking his lies on the Astana conference — and the Trump Administration's willingness to join a Syrian effort that deviated from existing US policy — Flynn also raised the stakes of his past paid relationship with Turkey. It became far more damaging that Flynn had still been on the Turkish government payroll through the early transition, when Trump directed him to conduct early outreach on Syria. So even while DOJ was repeatedly telling Flynn he had to come clean on his Turkish lobbying ties, he lied about that, thereby hiding that the early days of Trump Administration outreach had been conducted by a guy still working for Turkey.
Since that time, both Flynn and Trump were stuck, because they had told lies to the US government that Russia and Turkey knew were lies.
Indeed, Trump may have started telling his own lies right away. Three days after Flynn's FBI interview, in a conversation with Jim Comey after he had already learned of Sally Yates' conversation with Don McGahn telling him of DOJ's concerns about the FBI interview, Trump offered what was probably a bullshit cover story about Flynn's communications with Russia, possibly bullshit invented to hide what Trump knew about ongoing discussions with Russia. [Here's version of this story fed to the NYT.]
He then want on to explain that he has serious reservations about Mike Flynn's judgment and illustrated with a story from that day in which the President apparently discovered during his toast to Teresa May that [Vladimir Putin] had called four days ago. Apparently, as the President was toasting PM May, he was explaining that she ad been the first to call him after his inauguration and Flynn interrupted to say that [Putin] had called (first, apparently). It was then that the President learned of [Putin's] call and he confronted Flynn about it (not clear whether that was in the moment of after the lunch with PM May). Flynn said the return call was scheduled for Saturday, which prompted a heated reply from the President that six days was not an appropriate period of time to return a call from the [president] of a country like [Russia].
Since his first days as President, Trump (and Mike Flynn, until he pled guilty) has been trying to hide the true substance of the relationship he had with both Russia and Turkey.
As it happens, it appears that Turkey was the country that ultimately exploited that leverage. While Trump did little more than greet Putin at the G20 in Argentina as more details of his negotiations with Russia over a Trump Tower have become clear, he did meet with Recep Tayyip Erdogan. And he spoke with Erdogan by phone yesterday last Friday before he unexpectedly announced that American troops were withdrawing from Syria.
In the wake of yesterday's decision, Nancy Pelosi (who as a Gang of Eight member, may know non-public information about all this) tied Trump's announcement to the Flynn sentencing hearing and his work for Turkey; she suggested Trump had made the decision to serve his own personal or political objectives.
It is premature for the President to declare a sweeping victory against ISIS when, just a few weeks ago, our military led more than 250 coalition-conducted airstrikes against targets in Iraq and Syria. All Americans should be concerned that this hasty announcement was made on the day after sentencing in criminal proceedings began against the President's former National Security Advisor Michael Flynn, who admitted that he was a registered foreign agent for a country with clear interests in the Syrian conflict.

[snip]

"When we take the gavel, our Democratic Majority will uphold the Congress' constitutional oversight responsibilities to ensure that the President's decisions advance our national security interests, not his personal or political objectives.
I don't know whether Pelosi is correct (and I actually hope that we do get out of Syria, though perhaps congressional oversight can force Trump to do this in a way that doesn't result in genocide for our longtime Kurdish allies).
But I know that when Trump ordered a guy who was still on Turkey's payroll to initiate the negotiations that resulted in yesterday's announcement, then tried to sustain lies those negotiations, he effectively ceded a lot of control over how negotiations would proceed to the countries that shared his and Flynn's secrets.
And, of course, Trump's Treasury Department also announced yesterday that it was reversing sanctions on Oleg Deripaska's company (though not Deripaska himself, and restrictions on his ownership are quite significant).
Update: Corrected date of call with Erdogan. See this story for significance of that call.
Timeline
November 8, 2016: "Flynn's" Fethullah Gulen op-ed
November 18: Elijah Cummings writes Mike Pence with concerns about conflicts in Flynn's lobbying business
November 30: NSD contacts Flynn about registering under FARA
December 1: Flynn ends contract with Inovo
Mid-December: Reported meeting at 21 Club in NYC to discuss rendering Fethullah Gulen
December 29: Flynn discusses attending Syrian peace talks hosted by Turkey and Russia with Sergei Kislyak
January 10: Flynn asks Susan Rice to hold off on assault on Raqqa
January 11, 2017: Flynn tells DOJ he'll "probably" be registering under FARA
January 12: David Ignatius column makes it clear FBI had intercepted Sergei Kislyak conversation discussing peace process
January 13: Based in part on White House cover story for Flynn-Kislyak call, WaPo reports discussions about participation in Astana conference
After inauguration: Flynn tells Trump Administration he will definitely register
January 21: State Department announces US Ambassador to Kazakhstan, not Flynn, will attend Russian-Turkish peace talks
January 23: Astana conference starts
January 24: Flynn interviews with FBI, and explains away the December 29 call, in part, by saying they discussed an observer to Astana
January 27: Trump tells Comey he questions Flynn's judgment because he took six days to return a call to Vladimir Putin (he references a Putin call, the first call of congratulations from a foreign leader, but it's not clear whether it came on January 22, 23, or 24)
January 28: Conference call with Vladimir Putin allegedly discussed on December 29
March 7: Flynn submits FARA filing that still hides true relationship with government of Turkey
December 1: Flynn pleads guilty, in part, to lying in that FARA filing
December 18, 2018: Flynn sentencing hearing
As I disclosed in July, I provided information to the FBI on issues related to the Mueller investigation, so I'm going to include disclosure statements on Mueller investigation posts from here on out. I will include the disclosure whether or not the stuff I shared with the FBI pertains to the subject of the post.