As more detail has come out about the events about which Paul Manafort lied to Mueller's prosecutors, the method of his lie becomes more clear: it serves to excuse anything that might taint Trump's campaign with conspiracy with Russia; it excuses that by claiming forgetfulness caused by the busyness of that campaign. Manafort cannot be a witness to the Trump campaign's conspiracy with Russia, you see, because his memory of those events is too garbled because he was campaign manager at the time.
Only that excuse doesn't work.
In their redaction fail submission the other day, Manafort's lawyers addressed each of the subjects about which Mueller accused Manafort of lying in what appears to be the same order as Mueller's prosecutors laid them out in their own submission last month:
Interactions with Kilimnik

Issue a (page 4-5)
Issue b (page 5-6)
Issue c (page 6)

Kilimnik's role in the obstruction conspiracy
Payment to a firm working for Manafort
Another DOJ investigation
Contact with the Administration
But rather than dealing with Issues a, b, and c separately, Manafort lumps all three into one discussion, like this:
It is accurate that after the Special Counsel shared evidence regarding Mr. Manafort's meetings and communications with Konstantin Kilimnik with him, Mr. Manafort recalled that he had – or may have had – some additional meetings or communications with Mr. Kilimnik that he had not initially remembered. The Government concludes from this that Mr. Manafort's initial responses to inquiries about his meetings and interactions with Mr. Kilimnik were lies to the OSC attorneys and investigators. (See, e.g., Doc. 460 at 5 (After being shown documents, Mr. Manafort "conceded" that he discussed or may have discussed a Ukraine peace plan with Mr. Kilimnik on more than one occasion); id. at 6 (After being told that Mr. Kilimnik had traveled to Madrid on the same day that Mr. Manafort was in Madrid, Mr. Manafort "acknowledged" that he and Mr. Kilimnik met while they were both in Madrid)).

It is not uncommon, however, for a witness to have only a vague recollection about events that occurred years prior and then to recall additional details about those events when his or her recollection is refreshed with relevant documents or additional information. Similarly, cooperating witnesses often fail to have complete and accurate recall of detailed facts regarding specific meetings, email communications, travel itineraries, and other events. Such a failure is unsurprising here, where these occurrences happened during a period when Mr. Manafort was managing a U.S. presidential campaign and had countless meetings, email communications, and other interactions with many different individuals, and traveled frequently. In fact, during a proffer meeting held with the Special Counsel on September 11, 2018, Mr. Manafort explained to the Government attorneys and investigators that he would have given the Ukrainian peace plan more thought, had the issue not been raised during the period he was engaged with work related to the presidential campaign. Issues and communications related to Ukrainian political events simply were not at the forefront of Mr. Manafort's mind during the period at issue and it is not surprising at all that Mr. Manafort was unable to recall specific details prior to having his recollection refreshed. The same is true with regard to the Government's allegation that Mr. Manafort lied about sharing polling data with Mr. Kilimnik related to the 2016 presidential campaign. (See Doc. 460 at 6). The simple fact that Mr. Manafort could not recall, or incorrectly recalled, specific events from his past dealings with Mr. Kilimnik – but often (after being shown or told about relevant documents or other evidence) corrected himself or clarified his responses – does not support a determination that he intentionally lied.
The way in which Manafort's lawyers cite from Mueller's text (which I've bolded above) even makes it clear which discussion is which, with "issue a" including the "conceded" quotation on the correct page to be Ukraine.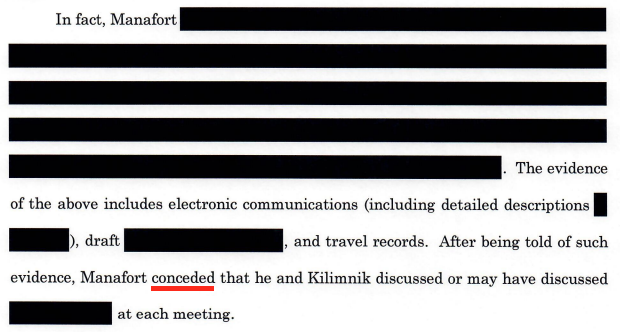 "Issue b" includes the "acknowledged" quotation on the correct page to pertain to the Madrid meeting.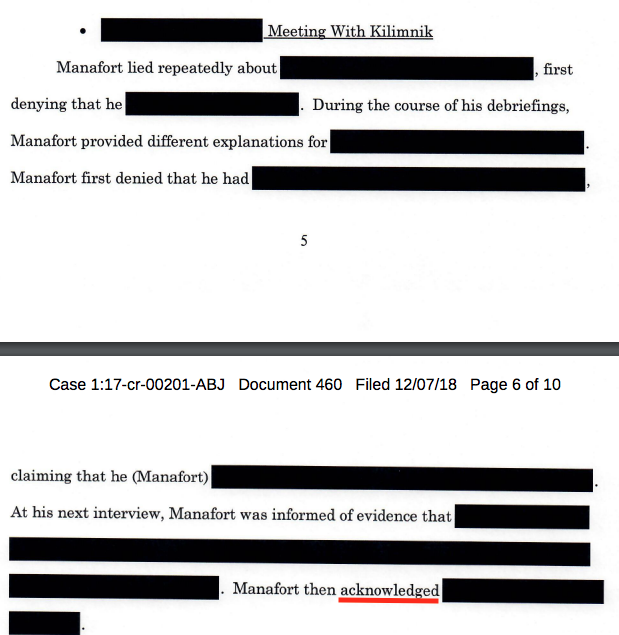 That — plus the page number — makes it clear that "issue c" is the sharing of polling data.
By submitting this filing with failed redactions — whether intentionally or not — Manafort's lawyers have told co-conspirators precisely what events Mueller asked questions about during proffer sessions, as well as what kind of evidence Mueller had obtained to learn about those events. Mueller has electronic communications, drafts, and travel records proving multiple discussions about a Ukraine peace plan, he has evidence of Kilimnik's travel to Madrid, and he has email and testimonial evidence describing how he and Gates shared polling data with Kilimnik.
And while Manafort doesn't think a hearing in which Mueller could provide more evidence that Manafort lied about conspiring with a former or current GRU officer is necessary, he would like witness statements about which he could find some opportunity to fail to redact in the future.
While a hearing regarding the Government's "good faith" in declaring a breach of the plea agreement is not necessary, to the extent that there are witness statements that the OSC contends demonstrate Mr. Manafort's intentional falsehoods, these should be produced to the defense. After having an opportunity to review such statements and any other documentary evidence, the defendant would then suggest that the issues be narrowed during the usual sentencing process in the parties' submissions to the U.S. Probation Office in the preparation of the PSR.
By treating all three of his Kilimnik lies as one, Manafort excuses the lie about the Madrid meeting — which Manafort's spox issued a "clarification" to explain happened in January or February 2017 — the same way he excuses the lies about events that happened during the campaign — he was too busy running a campaign to remember them all.
[T]hese occurrences happened during a period when Mr. Manafort was managing a U.S. presidential campaign and had countless meetings, email communications, and other interactions with many different individuals, and traveled frequently.
This is, of course, nonsense! Even the Ukrainian discussions (which Manafort's lawyers try to minimize as maybe having been discussed on more than one occasion, but which Mueller has reason to believe got discussed "at each meeting" Kilimnik had with Manafort) appears to have extended beyond the time when Manafort was ousted from the campaign, as Kilimnik was still talking about it (though trying to distance Manafort from it) in February 2017, around the time he met Manafort in Madrid.
Kilimnik also said that he had drafted a plan to bring peace to Ukraine in the nearly three-year-old conflict with Russia.

He referred to it as a "Mariupol plan," a reference to the southeastern port city that abuts the current line of conflict between government forces and Russia-backed separatist fighters.

It would bring Yanukovych back to Ukraine as a regional leader in the Donetsk and Luhansk provinces, where fighting has raged on and off for nearly three years, or possibly involve others such as the current separatist leaders there.

That plan, which Kilimnik said Manafort was not involved with, would face almost certain opposition in Kyiv since it calls for Yanukovych returning to Ukraine from Russia, where he fled in February 2014.
It is nonsense to claim that the daily grind of a campaign he had exited at least five months earlier, or protective confinement in jail, or gout can explain why Manafort forgot a meeting that involved flying to a European city to attend.
Nevertheless, that's the explanation Manafort's lawyers offered in their attempt to claim that Manafort really had good intentions while he was supposed to be cooperating with Mueller, he just had a bad memory of all his ongoing conspiring with a former or current officer from the same Russian intelligence service that hacked Trump's opponent.
Yet, in spite of the defense claim that "there is no identifiable pattern to Mr. Manafort's purported misrepresentations – no specific individual or potential crime is identified in the Government's submission," there actually is. On top of trying to dissociate a guy with whom he conspired from the conspiracy he pled guilty to, Manafort is excusing his forgetfulness about anything that might show a conspiracy between him, while he was campaign manager for the Trump campaign, and Kilimnik, by saying his activities as campaign manager prevent him from remembering conspiring with Kilimnik while working for the campaign.
Only, for that to be true, whatever "campaign" Manafort was running would have had to extend well into 2017.
As I disclosed last July, I provided information to the FBI on issues related to the Mueller investigation, so I'm going to include disclosure statements on Mueller investigation posts from here on out. I will include the disclosure whether or not the stuff I shared with the FBI pertains to the subject of the post.